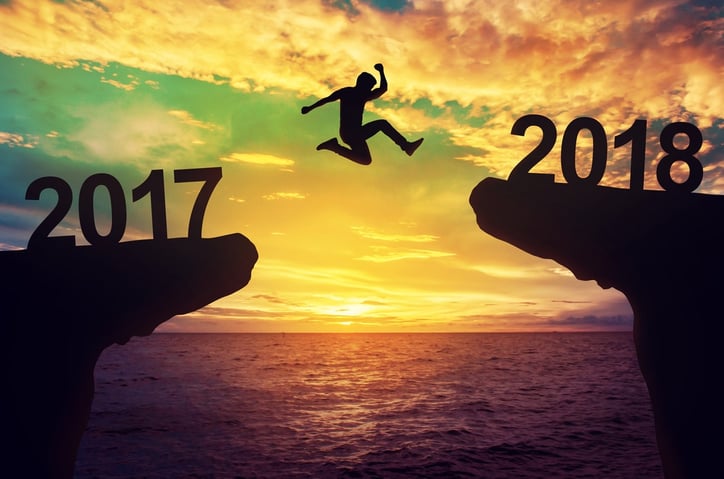 2018 is already knocking at the door and we want Mid-Missouri businesses to answer with a bang! One of the smartest ways that your business can prepare for the coming year is by staying alert to upcoming trends, both on global and local levels. That's why we're sharing next year's top ten marketing trends, in hopes that your business will implement them, or simply improve your current strategies.
1. Radio is still a powerhouse.
Don't count out radio just because the year, 2018, sounds too futuristic for traditional advertising. In fact, traditional radio continues to soundly beat out its digital competition. Just take a look at this infographic which compares radio's reach with that of Pandora and Spotify. Or, take a look at another infographic, which shows how radio fairs in contrast to TV advertising. *Spoiler alert: Radio's overall reach, both within the general population and within the Millennial generation, is significantly greater, proving that traditional radio will continue to remain an advertising force to be reckoned with in 2018.
2. Get personal.
The days of generically reaching out to your customers and prospects are over. Today's consumers expect distinction. Segmented email marketing can accomplish this by placing customers with certain behavioral patterns into separate groups, making emails personalized and relevant, and thus increasing the chances of ultimately converting these emails into sales.
Artificial intelligence (AI) is the main way that businesses can get up close and personal with their customers and prospects. The use of AI is expected to see a drastic increase in usage in 2018. According the recent book, AI Transforming Business: Corporate CxO Perspectives, "98 percent of corporate leaders see AI as essential for their businesses." One of the book's authors, Kimberly Powell, puts it this way:
"Thanks to AI, marketers can now personalize marketing appeals. Nobody has the time, or ability, to review the actions of every person and determine the best way to reach [them]. Now advertisers can craft (and time) messages that are tailored to each person's behavior."
If your business is not currently implementing segmentation and personalization into your customer conversion process, 2018 is the year to start. Your immediate increase in net sales will prove that it was worth it.
3. Continue to optimize for mobile.
Optimizing your business' website for mobile users is nothing new, but the statistics concerning this topic are, so it's worth mentioning. According to a recent study, 51% of all web visits are now viewed via mobile devices. That's up 25% year-on-year! It's clear to see that if your business is not currently optimizing its website for mobile users, then you are doing yourself a huge disservice. At Zimmer, our website design and development team specializes in building business sites with a custom, responsive design, giving visitors the best viewing experience across all devices. You can read more about this here.
4. Utilize social messaging.
Recent studies show that out of the overall mobile audience, 61% are active Facebook Messenger users, while 50% use WhatsApp for their messaging needs. Snapchat and GroupMe also make the list. Businesses are beginning to capitalize on this trend in various ways. For example, restaurants have started to utilize social messaging apps for booking tables. Larger companies, such as IKEA, have turned to these apps to conduct consumer research and handle other customer service needs. This trend naturally goes hand in hand with the above mentioned rise of consumers who prefer personalized customer experiences.
5. Post stories on social platforms.
Social "stories" are growing in popularity every day, specifically on Instagram. Facebook recently added this capability as well. Stories are great at adding a personal touch to customer relationships. They're unique because they allow you to effectively show off certain aspects of your business in a creative way.
For example, businesses could record a quick, behind-the-scenes video of random happenings at their office, or they could simply post a photo to their story of a new product that they are close to launching. Social stories show that your business is current and relevant and they are proven ways to generate positive responses from social media users. Side note: Try some augmented reality filters for a fun way to up your game!
6. Continue to integrate video.
The rise of video began in 2016 and has not stopped rising since. As a matter of fact, Cisco predicts that by 2019, 80% of all internet traffic will be via streaming video. This trend is clearly not going anywhere any time soon, so if your business does not currently utilize video in its marketing efforts, 2018 is definitely not too late to start!
Rather than just being used for branding, video is now being used for all stages of the sales cycle in the form of things like customer testimonials and product descriptions. Marketers are gravitating towards video because it helps create an emotional connection that can be hard to duplicate in a blog or whitepaper.
Video is primarily fueled by social media. (Just take one look at your Facebook newsfeed for evidence.) Pre-roll YouTube ads can direct users to your website. Your website can then incorporate more videos to easily capture attention. And of course, your business' social channels should utilize video the most.
7. Get more serious about treating content as a resource.
This is another example of a trend that started in the past few years, but its importance has continued to skyrocket. In today's digital world, having quality, educational, online content is simply essential.
At Zimmer, we're big believers in business blogs. This is the most effective way for your business to attract online traffic, plus it significantly increases your chances of closing sales. Business blogs automatically position you as an expert in your industry. They answer consumer questions and show that you care. Read more about why we highly recommend having a business blog here.
8. Represent your hometown pride through sports.
If there's one thing that consumers passionately respond to, it's their local sports teams! Businesses who associate their business with sports reap huge dividends. Why? Because consumers love to know that the companies they do business with (or may do business with) are like-minded, avid fans of their hometown teams.
At Zimmer, we have numerous opportunities for businesses who are looking to capitalize on this potential marketing strategy. Read about our sponsorship opportunities for Cardinals baseball, high school sports, Mizzou football, and specifically Tiger Tailgate.
9. Participate in event sponsorships.
"Event sponsorship" has become a popular term in the business world within the last few months. That's because businesses are coming to realize just how much potential events have for cultivating hot leads and making a positive impression in the community. Events are proven and effective ways to build valuable relationships, stimulate word-of-mouth, and increase overall brand loyalty.
Seeing the current demand for event sponsorship opportunities and realizing that it's a trend that's here to stay, Zimmer has begun putting more time and energy into creating quality events for local businesses to participate in. We've recently launched such events as Girls Night Out and The Man Show. Plus, we continue to be a part of charitable events, such as the Honor Flight and the Children's Miracle Network. All of our event sponsorships have plenty of ways that businesses can get involved and gather leads.
10. Use your creative campaign to tie it all together.
To sum it all up, it's crucial to make sure that all of your marketing platforms are tied together with a common branding "thread." This thread is your creative strategy. Do your radio or television advertisements match what you're saying on social media? Does your website fully embody who you are as a brand? Does all of your advertising contain your business' slogan, jingle, or tagline? It is of utmost importance that you make your users feel like they are having the same experience across multiple platforms. This trend may be as old as marketing itself, but it's consistently the most important for businesses who want to turn their brand into a household name.
Start 2018 off on the right foot by being up-to-date on the latest and greatest marketing trends. When your overall net sales see an extensive increase next year, you'll be glad you were prepared.
Sources used for content: http://www.smartinsights.com/digital-marketing-strategy/10-marketing-trends/; https://www.huffingtonpost.com/entry/how-artificial-intelligence-is-changing-the-way-companies_us_59e8d1f2e4b077c789918b4d