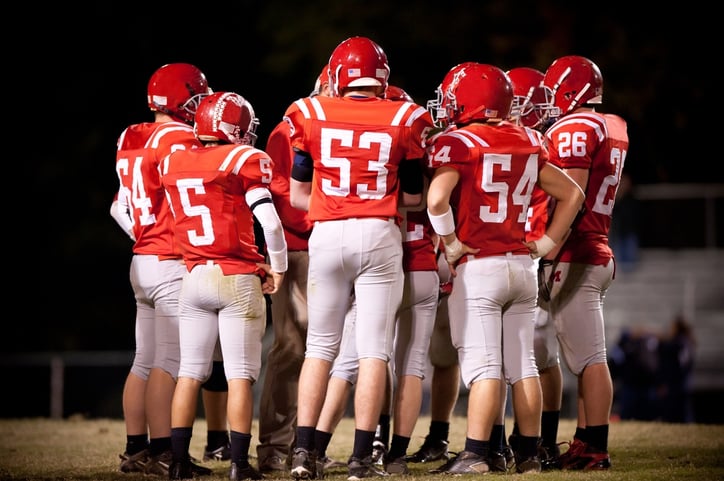 Shortly after walking through school doors on a mundane Monday morning, most high school students are already thinking about their team's next game. This automatic reaction occurs not only in students, but in parents, faculty, and local fans in the community as well. That's because high school sports have a knack for fully enrapturing the hearts of people everywhere.
This is due to the fact that high school sports truly involve every member of the community in varying ways. They spark a sense of newfound pride and determination in younger generations, while invoking nostalgic feelings in older generations who view them as a fond pastime that they participated in themselves. This overarching theme of pride in high school sports is especially true in the Mid-Missouri area, where teams have steadily earned the respect of their Midwestern communities.
The following list reveals the top 4 ways that your business can score by sponsoring high school sports.
1. You
will increase brand awareness.
This is obviously the number one goal of any advertising campaign, and sponsoring high school sports is a great way to achieve this. By becoming a sponsor of high school sports, your business will gain significant exposure within the entire youth sports market. This market includes: players' parents, coaches, program organizers, the players themselves, and of course, local fans of the team. It is important to remember that this widespread market is proven to have significant spending power.
2. You will be involved with something local.
As stated above, high school sports truly involve every member, both young and old, of the community. This gives your business the unique opportunity to be involved at a local level that impacts all demographics. This is sure to leave a positive impression on the people nearest your business. In today's world, businesses who "think local" are much more well-received by communities as a whole. Businesses who are viewed in this light will be reaping benefits for years to come.
3. You
will tap in to a welcomed form of advertising.
High school sports are perceived as positive and engaging to all community members, but especially to parents. The bottom line is: Parents love when others show support to their children. Businesses who sponsor high school sports do not have to break down consumer defenses as much as other forms of marketing. Advertising during high school games is welcomed by the community (parents, in particular) because it spotlights the businesses who care about the same things as the general public. Therefore, consumers are more open to these advertisements and do not tune out easily.
4. You
will build goodwill
.
Because high school sports fans have such strong emotional ties, your business can automatically build goodwill and receive love from the community by sponsoring games. When local communities learn that your company understands the impact and importance of high school sports, this will create an emotional tie to your business. It will instill a sense of loyalty in your current customers, as well as in your future prospects. This will greatly strengthen the overall bond between your brand and the community as a whole.
So, how can your business get involved? Is there a way to tap into this "goodwill" that annually surrounds even just the thought of a high school sports game?
Why Sports Radio
Because of their steadfast devotion to high school sports, these fans are active sports radio listeners, making radio sponsorships the most effective way for businesses to tap in to this audience! High school sports fans intentionally seek out these games on the radio and are consistently proven to be much more focused than the average radio listener. This attentiveness remains, even when business' advertisements are being aired during commercial breaks. Businesses should never underestimate the power of such an alert audience.
It is also crucial to remember that radio is the only "go anywhere" medium that consumers have to choose from. Not only can fans listen to games in their car, but they also have digital streaming options online.
Statistically speaking, sports radio delivers to what most businesses would consider to be their target audience. Nearly two-thirds (64.9%) of those who listen to sports radio are between the ages of 25 and 54, the demographic researched to have the most spending power. Also worthy of noting, sports radio consistently reaches those with an average household income upwards of $50,000 per year. That is 26% greater than the national average, and 18% greater than those who watch sports on TV.
So, don't wait! Use the smartest move in your marketing playbook and decide to advertise via high school sports radio today. When your business is consistently scoring new customers, you'll be glad you did!