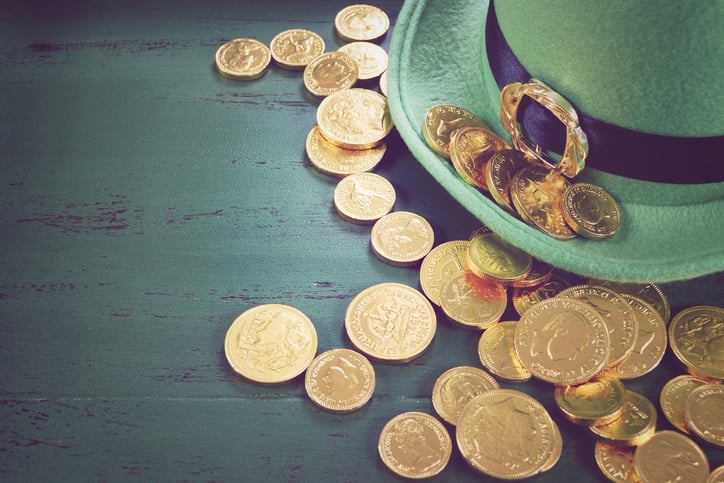 "I find that the harder I work, the more luck I seem to have." - Thomas Jefferson
Happy St. Patrick's Day!
Once a year, the luck of the Irish visits us. As much as we'd like it to rub off on our business' marketing efforts, the reality is that quality marketing takes a whole lot more than a little luck. The kind of marketing that produces worthwhile results is carefully planned and intentionally executed.
But, guess what? Today is still your lucky day! Listed below, we're revealing six, crucial components that are necessary to ensure marketing success.
1. A System
Systems offer stability. They provide businesses with a set of actions and goals that are both understandable and attainable. Attempting to successfully market a business without a well-outlined system in place is a recipe for disaster.
That's why, at Zimmer, we highly prize and promote Chuck Mefford's four-part BrandsFormation™ System. Why? Because we've seen it produce unprecedented results time and time again. The premise of the BrandsFormation™ System is that businesses must strive to own "mental real estate." This happens when a business is considered to be in the top three rungs on the "Ladder of Competition," i.e. either the first, second, or third viable, business option that enters the public's mind when a particular industry is mentioned.
Find more details on the four steps of The BrandsFormation™ System here: Strategy, Strategy-Based Message, Consistency, and Dominant Frequency.
You can also sign up to attend our BrandsFormation™ seminar that will be hosted at the Courtyard Marriott in Columbia on Tuesday, April 3, 2018 from 8 to 11:30 AM. Find more information on that event here.
2. Great Creative
The importance of creative advertising cannot be overstated! Great creative makes a marketing campaign powerful, but mediocre creative can break one altogether. While mediocre creative is simply heard and liked, great creative takes it a few steps further by getting stuck in a consumer's mind, causing them to remember a brand long-term, and eventually, inspiring them to take action.
One of the most effective mediums for promoting quality creative is radio advertising. Radio ad creative uses words, sounds, and a great story to paint a visual picture for listeners. Since the human mind works by ear, radio is preferred for increased memorability and therefore, a significantly higher chance of consumers taking the next step. This article dives a little deeper into four key aspects that are necessary for great radio ad creative.
Magazine advertising creative is another effective marketing method used to engage the human mind and inspire consumers to take action. When this visual creative is integrated with audio creative (radio), it significantly expands a business' reach. Learn more about boosting magazine advertising with radio here.
3. Marketing Specialists
Let's get one thing straight: Business owners cannot be all things to all people. That's just a fact of life. Their time is valuable and they need to spend it ensuring that their business operations are running smoothly. That takes a lot of work and makes it nearly impossible to fit in the necessary hours needed for a quality marketing strategy.
That's where marketing specialists come in. These "experts" know what works and what doesn't. They save business owners time and effort by helping develop, execute, and track marketing campaigns. They have a firm grasp on the behavior patterns of the market and have years of experience to back up the services that they recommend. Take Zimmer for example: For the past 60 years, we have been living and breathing radio. And not only do we have a legacy of success to gain understanding from, but we are constantly continuing our education, adding other marketing services to our mix (like magazine and digital options), and staying current with any new market trends.
To learn more about the benefits of trusting Zimmer's marketing specialists with your business' advertising, click here.
4. An ROI Tracking System
Piggybacking off of our last point, working with marketing experts can also significantly impact a business' overall return on investment (ROI). Frankly, the old ROI tracking system of asking customers to "mention this ad" is outdated and unreliable. So, how should businesses go about this all-important practice instead?
In brief, businesses must start by setting goals. They must then use these goals to determine what to track, how to track it, and which baselines to create. They must determine which tracking tools to use, then analyze in respect to the original goals that were set. More information on effectively tracking ROI can be found here. And of course, businesses who work with Zimmer have access to seasoned marketing specialists who heavily aid in ROI tracking.
5. A Strong Marketing Bridge
Marketing is essential for drawing customers to a business; however, on its own, marketing cannot secure a sale. Because of this, businesses must consistently and objectively examine their marketing bridge as a whole. The marketing bridge is made up of everything that connects a business to its current and prospective customers. The five components that make up this bridge are: the business as a whole (environment, reputation, online presence, etc.), price/value, merchandising, personal selling, and advertising.
To learn more about the marketing bridge and view a list of "check-up" questions for each component, click on the link below.
6. Patience
The old adage, "Patience is a virtue," could not be more applicable when it comes to advertising. It's important to understand that successful advertising does not begin as a month-long trial run. Think of it this way: Consumers who are hearing or seeing advertisements today may not necessarily be in the market for that business' product or service for several months. By repeatedly advertising and having a "constant conversation" with these consumers, these patient businesses will eventually own "mental real estate" and become top-of-mind. Remember: Branding is a marathon, not a sprint!
While it would be nice to luckily stumble into success today, it's safe to assume that sudden success like that would most likely be unsustainable. That's because quality marketing that lasts for the long haul must be strategically achieved. It takes a solid system, great creative, a talented marketing team, a proven ROI tracking system, and last but not least, patience.
Ensure that the six components described above are prioritized and we guarantee that your business will be seeing green long past St. Patrick's Day! So much so, you'll want to pinch yourself!