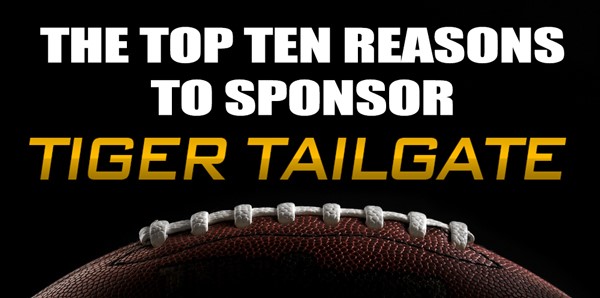 One of the most wonderful times of the year is just around the corner: football season. Can we get an M-I-Z? As thrilling as football games are, everyone knows that they aren't quite the same without an exciting tailgate. For years, Zimmer Radio & Marketing Group has had the honor of hosting the largest tailgate at Mizzou! It's a huge pregame party that provides amazing sponsorship opportunities for businesses in our community.
Listed below are the top ten reasons that your business should consider sponsoring Tiger Tailgate this year.
1. You will
be associated with Mizzou football.
Mizzou is our beloved home team. It's comforting to live in a college town where the general population's schedule is dictated by whether or not the Tigers are playing. By sponsoring Tiger Tailgate, you're associating your brand with The University of Missouri, which means that your business is sure to capture the hearts of the public. When Mizzou fans see and hear that your business is a vocal supporter of the home team, it makes them more likely to become your customers.
2. You will
have a variety of options for promoting your brand.
Tiger Tailgate presents businesses with a vast array of promotional opportunities, all of which are able to effectively promote the fact that your business is a proud event sponsor. These can include radio advertisements, online streaming advertisements, social media postings, online graphics and banner advertisements featuring business' logos, and the ever-popular live direct broadcasts that occur on-site at business locations. Each of these marketing mediums is proven to successfully brand businesses and draw in new customers.
3.

You will
generate foot traffic to your business

.
In order to get in on the fun, hopeful tailgate attendees are required to pick up a pass from a sponsoring business location. Being a Tiger Tailgate sponsor will make your business an official "Tiger Tailgate Pass Pick-Up Location." The above mentioned advertising mediums will consistently promote the fact that consumers should make their way to your business location in order to retrieve a free pass. This could mean instant foot traffic to your business all throughout football season!
4.

You will
have the opportunity to extend a bounce back offer to potential customers.
Being an official "Tiger Tailgate Pass Pick-Up Location" is a great way to generate foot traffic, but the benefits to this event sponsorship don't have to end there! Your business will also have the freedom to include a bounce back offer with each tailgate pass given out from your location. By extending an exclusive offer on your products or services to Tiger Tailgate attendees, you will encourage consumers to return to your business, even after football season is over.
5.

You will
have the opportunity for additional promotional options.
Apart from the above mentioned advertising opportunities, additional promotional options are available with Tiger Tailgate sponsorships. These options can include both traditional and digital components. Want to learn how your business can take a Tiger Tailgate sponsorship to an even greater level? Ask us about these additional promotional options that can be custom-tailored to attract even more of the right business to your company.
6. You will
get signage to draw attention to your business.
Official Tiger Tailgate sponsors will receive eye-catching signage designed by our award-winning graphic design team. These signs will be sure to draw attention to your business, while signifying the fact that your business is a proud Tiger Tailgate sponsor and Mizzou football supporter.
7. You will
get to be around over 1,000 community members each game.
Approximately 1,200 people show up to each Tiger Tailgate. That's because everyone in the community knows what a great time it is! Not to mention, it's free for all! This presents your business with the opportunity to interact with a large number of people who are all in one place. Talk about an incredible prospecting opportunity!
8. You will
discover there is minimal work on your end.
When we asked for feedback from past Tiger Tailgate sponsors, each one of them mentioned that they were pleased to find that there was minimal work on their end. At Zimmer, we want to make Tiger Tailgate exciting for all of our sponsors and attendees alike. That's why we work hard to make it a success, so that you don't have to!
To read a testimonial from one of our past Tiger Tailgate sponsors, click below:
9. You will
be a part of the VIP sponsor den.
Everyone loves being a VIP! As a Tiger Tailgate sponsor, you'll get to experience this feeling at every Mizzou home game. A separate tailgating area, specifically for Tiger Tailgate sponsors, is located at the far end of the tailgate closest to Faurot Field. This area features its own entrance/exit, a restroom, food, drinks, and tables beneath a tent in order to beat the heat. This exclusive area is available to Tiger Tailgate sponsors who are looking to be a part of all the action without fighting the large crowd for food or a for place to sit.
10. You will
get to be a part of all the fun!
As previously mentioned, Tiger Tailgate has a solid reputation as the largest tailgate at Mizzou! It is consistently referred to as a huge pregame "party." Because of the guaranteed fun (and the fact that it's free!), it has left a long-standing positive impression within the community. By attaching your business' name to this exciting event, you will be sure to reap a variety of benefits for months to come. Not to mention, you'll have some fun of your own in the process!
Ready to become a 2019 Tiger Tailgate sponsor? Or do you have any questions? Click the link below. M-I-Z!