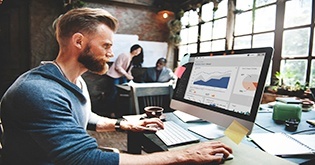 Depending on your budget, one of the overarching goals of your advertising strategy is to influence your audience more generally in favor of your brand, rather than to take a particular action. That requires the eponymous awareness campaign, which is intended to reach wide audiences in order to make your brand memorable and spread a message that doesn't necessarily directly tie to your bottom line through sales. In our companion piece, we'll take a closer look at developing action campaigns, but in this post, we'll focus on the ten goals best accomplished utilizing an awareness campaign strategy.
1. Measurability
While the results will never be as immediate or seem as impressive as those attached to an action campaign, your goals for an awareness campaign should still involve ways to gauge success and ROI. It's important to remember that this type of campaign will take a longer period of time to fully develop its impact, and measuring it is going to require charting traffic in-store and online over time as well as things like testing focus groups about brand recall. Awareness campaigns simply require a different outlook from action campaigns.
2. Frequency
With the emphasis on a long-term view, goals for awareness campaigns should involve a less intense level of frequency than action campaigns. In fact, a recent study from Facebook IQ shows that a much higher frequency is required to influence purchase intent than to lift elements such as brand recall. However you also need to understand your audience and the frequency they'll tolerate so that between an awareness campaign and any simultaneous action campaigns, you won't hit a frequency that leaves your audience tuning out.
3. Reach
If you want to accomplish the goals below, especially anything influencing brand perception, while reaching the largest number of people, awareness campaigns are exactly what you need. This type of campaign is also perfect for extending your reach into new markets filled with an otherwise unqualified audience. That's because unlike an action campaign, which needs to reach the most qualified audiences in order to have effective impact and reasonable ROI, the awareness campaign strategy is focused on creating those qualified customers.
4. Increase Brand Awareness
This is the bread and butter for this style of campaign, and it's the bottom line when it comes to why an awareness campaign is an important part of your marketing mix. For one thing, it helps ensure audiences know about your brand to begin with. But while the latest product and hottest sale are certainly important drivers, who your brand is and what you stand for are just as important as what your brand has to offer.
5. Stay Top of Mind
This is where frequency comes back to build brand awareness into something powerful and influential. Bearing in mind that that the buyer's journey is now scattered across numerous moments, devices, and channels, awareness campaigns are critical for maintaining the touchpoints that remind customers that your brand is there and ready with what they need. Being top of mind and staying there is important as customers draw closer to their final purchase decision.
6. Educate Audience about Your USP
Taking a long term approach without the pressure to push sales in the marketing message leaves a lot of room to do more than simply lift awareness. Awareness campaigns can become a platform to inform your audience about what makes your brand unique. This is the style of campaign that can differentiate you from your competitors in a way that's more meaningful than just a better price. For instance, in a 2015 report, Xerox determined that 54% of consumers would pay more for better customer service. If your competitor offers better prices but terrible service, making your brand stand out as the business that will treat customers the way they deserve to be treated becomes a unique and winning selling point.
7. Improve Brand Authority
Informing customers about how you're different from your competitors isn't always enough. This style of campaign encompasses a lot of long form tactics (e.g., content marketing) that can transform your business from just another store into the brand that knows what it's talking about and has knowledge it can offer the customer as well. For instance, a home improvement store might have a blog with posts about how to coordinate paint colors to be most pleasing to the eye or generate a certain feeling, or it could offer videos about how furniture arrangement can impact whether a room feels open or crowded. Content like this helps make the brand a go-to choice, even when the customer isn't necessarily interested in making a purchase.
8. Relay Brand Authenticity
However, establishing authority and value isn't enough, and awareness campaigns are excellent tools for solidifying brand authenticity. The only thing consumers hate more than being sold to is being lied to, and this style of campaign is perfectly geared for developing a message that makes it clear that your brand genuinely stands by its ideals, whether it's about how your business conducts itself through customer problems or corporate and social responsibility.
9. Convert Customers Consistently
An awareness campaign relies on building familiarity along with the points we've mentioned so far in order to consistently make the brand grow into a top choice in consumer minds. In action oriented campaigns, awareness is merely the top of the funnel. But rather than emphasizing a specific time frame that feature spikes in conversions and sales, awareness campaigns are good at developing those same goals through repeat customers over the long term.
10. Build Brand Loyalty
Familiarity also helps to build loyalty, but a campaign that's focused on building ideas about your brand rather than generating action can do so much more for loyalty. For instance, 37% of consumers in the US are loyal to brands that actively support shared causes, like charities. Awareness campaigns are the perfect platform to educate audiences about which causes your brand stands behind without the risk of sounding like a sales pitch.
A truly balanced and effective marketing plan will take advantage of both action and awareness campaign strategy tactics across channels in order to successfully reach and engage your audience. Be sure to read our companion piece about action campaigns to ensure your marketing utilizes a steady media mix for the best results based on your audience and your business goals and needs.