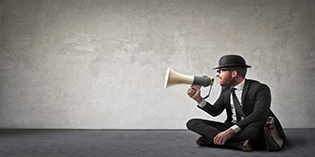 When developing the tactics and strategies to accomplish your advertising goals, there are two types of marketing campaigns to consider: action and awareness. An action campaign is specifically designed to be compelling enough to draw audience members to your business for a particular reason. In our companion piece, we'll take a closer look at developing awareness campaigns, but in this post, we'll focus on the ten goals best accomplished utilizing an action campaign.
1. Creating Customer Action
This is really the core goal that should always be accomplished by an action campaign. This is accomplished by a call-to-action that clearly instructs the audience to do something which in turn helps you reach business goals. They should be tailored to each platform or device to drive efficacy — a mobile ad, for instance, could let a potential customer pull up driving directions in their maps app, whereas a Facebook ad could link directly to items in your online store. Including a CTA can have some seriously tangible benefits as well. For instance, emails with a single CTA increased sales by 1617%, and a targeted CTA is 42% more likely to lead to conversions.
2. Short-Term Accomplishments
Action campaigns are also most effective for accomplishing short term business goals, as you'll see in many of our examples below. This is because this style of campaign effectively leverages high frequency and a sense of immediacy to inspire interest and action. It also allows you to plan to intersect your audience at various points in their buyer's journey. For example, running a strong action campaign on the radio puts you in a key position to influence a customer's final purchase decision: 71% of listeners trust radio more when they're close to purchase.
3. Measurability
Both of our first two points make determining the ROI of your action campaigns clear thanks to the fact that it becomes easy to benchmark the associated goals below. A direct and specific CTA should have results within a certain period of time, such as increased foot traffic in-store or increased web traffic on a landing page. While this should be attached in part to channel-specific metrics (e.g., CTR on social media, using a promotion code mentioned in a radio ad) and business goals (e.g., building your database), you should ultimately see lifts in much more significant goals, especially revenue.
4. Promote an Event Your Business Is Holding
Whether it's in-store or online, special events require traffic to be meaningful. An action campaign tells potential attendees where to be and when to be there, as well as why they should be there to begin with. If it's an exclusive event, this kind of campaign can also build buzz and potentially build leads for the audience that doesn't want to miss out.
5. Promote an Event Your Brand is Participating In
Action campaigns are equally as powerful for events that your business will be present at, especially since associating with or even sponsoring the event can build up brand perception. If your event marketing plan is going to take advantage of special guests, games, or contests, the action campaign will not only help ensure attendees are aware that you're doing that, but when you're holding these mini events they can participate.
6. Introduce New Products or Services
The only way potential customers can take advantage of new products and services is to know that they exist and how to access them. Action campaigns can help educate your audience about what your business offers and gives you the opportunity to influence the audience into trying them. It's a great way to differentiate your brand and the perfect way to express the unique value you provide.
7. Promote Special Offers, Sales, or Discounts
Nothing motivates consumers quite like a good deal, and leveraging action campaigns to spread the word is a key way to inform your audience that it's going on. It's especially important to engage customers early enough in their path to purchase that they'll plan to take advantage of your sale.
8. Generate Leads within a Specific Time Frame
While our rule of thumb is that a good action campaign should be compelling enough to make a listener stop what they're doing and head to your store, not every purchase cycle is that immediate, and not every listener is ready to make a final decision. Fortunately, this style of campaign can also help generate leads that draw potential customers to your business. CTAs might include having the audience sign up for your newsletter or register for more information. This is especially apt for social media; Facebook even features a Lead Ad option that prompts users to fill out a form once they've clicked.
9. Generate Sales with a Specific Time Frame
Marketing should always work hand-in-hand with sales, especially if one of your business goals is to increase overall sales by a certain percent by a certain point in time. This isn't just applied to a single advertisement, but should be the larger goal behind goals like introducing new products or promoting special offers.
10. Recruitment
Believe it or not, action campaigns can be extremely effective at helping to spur interest in working with your business, rather than using it. Whether you're developing a listing for a new job opening or participating in a little social recruiting, approaching the task as a marketing action campaign can increase the number of applicants you receive. That's because your CTA can help differentiate your business, generate interest, and make your job listing compelling enough to inspire action. What's more, approaching your recruiting efforts like you would a marketing campaign — that is, regularly updating your language to reach candidates where they are, strengthening your message, and actually testing its efficacy — allows your business to stay fresh for top talent.

Understanding these ten types of goals will help you better strategize your action campaign and build a stronger overall marketing plan to achieve long term success and growth. Remember that these goals aren't specific to a particular channel and so should be executed across whichever channels reach your audience best. Be sure to read our companion piece focused on awareness campaigns to ensure your marketing plan utilizes a balanced mix for the best results.