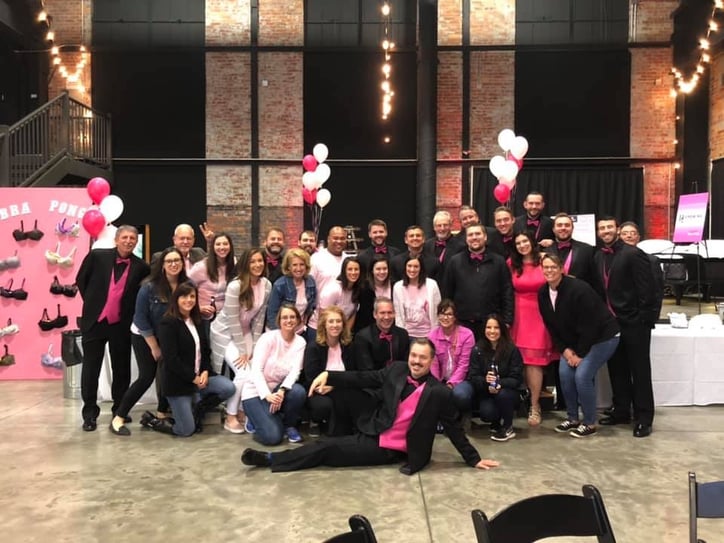 Happy Thanksgiving! We hope you're about to dive into a glorious spread of stuffing, mashed potatoes, green bean and sweet potato casseroles, pumpkin pie, and of course, turkey! But while you're waiting for the food to finally hit the table, we want to take a quick moment to briefly present five reasons that we're incredibly thankful this year and explain how your business directly benefits from each.
Zimmer Legacy
First and foremost, we are thankful for the Zimmer legacy and everything that name entails. Mr. Zimmer, a well-respected radio pioneer, started our company started back in 1956. Ten years later, one of his radio stations became one of the first country music stations in the U.S. Fast-forward to 1996: Mr. Zimmer's passion and life-long love for broadcasting earned him the coveted, Missouri Broadcasters Association Lifetime Achievement Award.
By partnering with us, your business is an important part of that legacy. Your current marketing goals and strategies are preceded by more than half a century of groundbreaking success. We love joining our story with yours, cultivating new legacies together along the way.
I

nnovation
Radio stations have come a long way in the past 25 years (even in the past 5 years!) with the rise of digital media. Instead of being intimidated by these mediums, our radio station has determined to innovate and continue to provide top-of-the-line, cutting-edge ways for our clients to promote themselves.
Today, we are thankful for these additional forms of advertising that provide our clients with the opportunity to have all-encompassing, integrated marketing campaigns. At Zimmer, we're happy to offer a variety of these kinds of digital services, including geofencing, targeted display, SEM, OTT, social media, logo design, website design and development, inbound marketing, print design, and much more.
By partnering with us, you can expect all types of cutting-edge, digital marketing strategies to be available at your fingertips.
Mid
Missouri
We can all agree that we're extremely privileged to live in the Mid-Missouri area. Thanks to Mizzou, we have an overabundance of unique, revenue opportunities that the majority of the country lives without.
The general attitude of Mid-Missouri consumers is also something that small businesses can be grateful for. The people who make up this region are notoriously generous. Whenever there is a need in our community, Mid-Missouri shows up. Big time. This is evident through the region's unselfish involvement in various charitable causes throughout the year, including our recent Radiothon to raise money for Missouri's tornado victims, as well as our annual Radiothons for the Children's Miracle Network and Honor Flight.
Mid-Missouri is also enthusiastic about showing up to simply have a good time, as evidenced through the success of some of our local events, like Tiger Tailgate, Girls Night Out, Project: Pink Party, and The CoMo Man Show. We are constantly blown away by the goodwill and fun-loving spirit of our Mid-Missouri community!
By partnering with us, you can gain exclusive access to event sponsorship opportunities that will bring the incredible people of Mid-Missouri straight to you.
Experienced Staff
One of our core values at Zimmer is continual improvement, which we highly prioritize in all of our everyday activities. However, our commitment to this core value is most evident in our highly trained and experienced staff members. Our employees are passionate about being the marketing experts that our clients deserve. That's why we constantly strive to better ourselves through weekly and monthly trainings, webinars, and national and regional conferences.
We are also eager to stay up-to-date on marketing trends (on both radio and digital platforms), so that we can provide our clients with timely and relevant information that they need to succeed in our market. So today, we're incredibly thankful for our experienced staff who willingly takes on this challenge.
By partnering with us, you can reap the benefits of a staff that is well-trained and equipped to handle all of your business' marketing solutions.
Respect
Lastly, we are thankful to see another one of our core values in action each day: respect. At Zimmer, we are committed to respecting the time, talent, and contribution of every individual involved in all of our processes. Not only is this demonstrated through our staff's interactions with one another, but it is also true of our dealings with our clients. We hold your business' needs in high esteem, which means that we take your time and your marketing budget very seriously. We show this respect by avidly tracking your business' return on investment to ensure that your advertising is truly driving results.
By partnering with us, you can expect your business to always be treated with the utmost respect.
The word "thankful" seems insufficient when we consider the plethora of privileges that we have. We are all fortunate to live in a time and a place that is conducive to small businesses experiencing unprecedented success. At Zimmer, we are grateful to be a part of our clients' inspiring stories. Partner with us today and we promise you'll be thankful you did.