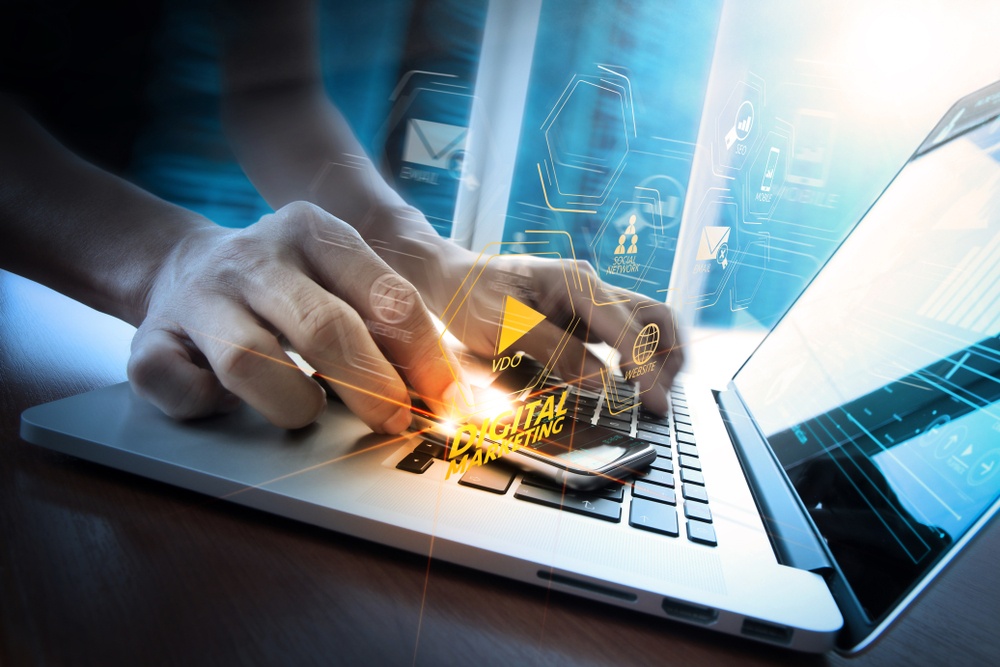 We've said it before, but we'll say it again: At Zimmer, we believe in the power of traditional media, like radio and magazines, but we also believe in the power of digital media, and especially the remarkable power that comes from integrating these advertising mediums.
We have previously written on the array of digital marketing services that we offer, but now, we are proud to introduce two new digital services that we have added to our cutting-edge lineup: geofencing and targeted display advertising.
This particular post will focus on the basics of targeted display ads, helping your business to determine if this popular digital service is right for you. To learn more about geofencing, click here.
Why Should My Business Incorporate Digital Advertising Into My Media Mix?
Targeted display advertisements are compatible with both mobile and desktop versions of websites; therefore, there are endless statistics on the vastness of the overall reach potential of each of these mediums. Here are just a few statistics to summarize the relevance of reaching consumers on both their mobile and desktop devices:
Mobile
The average American adult (18+) spends 4 hours and 15 minutes on their mobile phone every day. (Source: Flurry Analytics study)
63% of U.S. consumers access the Internet via their mobile devices. (Source: Stone Temple Research)
Smartphone users interact with their mobile devices an average of 13 times per hour. (Source: Radio Ad Lab)
91% of smartphone users turn to their mobile devices for inspiration when in the middle of a task. (Source: "Consumer Mobile Behaviors Study," Google 2017)
51% of customers say that they consistently discover new brands and products via their smartphones. (Source: BrightEdge)
Desktop
Adding desktop reaches the other 37% of U.S. consumers who access the Internet via their desktop devices. (Source: Stone Temple Research)
51% of U.S. consumers spend more time on desktop websites than mobile websites. (Source: Stone Temple Research)
80% of all U.S. adults (ages 18 to 54) report using multiple devices to access the Internet. "Mobile only" users account for 15%, while "Desktop only" users account for just 5%. (Source: Smart Insights)
What is Targeted Display?
Targeted display advertisements are relevant banner ads that are placed on both mobile and desktop versions of websites. These banner ads are highly targeted, reaching specified locations, demographics, and groups with certain online behavioral interests and patterns.
How Does Targeted Display Work?
As its name suggests, targeted display is all about using digital capabilities to "target" business' ideal customers. But just how targeted can this practice get? Very! Businesses can use online location-sensing capabilities to serve banner ads to consumers within a specified zip code. Thanks to online intelligence, businesses can also serve banner ads to a particular target market, such as a 45- to 50-year-old woman with children who makes over $50K per year.
So, where are these specific groups of people actually seeing these banner ads?
At Zimmer, we serve these targeted banner ads to the top 1,000 websites as indicated by comScore. This ensures that businesses are getting their best "bang for their buck" as they are repeatedly targeting the most popular websites on the Internet.
Another feature of targeted display that takes the process one step further is termed, "Retargeting display." This feature allows businesses to serve banner ads to consumers who were previously on their website. Not only does this practice help build brand awareness, but it also increases the likelihood of consumers converting into paying customers by reminding them to revisit that business' site.
So, what would all of this actually look like?
Think of it this way: You're on your desktop computer browsing the latest deals on Amazon. Because Kaldi's Coffee has identified your location and web activity as their "ideal target," you see a Kaldi's banner ad atop your screen. That's what targeted display advertising looks like.
But it doesn't end there. Because you are, in fact, in Kaldi's ideal target market and are interested in coffee, you end up visiting their website because of the banner ad you've seen. The next day, more Kaldi's Coffee banner ads are popping up while you're visiting websites on your mobile device. That's the power of re-targeting display. As you can see, targeted display banner ads are perfect for keeping businesses top-of-mind.
What Does a Targeted Display Ad Look Like?
When it comes to targeted display, we only use top-notch, HTML-5 design services to produce advertisements that are customized, eye-catching, and strategically designed to produce results. Below, you'll find a few examples of targeted display banner ads that have been strategically placed on common consumer websites, both desktop and mobile versions. (Left: Ad is placed at the bottom of the screen; Right: Ad is placed at the top of the screen)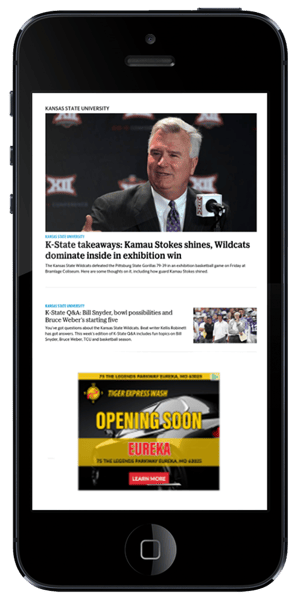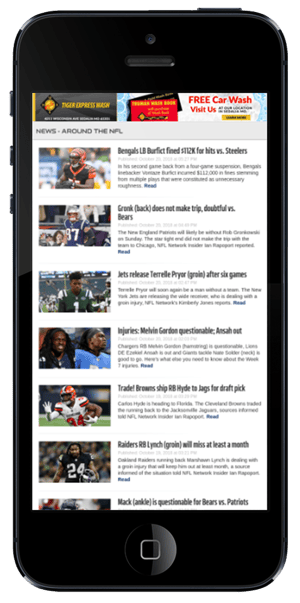 Who is Targeted Display Right For?
Any business, no matter the size, budget, or industry, can benefit from targeted display advertising. Its customizable options make it easy to find a perfect fit for any company seeking to increase sales and overall brand awareness.
How Are Results Measured?
Even though the digital industry has matured, too many of today's digital providers continue to rely solely on basic measurement methodologies, such as clicks. At Zimmer, we provide advanced reporting metrics that constitute clear differentiators.
It's important to note that targeted display data is not only easily traceable, but it is also exceedingly relevant, as advertisements are highly targeted based on consumer locations, demographic information (age, gender, education level, household income, etc.), and online behavioral interests and patterns.
Here are some of the capabilities that targeted display ads offer when it comes to tracking ROI:
Transparent ad placement. This digital capability allows your business to see a "receipt" of where and when your ads were placed.
Clicks. This is a basic tracking metric on its own, but it's important to know how many consumers actually clicked on your advertisement in order to visit your website.
View-Throughs. This metric shows how many people saw your ad, did not click it, but later visited your business' website as an eventual result.
Hovers. This metric tells the number of people who moved over your targeted display ad or interacted with it in some way without taking the next step of going to your site.
Digital Lift. This metric becomes available once an ad campaign has been live for 90 days. It shows how much more likely someone is to visit your website after seeing your targeted display advertisements.
Foot traffic attribution. This metric only works in high foot traffic scenarios. It analyzes and measures specific in-store visits caused by location-aware, digital capabilities.
At Zimmer, we don't shy away from the power of digital advertising because we understand the statistics given above that accurately reflect the modern-day consumer. Not only do we see the potential in digital targeting services like geofencing and targeted display ads; we also see the unmatched potential in combining these digital methodologies with radio and magazine!
That's because it is statistically proven that combining traditional media with digital campaigns increases brand recall by 4.5 times! Want to build an even bigger brand by harnessing the power of traditional plus digital media channels? Contact us today to get started.