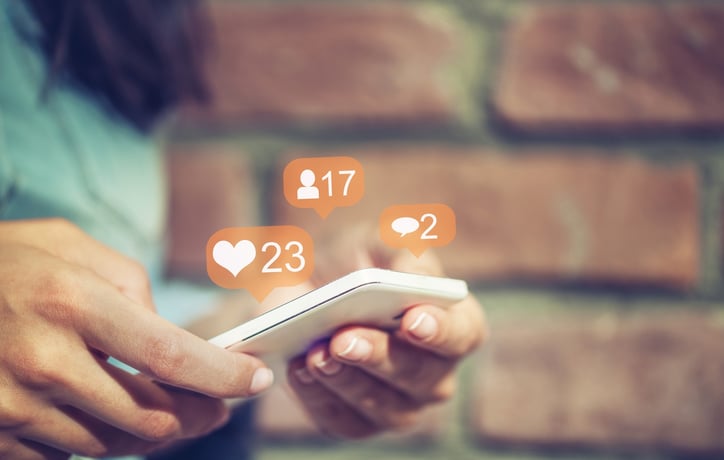 As a business owner, you know how important social media is for reaching new customers and building relationships. An important part of being successful on social media is capturing your audience's attention. In this post, we've put together a list of 6 simple social media post ideas that will help ensure that your posts show up and stand out.
1. Live Video
Live video has taken video marketing to a whole new level. Its interactive nature and cost effectiveness means it's something you should be using on your social media pages. It's a great way to give your audience a peek behind the scenes or include them in events they are unable to attend in person. Use live video to provide a demo of your latest product and educate customers on how to use it. Live video allows your audience to comment in real time, providing you an opportunity to engage with them and allowing users to interact with each other. Live-streaming an event allows you to expand your audience and generate excitement.
2. Educational Content
Establish yourself as an expert in your industry by posting educational content and useful information, such as tips and tricks for using your products. Post links to relevant blog posts to generate website traffic.
3. Questions
Pose questions to your audience. You can ask open-ended questions such as "What's your favorite thing about our new product?" or post a question a customer has asked you. Ask questions that are relevant to your industry. For example, if you run a hair salon, you might ask, "Do you usually blow dry or air dry your hair?" A local pub might ask, "Beer or wine tonight?" Engaging your audience in this way is critical for social media algorithms. Facebook, for instance, shows users the most relevant posts based on the user's previous interactions.
4. User Generated Content (UGC)
UGC is any content posted by a fan or customer that promotes your brand. It's great for generating engagement, which in turn, as mentioned above, is great for getting your posts prioritized in social media algorithms. Ask users to post a photo or video of themselves at your location or using your product. Create a hashtag customers can use to get your audience more involved. Use UGC across your social media channels.
5. Giveaways/contests
Contests can be an effective way to generate engagement on social media. First, be clear about what your goals for the contest are — to get more followers, for instance — and also be clear with your users what the rules of the contest are and ensure that you comply with the platform's rules. Contests can be as simple as "Tell us where you like to enjoy your morning cup of coffee" to be entered in a drawing for a free coffee mug or "Like this post for a chance to win $100!" You can encourage people to follow your brand on Twitter or subscribe to your YouTube channel for a chance to win. Offer additional entries for users who post a link to your page on their blog or sign up for your newsletter.
6. Company/Behind the Scenes Info
Each week, feature a staff member on your page. Post a picture, a brief bio, and a "fun fact" such as what they're known for — "Shelly always has fresh flowers on her desk" — or their favorite quote. Also recognize company milestones such as an employee's work anniversary or your company's "birthday."
Why you should publish these types of posts
Each of these posts is designed to increase engagement, build trust, and establish your brand as a thought leader in your industry. The result is increased visibility for your brand and a better understanding of your customers' needs, which can serve as a guide for future content creation.
One of the most important things to keep in mind for your social media content is that you have to stand out. Grab your audience's attention and encourage them to interact with you to increase the likelihood that your posts will show up in their newsfeeds.