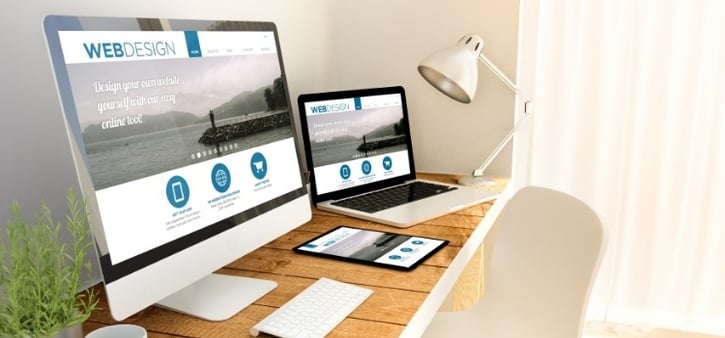 If you're reading this blog, you're among the 54% of small business owners that already understand how vital it is for your business to have a website. But you also know that having a business site and having an effective business site that builds qualified leads that will convert to sales improves brand awareness, and is ready to compete at the micro-moments battleground aren't the same thing. In today's post, we'll talk about the ten most important best practices for improving your website. After all, when you're looking for ways to improve your small business website, you want more than how to keep up trends.
1. Become Responsive
Responsive is undoubtedly a word you've heard thrown around since "Mobilegeddon" struck early last year. However, the fact remains that having a mobile friendly website is vital, and the most cost effective way to ensure that is by offering a responsive website. That's because it's not only easier for Google and other search engines to index (helping your rank well on results pages), it's easier for customers to have a seamless experience across devices, something that's important to 83% of mobile consumers. As the term implies, responsive websites have the native ability to adjust their layouts to suit any screen size, from smartphones, phablets, and tablets to full-size computers that convert into a tablet mode or even just TV-sized computer touch screens.
As devices continue to evolve, a responsive design will ensure your site remains accessible. Of course, while this is true for any business website, it's especially true for ecommerce sites. If you run a web store, you simply cannot afford the drop in traffic that not being mobile friendly represents, or risk the drop in traffic that having a non-optimized site will grow to represent.
2. Exude Your Brand
With the path to purchase so fragmented, brand consistency is more important than ever. This helps build trust with your customers, in part because they know what to expect from your brand, no matter where they find you. It helps carry your brand story forward and differentiate you from your competition, ensuring they understand your message and build an emotional connection that offers equity and value over the long term.
Remember, consumers are no longer differentiating the online experience from the offline experience when it comes to brand consideration. There is increasingly equal likelihood that a customer will do research about your brand online then make purchases in store, make purchases online to pick up in store, or explore your brand in-store to shop online. That means your brand needs to not only be consistent within the website or across virtual channels, but across virtual and physical experiences of your brand.
3. Make Navigation Easy
Research last year revealed that 55% of websites receive 15 seconds or less of a user's attention, and 29% of smartphone users will switch which app or website they're using if they're dissatisfied with their ability to get what they want. There's two parts to helping ensure that your website isn't what's turning them away, and the first is navigation. Consumers don't have the patience to figure out how to do something as basic as navigating your site. That isn't to say that your navigation can't involve thinking outside the box, but it does mean that how you navigate the website needs to be simple and obvious.
Consider the reasons your customers have for visiting your website (e.g., contact information, product data, landing pages for special offers or events). Access to those reasons is what will make or break your customer's attention span for your site. Is the information obvious and interlinked? Or is it buried in places that mean customers will have to dig for it?
This can be especially vital for ecommerce sites. Check your metrics: If you're seeing high bounce rates that correlate to abandoned shopping carts, then the navigation of your checkout process is too frustrating for customers to complete. Note whether or not these are mobile shoppers as well—just because a shopping cart is easy to use on a computer doesn't mean that it's going to be easy to use from a smartphone.
4. Keep It Simple
The second part of ensuring your website layout is helping to capture customers instead of turning them away is the user experience. Having a website that's easy to navigate doesn't mean you have a site that's also optimized for your user. The fact that many business owners don't understand the difference can be illustrated by the fact that only 21% of small business owners plan to improve customer experience despite the fact that about 40% plan to improve SEO, social engagement, and content.
While navigation is key to user friendliness, a good customer experience is dependent on how they consume the site itself as developed by simplicity in design. Keep your business site free of clutter, organized by priority, and emphasizing the most important reasons to be using your site. This improves the attractiveness of those elements, tying brand consistency to action, and helps make your brand, and how customers want to interact with your brand, more engaging and memorable.
What does that look like? A balanced use of white space, especially around key buttons (e.g., a CTA button) or important information helps it stand out from the rest of your content. Text should be readable, and hyperlinks should be obvious. Even your URL can use a dose of simplicity—if you can't use your brand name for some reason, getting as close to your brand as possible is best. If you have to get clever, make sure the tie to your brand is obvious.
5. Keep It Obvious
Speaking of obvious, all the elements we've discussed so far should make it intuitive to know who your brand is, what you have to offer your customers, and why your customers should choose your brand. Your website will often provide the first impression about your business, so above all, it needs to express your expertise and establish your position as a desirable option in your market. Consider what value or benefits you offer your customer and why they ought to care, and make sure that's not only easy to understand, but engaging. (Video is a great way to establish this, giving your brand personality and breaking down potentially complicated concepts in a real world way.)
The internet has opened a lot of doors for thousands of options globally. Your website should be a key part in reaching your customer through all the noise, which means clarity is inherently vital.
6. Tap Into Social Proof
The other key to tapping into your customers is trust, but that can't be established by your brand message alone. Giving your customers a voice is valuable, not only because of the relationship it helps to build, but because of the value that your customers ascribe to peer reviews, testimonials, and feedback. In fact, 90% of customers read reviews before visiting a business, and nearly that many (88%) trust them as much as a personal recommendation from someone they know. Having reviews on your website proves the reliability of your claims, and it helps if you can promote reviews and testimonials that are balanced and endorses benefits. They also side step the temptation to view anything you say about your own brand as little more than a sales pitch because they represent authentic experiences. You can also turn negative reviews into social proof of listening to customer complaints (presuming you actually address those complaints, of course) by working them into your marketing.
Of course, as a small business, you may not necessarily have the tools on hand to leverage reviews. While many ecommerce platforms will offer a way to handle them, they may not provide you with the information or flexibility you're looking for, and if you're not operating on an ecommerce platform it may seem impossible. Remember, you can take advantage of outside review platforms (e.g., Google, Yelp), but for real usability, you should consider looking for rating and review software.
7. Have a Blog
As a small business owner, you may not be aware of the exponential increase in ad blockers or the attention bias that represents. While we don't want to delve into how that's going to influence a need to change marketing strategies, what we will say is that it puts a renewed emphasis on how important it is to have content. Sure, new, meaningful content is going to boost your Google rankings and strengthen the content you offer on your social channels, but it means so much more than that now.
Remember that in a fractured path to purchase, your customers are doing research long before they begin to approach your brand in a purposeful way. The emphatic shift to micro-moments means you need to be where your customers are looking for you in the moment, and not just with social media or ecommerce offerings. When they have a question that applies to your part of the market, you want your brand to be positioned to be the one with the answers they find at their fingertips (quite literally, given the rise of mobile). In one Entrepreneur experiment, for instance, they changed the number of blog posts per week from 2 to 10; it resulted in a 300% lift in traffic.
You're sure to already know that blogging can position your brand as a market leader, and in light of this increased importance, you need to remember to establish that across a variety of types of blog posts. Aside from general topics and posts about new product or service offerings, add content such as product tutorials that key into customer needs and interests.
8. Key Into SEO Strategy
First and foremost, you need to remember to stay on top of the ever-evolving rules of SEO. If you don't, you could end up missing disruptive changes like the shift to HTTPS, user intent, or the major one we already mentioned (Mobilegeddon). We should also note that your strategy should also be influenced by your industry, and even your niche within your industry. Beyond that, you need to understand that it's not just the keywords themselves that make the difference.
You need to develop a keyword strategy for your business, and like many other things, it needs to be integrated with other development and marketing strategies. Coordinate your keyword strategies with content marketing efforts such as guest bloggers—and the more influential the guest bloggers, the better. Leverage the influence you develop to share content on partnered sites, which will develop native backlinks and further establish your brand as a leader. Both of these tactics will improve your brand rankings in these areas. There's other aspects of your site that need to be keyword focused as well, including:
URL text
Meta descriptions
ALT tags
Page titles
There's also tools to help you better understand various aspects of your keyword strategy. Plagiarism checkers help ensure you have truly unique content, and keyword density checkers help avoid the sort of keyword stuffing that hurts the way Google ranks your quality. Keyword research tools and keyword planning tools give you deep information about how longtail keywords function in search engines and competitor sites. There's also comprehensive SEO software that collate analysis and reports about the relation to social signals, indexing, meta data like scheme.org markups, and other contextual aspects you may not be considering.
9. Utilize a Secure Host
We don't need to explain the importance of security on the internet, especially if your brand is already taking advantage of ecommerce. As we mentioned above, Google has favored secure hosting since 2014, and then bolstered "HTTPS" as a ranking signal last year. Experts are further expecting to see a greater emphasis on that in the coming year. While better security may mean changing hosting platforms, there's other steps you can take to ensure you have top security certifications. Beyond ranking, why does this matter? Quite simply, your customers aren't going to simply assume that your site is secure, and having the HTTPS ranking signal that they can see right in the URL bar automatically engenders faith in your business.
10. Stay Fresh
Here, again, we're extending this concept beyond the discussion of ranking, even if you may think this sounds a little obvious. Your content needs to stay up to date—your site shouldn't be promoting New Year's offerings when it's the Fourth of July, after all—but it also means using modern design techniques. Even if you love a retro tone, you don't want your design to feel like it hasn't been updated since the year 2000. What's more, you need to remember the influence your site can have on consumer perception of your brand. When customers visit your site, are they going to think of your brand as being in touch with fresh and unique solutions?
Now that you've got the core tips for how to improve your website, it's time to sit down and do the hard work. Evaluate which aspects you're doing right, and prioritize which you need to change. Is your web design outdated, or has your business grown or developed into new areas? What do you need to do to reach not just a sizable audience, but the right audience? Answering these questions will let you know whether or not your site needs a basic face lift, of if it's time to consider whether or not you need to rebrand.