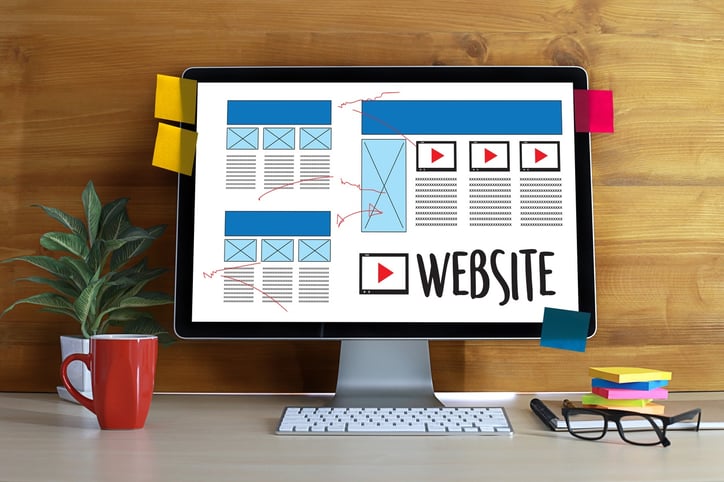 If you're like 71% of small business owners, then you already understand just how important it is to have a website. However, no matter how important of an investment it is, simply having a website isn't enough. You need to be utilizing your website at its full potential if you want to achieve all the best benefits. In today's post, we'll break down the seven key steps to ensuring your site reaches that potential and help move your business closer to success.
Leverage Your Logo and Branding
We've previously touched on why you need to develop your branding and logo before you design your website. Your logo, wordmark, and other visual branding elements are key to lifting brand recognition and recall, and consistency is important for engendering trust and message recall. When a visitor navigates to your homepage or a landing page, how will they know they're in the right place? The visuals will intrinsically link to other places where they've been exposed to your business or marketing. Your website is an extension of how you express your branding and a key way for your current and potential customers to experience your brand.
Touch Your Target Audience through Message and Design
Your target audience should always be at the heart of how you develop your marketing creative, and your website isn't any different. Roughly 75% of site visitors will judge your business credibility based on your design alone! You want your business to look professional and be appealing, and you want the customer to feel like you understand them or are a good fit for solving their pain points. They may be there to find contact information or to make a purchase, but they're just as likely to head there after being exposed to an ad about your latest product or promotion. That means you need to make what they're looking for easy to find, too. The longer it takes to dig up what they're looking for, the more likely they are to just give up, or worse, head to a competitor.
Tell Your Brand Story
Branding is all about who your company is, and there are few platforms that are a better fit for telling your brand story than your website. Develop an experience that sends all the right signals through your content (e.g., your blog, videos), and don't be afraid to include reviews or testimonials. Remember that your story needs to have personality and appeal to customer emotions.
Ensure It's Optimized
The "Mobilegeddon" moment in 2015 — i.e., when Google adjusted its algorithm to begin putting an emphasis on mobile-friendliness — led to a lot of changes. You need web pages (including images) that load quickly, which is to say, they take less than 3 seconds. Your design needs to be responsive so it can be viewed on any device comfortably, while all your links and video are functional across devices. And of course, you need to ensure your site is SEO optimized with the right keywords. You also need to be on top of this now; Google is preparing to adjust their algorithm again, and these elements will become even more important.
Always Use Clear CTAs
We can't understate the power of calls-to-action in your website. You don't want a visitor to simply come to your website, look around, and leave. You want them to take action, and ultimately, you want them to convert into a paying customer. What CTAs you use should be defined by your business goals. Is there a promotion you want to direct them to, or do you want them to use social media to engage in a contest? Is there a newsletter they should sign up for or a new blog post they should read? Maybe there's a new product they should find out more about. Tell them how to find what they're interested in.
Have Ways To Collect Visitor Information
Most of the people that visit your website are going to be interested in your company for some reason, but not all of them will be ready to convert. That doesn't mean you should just let them slip away — have some way to gather information. Part of this should be proactive lead generation, like forms for collecting information in exchange for access to a newsletter or free ebook. Part of this should also be passive, such as taking advantage of Google or Facebook's retargeted advertising features.
Have a Plan
Your website is a key piece to your branding and marketing strategies, which means it needs to be aligned to your business goals. Don't approach this haphazardly because it's "just" your website. Make a plan for how you want to utilize it, as well as how and when to update it. This should include regular content (e.g., updating your blog every week) as well as design and static messaging. This will help ensure that the creative is always on target.
Remember, your website is an investment into your business success. If you regularly update your site to constantly follow these tips, you'll be utilizing your website in a way that generates the best returns possible. Whether you're running a broad-reaching national campaign, or you're focusing your efforts on a local target audience, website design is a critical element of your branding and marketing strategy.