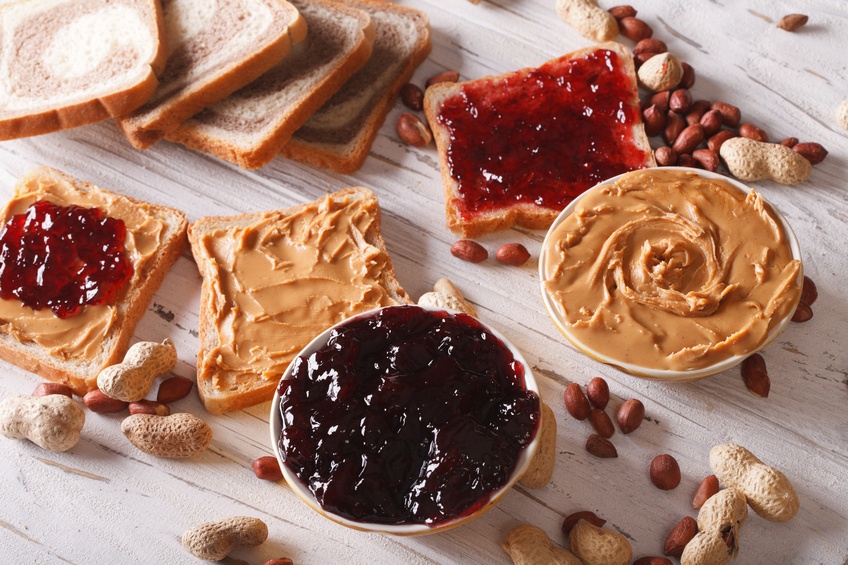 Oh, childhood…
There's nothing quite like the nostalgia of a good ol' peanut butter and jelly sandwich. We're pretty sure this sandwich is the most comforting food ever. Perhaps you can relate, but for us, middle school lunches were never quite complete without a PB&J packed. Even though some days we maybe envied the cool kids who had lunchables, PB&J was then, and is now a classic.
Whether you prefer creamy or chunky peanut butter, grape or strawberry jelly, and white or wheat bread — PB&J hits the spot every. time. And while other duos have tried to pair together just as well, nothing quite comes close. (Remember Britney Spears and K-Fed?) That is, until now.
If you're like most business owners, you've asked yourself "Why should I combine radio advertising and digital advertising?" You've maybe flirted with digital campaigns. You've probably even dabbled in radio marketing. But, how do radio and digital advertising work together? The magic is in the integration of the two. Integrating your online marketing efforts makes other media spend work harder. And as a result, the combination of online and offline advertising improves the effectiveness of offline advertising.
There is a new pair in town, a pair that will not only create synergy for your brand, but increase your ROI — the integration of radio and digital marketing. PB&J, look out.
Below, we've broken down how radio and different types of digital marketing go together well and can work off of one another. Read on to discover how you can integrate radio and digital for a more comprehensive, well-rounded strategy.
Radio and search
Generally speaking, radio advertising is designed to target mass groups of listeners while search engine optimization (SEO) and search engine marketing (SEM) are designed to connect with a very specific target on a more personal level. SEO can be achieved by anyone who learns the basics of content development and what search engines are looking for in terms of content quality.
Radio potentially reaches a much wider audience, while SEO/SEM helps attract interested prospects who actively seek specific products. By combining these efforts, you can get the best of both worlds. One great example of this is including target keywords in your radio commercial. This helps listeners to remember key words or phrases about your company and will allow them to more easily search for your brand online.
Retargeting, too, has its place in your marketing mix. Retargeting (a form of online targeted advertising by which online advertising is targeted to consumers based on their previous Internet actions) should go hand in hand with your search efforts, and will only be more effective if the end user has already heard a radio commercial mentioning your brand.
Radio and PPC
At Zimmer, we love digital marketing. We love creating masterful pay per click (PPC) campaigns and watching the results, combined with radio, create incredibly effective campaigns for our clients.
A custom PPC campaign is a great method for a toy company to reach parents who actively do their shopping online, but a catchy commercial with the brand's character is going to catch the attention of children putting together birthday or holiday wish lists. The cartoon makes children get excited and ask (sometimes beg), and the PPC ad reminds parents "Here is the product she's bugging you about, and you can purchase it with just a few clicks right here."
Radio and social
By combining two—or more—channels like social media and radio, you'll be able to extend your reach and increase your overall ROI with a cohesive, effective strategy that engages your current and potential customers.
Not only is it effective, combining radio and social media can be an inexpensive way to reach more people, more frequently, and in an engaging way. Radio has the perfect storm of local content, music and personalities that listeners are loyal to, and still a huge audience and mass reach. While social provides the ability to have one-on-one interactions and the power to humanize your brand.
Big or small businesses know the importance of establishing a strong social media presence as an effective way to reach new listeners. When you post fun, interesting, and engaging content, people will share your post and your message will spread. To truly engage your radio listeners, ask them questions they can then answer on social media. For example, a local auto shop might ask their listeners to take to social media and share their "Top five songs about cars" using a specific branded hashtag. This gets people talking, commenting, sharing, reposting and most importantly, interacting with your brand! Bonus points if you make this a contest and share the winner's songs and name on the radio!
Uniting your message across radio and social platforms increases the amount of eyes and ears paying attention to your message. And this can be a simple thing to implement! If a radio contest isn't a good fit for your brand, another option is to promote your radio ads directly on your social channels. You can make the audio available directly on your Facebook page, share a snippet of your ad being heard on Instagram, or reward customers who hear your ad and report back on Twitter.
Another exemplary way to integrate your radio with social is to utilize your radio station's presence. Radio stations have large numbers of loyal listeners, and in turn, a really impressive social media presence. At Zimmer, listeners flock to our social media pages looking for news, events, photos, posts from on-air personalities, fun quizzes and so much more! Broadening your reach with our captive fans by sponsoring tweets, Facebook posts, or content on our social pages can be an inexpensive and highly effective method.
For three more ways to pair social media and radio, check out our blog: The Perfect Pair: 5 Ways Social Media and Radio Can Work Together.
Banner ads
Banner ads can be a wonderful complement to your radio advertising efforts, as they carry the CTA from on-air to the web. Radio station listeners who have heard your commercial can then go to the radio station website to find out more information, click through to act, etc.
Running your ads on radio will give businesses a solid portion of the local commuter audience. However, a growing number of people turn to mobile apps to get their morning news and music. Using banner ads that are available on apps ensures that marketers are able to target a larger percentage of their audience.
Online video
Online video advertising is a good complement to radio, as it gives your brand the ability to extend your message further, and add visuals. Whatever story you're telling in your commercial can be further explored in an online video. Online video is also great because it gives you the opportunity to interact with and engage your customers by allowing them to get to know you and your brand and to feel comfortable with you.
Did you know consumers spent an average of 5.5 hours a day watching video content in 2015? More astoundingly is that Cisco predicts by 2017, video will account for a colossal 69% of all consumer Internet traffic. These staggering figures related to a worldwide surge in screen time have created a powerful imperative for small businesses to identify how they can work video marketing into their more traditional radio campaigns.
84% of consumers have liked a branded video in their social media news feed, and 56% have watched company videos deployed through email. That's a lot of eyes! Creating a campaign that combines the power of radio and video will allow your campaign to transcend media in a competitive atmosphere to get listeners excited.
Imagine if we never knew what Flo from Progressive Insurance looked like. Or, the Geico Gecko. But because of the power of video, we not only know them well, they've become popular and completely recognizable household names, not to mention, Halloween costumes! So now, when we hear Progressive or Geico radio spots, we are able to connect their voices and messages with these characters. This leads to brand trust, loyalty, and overall synergy with your advertising elements.
Consistency is key
Speaking of synergy, remember consistency is key. Your brand's personality should be the same, regardless of the platform. Your story is the same. Your logo usage, complementary design, voice and attitude should be consistent across your marketing materials. It doesn't matter if it's in a PPC ad, a banner ad on a radio station website, a retargeted Facebook right-rail ad, or in a radio commercial — your brand should be recognizable across every platform.
When creating your marketing campaign stick to the below integration tactics:
Consistent: Regardless of the platform, your ads should share the same voice, personality and goals. Consumers expect to find the same tone and messaging on your social media as they do through your radio spot.

Complimentary: Both your digital ads and your radio ads should support the same goals and help fuel one another to attain them. For example, you can use PPC insights as leverage to better understand how to speak to your customers. This becomes valuable information to develop highly effective radio ad copy.

Simultaneous: Capitalize on momentum by launching ads at the same time. Remember — online advertising makes other media work harder. Use both traditional and non-traditional advertising channels to

support the customer's purchase throughout their buyer's journey

to boost ROI.
Using tried and true combinations of marketing techniques allows you to reach potential customers at the most opportune times and in the most opportune places. It allows word of mouth to spread not only via mobile phones and computer screens, but in conversations held by people in real time. It allows conversions and sales to happen over the Internet and in-store.
And a well-crafted advertising campaign encourages engagement, be it in-person, on the phone, on-air, or via social media channels. A stellar marketing plan makes your brand relevant and accessible. With radio, you'll target broad segments of your audience and with digital, you can narrow in on that core group through demographics such as location or age, and even drill down further to more detailed audiences (location+age+spending habits+search history).
As a busy business owner, you might not know, or have time to determine what tactics are going to reach your target audience most effectively. You need a strategic partner to help you figure that out. At Zimmer Radio & Marketing Group we can help. We know your brand. We'll spend time with you perfecting your brand story, understanding your goals, and working with you on your brand strategy.
We also know radio and digital. We've had years of experience working in this industry and generating success for our clients. We know what works and what doesn't. Contact us today — let Zimmer Radio & Marketing Group help you create the best campaign that will connect you to your customers.