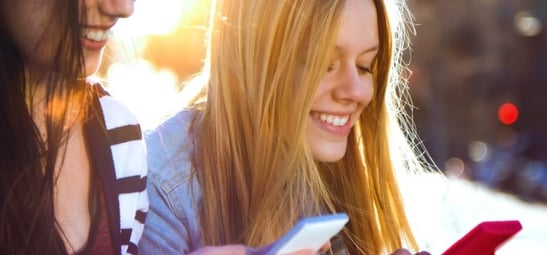 Marketing for small businesses is no longer focused on a divide-and-conquer strategy. Due to Google, mobile consumption, on-the-go lifestyles, social communities, and many other trends that have impacted the consumer journey, we can no longer expect our marketing messages to perform in silos. Instead, many businesses have found that most advertising works best when they are created to complement one another. By pairing two—or more—platforms together like social media and radio, you'll be able to extend your reach and increase your overall return on investment (ROI) with a cohesive, effective strategy that engages your current and potential customers.
Whether you are already advertising on the radio, but looking to boost your results, or you've got a stellar social media strategy, but hope to extend your reach with radio, this article will help you understand why these two are the perfect pair and how to take advantage of this opportunity.
1. Unite Your Marketing Messages
Your marketing creative shouldn't be contained to a single marketing platform. Instead, incorporate it across both your radio advertising and your social media presence. For starters, don't be afraid to promote your radio ads directly on social media. Make the audio available on your Facebook page, share a snippet of your ad being heard on Tik Tok, or reward customers who hear your ad and report back on Twitter. Add a call-to-action such as, "Tell us about a time this happened to you too" to really engage your fans and followers.
Radio advertising tends to focus on developing the "theater of the mind." However, by using social media marketing to enhance the radio experience, you can visually bring your story to life. For example, if a healthcare center advertised a new pediatrician office using two parents talking on their radio ad, the same business could create ads or images of parents making claims or giving testimonials on their social pages. They could also drive home the story by sharing recent reviews from Yelp, Facebook, and Google from real life parent customers.
2. Utilize the Radio Station's Presence
In the media industry we are aware of the importance of social media marketing; our social media pages attract large numbers of loyal listeners looking for news, fun facts, photos, feedback from on-air personalities, and local event information. Piggybacking on this captive audience can be a great way to improve your radio ad's frequency to the same audience. Sponsoring tweets, Facebook posts, or content on a radio station's social media page can be engaging and cost effective.
Having a presence online during your radio ad campaign will increase overall frequency to this very targeted audience and further position you with a radio station's brand.
3. Promote Appearances, Endorsements, & Special Events
In radio we know how to reach and engage with the local community. Whether it be producing live events or partnering with local organizations. You can steal a page from this book and see a higher ROI if your message takes on a physical presence at one of these events. Combining live events with radio and social media ensures that the experience can come alive in more ways than one.
Start by using social media to share where your "team" will be located, either leading up to or during the event. For example, if your business is promoting a new flavor of ice cream, let users know that you will be at the "coolest section," or that fans who Tweet with a specific hashtag and visit the booth, can get a free sample.
4. Turn Passive Listening Into Action
If your marketing goals include growing your business, generating leads, increasing traffic, selling new products or services, or any other tangible goals…then your advertising must have a strong and clear call-to-action. When combining social media with your existing radio ads, you can help take this action one step further.
Instead of simply hearing your radio commercial, listeners who engage with you on social (or you seek via social ads) can easily access what it is you are asking them to do. For example, if your goal as a law firm is to increase form submissions for new prospective clients then you should be sharing that webpage regularly on your social media pages. Don't make people work hard for what you want them to do, regularly present them with the opportunity to take action.
5. Encourage Engagement with Contests and Promotions
Radio and social media also work together well when there is some kind of incentive. Social media, in particular, is a perfect platform to engage people with contests and promotions. Especially if you're looking to generate new leads and re-engage loyal customers.
Photo contests on Facebook and Instagram are extremely popular among small businesses, especially with larger prizes like "A weekend getaway" or "$500 shopping spree." Don't overthink your social media contest and promotions either. A hashtag, for example, will collect images together for you and is easily promoted on air. For example, a Labor Day campaign by a lawn care company could be run by instructing listeners to share their best photos of their pathetic backyard BBQ with #SaveOurBBQ for a chance to win a complete backyard makeover.
Likes and shares from your fans will also add additional visibility to your promotions ultimately creating viral content. Your contest winner could even be the person who has promoted your content the most.
If it makes sense for your business, promoting these contests and promotions on air could be a great way to drive traffic on social media as well. Think about your audience and what they are most likely to respond to.
The Perfect Pair
Combining radio and social media can be a cost-effective way to reach more people, more often, in an engaging way. Radio has the perfect storm of local content, music and personalities that listeners are loyal to, and still a huge audience and mass reach. While social provides the ability to have one-on-one interactions and the power to humanize your brand.
These five ideas are only the tip of the iceberg on how you can pair two of the most frequently used, and loved, media platforms. Remember to think about your unique brand and audience first and foremost before trying to do everything at once, but also don't be afraid to try something new!