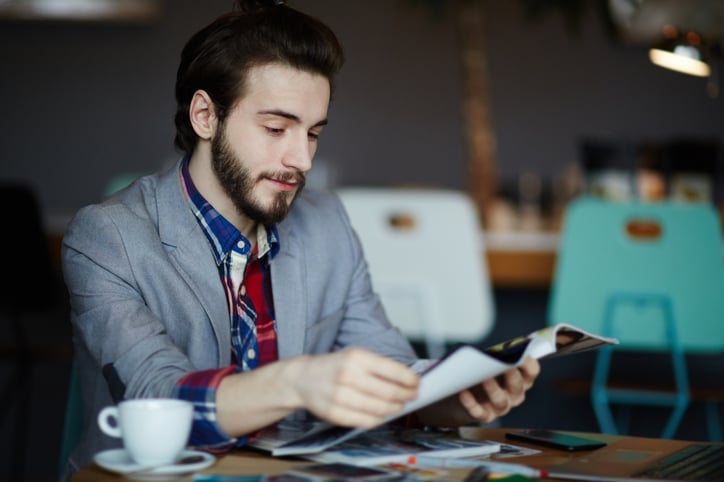 When a lot of marketing media tends to be dominated by B2C brands and tactics, it can be difficult to know where your B2B marketing belongs. On the one hand, the representatives at the company you're marketing to are people that consume radio, magazines, and digital content just like everyone else, but on the other hand, B2C methods tend to fall flat when used for B2B. That's why we've put together a list of the five best media you should use as a part of your strategy for B2B marketing in Mid-Missouri.
Company Website
There's no better real estate for your business than your company's website, and it ought to be the heart of your B2B marketing. That's because everyone will expect your company to have one, and it's where they'll go first to learn about your company and offerings. But there's more to it than being found when clients are looking for your company specifically. According to Google, 71% of B2B researchers start by searching for a generic keyword and 49% of them will do so from a mobile device. At the same time, 65% of all smartphone users will utilize the most relevant information, regardless of which company is sharing it, and another 51% discover new companies while running those searches. That means having a website — one that's optimized for SEO — is crucial for being discovered by potential clients. Landing pages will make it easier for potential clients to access the information they need based on ads they've heard or seen in magazines.
Aside from keywords, factors that can impact your search engine ranking are how quickly your page loads, whether your site is easy to navigate, the file size of images on your site, and the format of any video you embed. It's critical that your site use a responsive design, which is to say that it can automatically accommodate any screen size by adjusting font sizes, spacing, and other formatting elements. For one thing, Google uses it as an important ranking factor. However, the reason it does so is the real reason you should have a responsive design — more people do searches from their smartphone than from their computer, and may even opt for their phone when a computer is readily available (e.g., when they're at work).
Design also needs to follow your branding guidelines. Your logo, wordmark, and colors all need to be featured on the site, and its content should reflect the content, message, and tone clients will encounter in your ads. The site should be modern and easy to navigate, and it should be easy to find pertinent information (e.g., product and service descriptions, phone and address, etc.).
Radio
Don't make the assumption that because it's a traditional format, radio can't be useful to your B2B company. While you may think that its celebrated reach only applies to consumer-focused ads, it actually reaches 93% of small business owners, and 22% of all business owners attribute radio for giving them new ideas, per the RAB. What's more, radio lifts B2B ad awareness by 128% and positively impacts brand relevance and consideration (up 64% and 37% respectively).
When considering radio advertising in mid-Missouri to satisfy your B2B needs, we've found that news and talk stations such as KSSZ (The Eagle 93.9) or News Radio KWOS (950 AM/104.5 FM) are particularly useful. This aligns well with the RAB's findings, but always remember to be where your clients are. Music stations will be the right fit if that's what your audience is listening to.
Magazine
The Content Marketing Institute and MarketingProfs put out a 2017 report that showed 40% of B2B marketers used print or digital magazines for advertising. If it's not enough to know that there's a decent chance your competition is using magazines, then consider the fact that the readership for print and digital magazines has grown 6.2% per a report from the MPA, and an individual issue will continue to accumulate more audience over time. The report also shows that print magazine advertising provides better lifts in awareness, favorability, and purchase intent than either digital or TV. What's more, 61% of readers will take action after seeing a print magazine ad. The changes in impact based on size, placement, and being in color are also relatively flat, ranging from 58% for black-and-white ads to 65% for ad sizes at half a page and any size smaller than half a page.
Magazine ads can even be targeted, albeit not as specifically as digital display ads are. Topic and tone can appeal to different audience interests, and distribution areas will further determine who could be exposed to your ad. Be sure you're choosing magazines that your most qualified clients read and which make sense for your brand. For instance, B2B companies in mid-Missouri will find CEO Magazine to be a great option for putting its ads in front of purchase researchers and decision makers.
Social Media
A recent report from Regalix revealed that most B2B companies (86%) invest in social media marketing. It also revealed which platforms were best suited for different kinds of content. For most B2B content, like long-form content (e.g., white papers, case studies, research reports) and infographics, LinkedIn was the top choice. However, when it came to video, gamification, and other interactive content, Facebook was the top choice. That probably explains why respondents pointed equally to Facebook and LinkedIn for efficiently delivering on their investment.
Where native content thrives, paid advertising will prove to be important. This is supported by the 2017 trends report from The Content Marketing Institute and MarketingProfs, which notes that 84% of B2B marketers are utilizing paid social in their advertising strategy. It was also considered to be the second most effective paid method for digital marketing.
Local Events
A 2016 report from The Content Marketing Institute and MarketingProfs shows that 81% of B2B companies are utilizing in-person events as a marketing strategy. What's more impressive is the fact that it's been considered the most effective tactic since 2000, and the number of marketers who said so grew from 69% to 75%. Just being present at an event in the mid-Missouri region will put your brand front-of-mind and build trust by attaching a person or team to an otherwise faceless company. Sponsoring an event can be even more powerful because it ties your brand to that event and community, effectively speaking to who you are as a company. Cause marketing through events (e.g., charity) amplifies these impacts many times over. This can solidify the client relationships you already have, but it can also generate new business when potential clients discover you there or learn about your participation.
As you can see, these channels present prime opportunities for B2B marketing in mid-Missouri. Some of these channels are must-have in the digital age due to client expectations, like a brand website or social media channel. However, every business is different, and which specific channels are used and how your marketing is executed need to be customized to your company's needs. Commit to doing the market research to choose which channels are the best fit and can yield the best results. Remember, you can also turn to a media partner like Zimmer Radio & Marketing Group. A media partner is the expert and professional that can provide important insights into your audience, help develop and produce creative, and help your company succeed and grow by delivering amazing results.