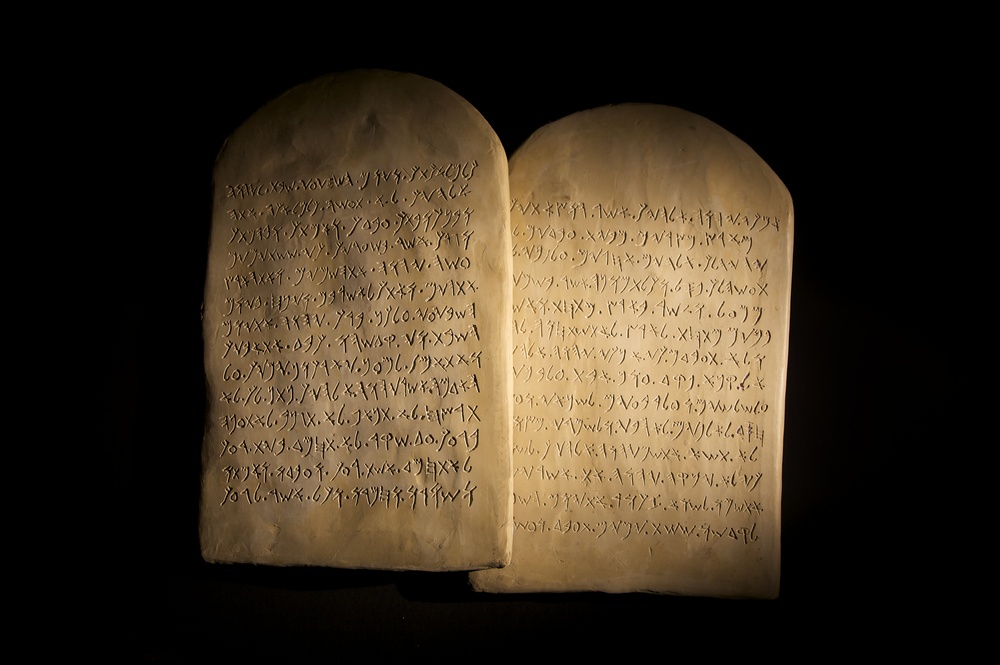 Digital marketing. Two words that evoke either heavenly or hellish feelings within today's business owners and marketers. Some idolize it and find it to be divinely-inspired. Some are confused by it and covet those who have capitalized on it.
Neither of these outlooks, however, is the right approach. Too much or too little digital marketing can be detrimental to businesses who are seeking to make an eternal impact. Today, we're clearing up the controversy by identifying a sacred list of guidelines: the ten commandments of digital marketing.
1. Thou shalt develop a digital marketing strategy.
In the beginning, businesses must create a strategy. This seems too fundamental to even mention, but unfortunately, many of today's businesses neglect this crucial first step. They get excited at the thought of "testing out" digital and simply want to proclaim, "Let there be digital marketing," then expect positive results to just come into existence. It is imperative, however, that all marketing, digital or traditional, begins with a strategy.
In order to develop such a strategy, businesses must address pertinent questions on the front end of their digital efforts. These should include questions like:
What will our quarterly and annual budget be for our digital spending?
Which digital platform(s) will we utilize?
Who will be in charge of executing and maintaining our digital marketing strategies?
How will we ensure that our branding stays consistent with our other advertising efforts?
How will we measure success?
2. Thou shalt have a responsive website.
A 2017 study found that 75% of the U.S. actively browses the Internet from a mobile device. That's a large chunk of the population! It's clear that mobile technologies are changing the way we do business on a continual basis. Because of this, websites must now be responsive in their design. A "responsive" design refers to a website that conforms appropriately to whatever screen size and device someone is viewing it on. This provides a smooth customer experience and will prevent users from navigating away from your website due to a confusing or visually-unappealing design. Learn more about responsive websites here.
3. Thou shalt utilize images.
Images have a rich history of being highly important to digital marketing. Current data supports this: A recent study found that three days after being exposed to a message, people retained approximately 65% of that information if it was paired with a visually-appealing and relevant image. This helps explain why, in the past few years, marketers have come to accept that visual posts have an extremely positive impact on impressions, click-through rates, shares, and memorability. Need help finding and creating images for your website and social posts? Learn about twelve easy-to-use imaging tools here.
4. Thou shalt utilize video.
If you haven't already noticed, videos are taking the digital marketing world by storm. In fact, Cisco projects that by 2019, global Internet traffic from videos will make up 80% of all Internet traffic! Live videos, in particular, attract a large amount of this traffic. It's worth noting that on social media, live videos receive six times the engagement of non-live videos!
But are videos good for business? Well, this telling study seems to indicate so. It found that four times as many consumers would prefer to watch a video about a product than to read about it. Businesses would be wise to incorporate educational videos on their websites, while posting fun, behind-the-scenes and interactive videos on their social media channels. Need some more specific ideas for video content? Check out this post.
5. Thou shalt invest in Facebook ads.
"Zuck bucks" are the currency of Facebook (basically any dime that a business uses to sponsor, or "boost," its social posts). While organic reach on Facebook is great, recent algorithm changes on this social platform have made it increasingly challenging to obtain. This is why boosted posts are bringing businesses more benefits than ever before!
Businesses should also take into consideration that boosted posts are capable of being highly targeted. Businesses can tailor the settings of each sponsored post to reach certain demographic groups, zip codes, and even users with specific interests. This type of targeting is sure to get your business' posts noticed by the right social media users. If your business has never tried sponsoring its Facebook posts, then now is the time to do so.
6. Thou shalt blog.
The reality is that in today's digital world, people are going to find whatever information they need online. But will they find this coveted information on your website or on your competitors'? The best way to ensure that your business is seen as a trusted resource is by having a business blog.
Not only do blogs help a business' SEO by allowing them to rank for certain keywords, but they also help position businesses as experts in their industry. They settle unanswered questions, drive traffic, generate leads, help boost social media presence, and they simply show that a business cares. To learn more about the importance of business blogging, read this post.
7. Thou shalt build an email database.
Are you talking to your customers each week? If not, you should be! Email marketing is one of the most powerful tools for small businesses. In fact, according to Salesforce, 69% of US internet users prefer communicating with businesses via email. Email allows businesses to have a constant (and often personalized) conversation with a core group of followers. It can highlight company news, educate about products and services, and provide any relevant information that will help drive people to your website and store. Check out these five, easy tips for managing an email database.
8. Thou shalt not spend an entire budget on digital.
Digital marketing is hot, new, and exciting! Not only that, but it is proven to produce results. However, it is worth noting that digital marketing does have its limits. Due to its rising popularity, the digital space is extremely overcrowded. It can also be perceived as impersonal and untrustworthy. As a matter of fact, a 2017 survey found that just 7% of survey participants viewed online ads in a positive light.
Now, don't get us wrong: We're not sharing these facts to undermine the use of digital marketing! These downfalls should simply alert business owners and marketers to the fact that another advertising medium must be incorporated into their marketing mix in order to compensate for digital's weaknesses. It's important to understand that your customer lives in both a digital and a physical world, and they expect to find the brands they love in both places.
To learn more about using traditional marketing options, such as radio and local magazine advertising, to complement your digital strategies, check out our eBook, "Effectively Using Traditional Marketing Platforms in Today's 'Digital World.'"
9. Thou shalt employ a competent digital marketing team.
Digital marketing tends to consume a lot of time! How much exactly? According to a study from Social Media Today, "more than 60% of digital marketers report spending at least 6 hours per day on their digital marketing efforts, while about one in three digital marketers say that they spend 11+ hours working online every day." That's a lot!
The solution for this hefty time commitment is a competent digital marketing team. This team must be tech savvy and have a good understanding of the digital space. They must know your business' digital goals and execute strategies in accordance with these. Frequent meetings between managers and digital teams should be prioritized to ensure that goals are being met and that your digital marketing spending is worthwhile.
10. Thou shalt understand digital analytics.
Tracking digital marketing can be tricky, but it is possible! Google analytics tools help businesses interpret how much website traffic they are receiving and what sources it is coming from. This can then help these businesses determine certain areas of their digital strategies that they need to tweak. In terms of social media, engagement metrics, such as shares, comments, likes, etc., can help reveal which types of posts are producing the best results. Conversion rates are also essential in determining whether or not a business' digital strategies are actually turning into sales in the end.
To read more about some simple and reliable digital marketing metrics, take a look at this post.
Have these ten commandments given your business some insightful revelations about your current (or future) digital marketing practices? Be sure to take heed and obey and we guarantee: your digital strategies will surely flourish.