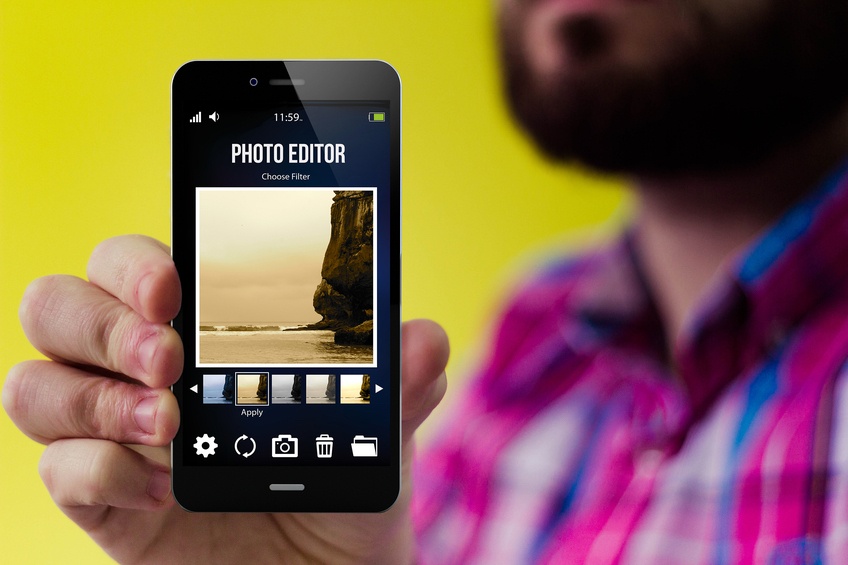 Images have a rich history of being important to marketing and outreach, and that's just as true regarding social media. In the past few years, marketers have come to accept that visual posts have an extremely positive impact on impressions, click through rates, reshares, and memorability. Unfortunately, recognizing that importance doesn't mean graphic design is in your skillset, or that hiring a social media graphics guru is in your budget. Fortunately, there's a host of tools to help you out, no matter how much experience you have working with photos.
Images & Design
Canva
Canva is a free platform geared to marketers who have no design training. It provides all sorts of layouts to create graphics for everything from collages and blog post header images to menus and business cards. Canva also provides free-for-commercial-use images, images that you can pay for in-app, and the ability to upload your own images.
Price: Free, In-app purchases for individual images or fonts as necessary for commercial use

Ease level: Beginner and upward
ImgFlip
ImgFlip is a meme generator that allows you to quickly and easily add text to images. It provides a variety of base images that rely on memes that are already popular, along with a display of memes that are "hot right now." Alternately, you can upload your own images. While the platform itself is extremely basic and easy to use, you need to have a decent grasp of how memes function in social media to create a decent one or avoid misusing a popular meme.
Price: Free

Ease level: Intermediate
Infogr.Am
Infogr.Am is an infographic tool that makes sharing data visually a breeze, and while individuals (i.e., the average person for personal use) can use it, it's meant for businesses and professionals. The platform provides various layouts for dynamic charts and maps, and offers a variety of ways to access your data safely. It's important to note that while a free option is available, only paid versions will have access to tools like rich text editing, encryption, themes, and analytics. Additionally, the platform itself is relatively straightforward, but you ought to have some idea about the best ways to display certain kinds of data to make the best use of the program.
Price: Free (limited), Monthly starting at $25/month, Annually starting at $19/month

Ease level: Intermediate
KeyNote
Most people are probably already familiar with Powerpoint, so we'll touch on the Mac-based professional alternative: KeyNote. It's accessible to non-Mac users via their web browser, and it's intended to be Powerpoint compatible, so don't let the OS restriction intimidate you. The controls are intuitive and straightforward, and it can be utilized on any device. Multiple users can access the documents, as well, so your team can work together. It also provides a way to live stream the presentation itself (also viewable on multiple devices), so you don't have to worry about having a compatible projector.
Price: Free

Ease level: Intermediate
Creative Market
Unlike most of the apps and services we'll discuss in this post, Creative Market isn't a platform used to create images. Rather, it's a store that connects graphic artists and professionals that need images, fonts, logos, vectors, patterns, mockups, and other graphical tools (e.g., Lightroom presets), plus so much more. It also provides community and other assistance, such as products curated for you by Creative Market team members.
Price: Free, Paid (priced by bundle or asset)

Ease Level: N/A
Image editors/enhancers
Pixlr
Available as either a web or mobile app, Pixlr is considered to be a free alternative to Photoshop. Tap into the Express version for ultra-simple edits, like overlays, borders, and other basic effects, or take advantage of the full Pixlr Editor to do more advanced work with layers, transformations, and more.
Price: Free

Ease level: Beginner and up
Snapseed
A mobile-only editor, Snapseed is available on Android and Apple devices. The platform itself is easy to use and extremely thumb friendly, letting you crop, alter brightness, and much more with just a few swipes of your finger. Don't be fooled into thinking this is just for the casual Instagram crowd, though; it can handle RAW files and can take a little bit of a learning curve to take advantage of its suite of options.
Price: Free

Ease level: Intermediate
Aviary
Available as either a web editor or a mobile app, Aviary is run by Adobe and so plays nicely if you already utilize the Creative Cloud. The platform makes it easy and finger-friendly to apply filters, doodles, stickers, and other overlays, as well as to tweak some basic edits, such as brightness and contrast.
Price: Free, In-app purchases

Ease level: Beginner and up
PicMonkey
PicMonkey is another platform that's available either on the web or on a mobile app, but it's much more focused than others on providing a stylized ease of use and plenty of premium options. Whether you just want to simply edit your photos or play with fun and wacky options (e.g., its zombie maker or jack-o-lantern "stencils"), the tools are simple and intuitive.
Price: Free trial, $33/year, $4.99/month

Ease level: Beginner and up
Photoshop
This Adobe premium option is one of the big leaders in photo editing. Photoshop is available in several iterations, including: The more basic, beginner-friendly Photoshop Elements, which also provides a number of organization or display options; the professional photography suite Photoshop Lightroom, which is available on computer or mobile for both smartphone photos or DSLR photos and offers easy-share options; and the full editing suite Adobe Photoshop CC, which provides in-depth, advanced tools for photo editing and digital painting.
Price: Free trials, Creative Cloud memberships start at $19.99/month

Ease level: Varies
Other useful tools
Lightshot
Lightshot is a screen capture tool that works with both Mac and Windows computers, and even offers extensions for your internet browser of choice. It permits a certain level of image editing (e.g., adding text or shapes), and you can either save the image or share it via the web. It even allows you to search for similar images online.
Price: Free

Ease level: Beginner and up
Fotor
Fotor is an online platform that helps you make gorgeous collages, but it also includes features specifically for making Twitter headers, and Facebook covers, as well as an HDR editor. It's available for mobile devices in addition to its computer platform, and you can import photos from a number of sources, including your device, Picasa, and Facebook.
Price: Free or Premium ($3.33/year or $8.99/month)
Ease level: Beginner and up
Each of these twelve tools provide ways to help you create eye-catching and finger-stopping graphics for your social media posts. Whether you're a beginner taking advantage of Canva's straightforward platform, looking for something more in depth like Photoshop, or ready to take image editing on-the-go with apps like Snapseed, there's something in this list for you.