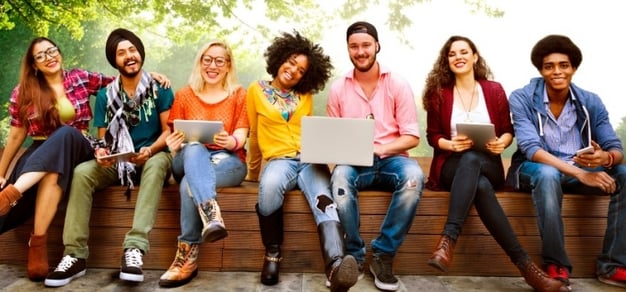 It can be tough for any business in a college town when school is out. This is especially true for businesses in Columbia, Missouri that rely on so many different universities like Mizzou, Columbia College, and Stephens College to provide revenue. With a population of over 108,000 people, Columbia is a big market that gets even bigger when school is in session. Mizzou alone has averaged upwards of 19,000 freshmen applicants over the past two years and accounts for 35,000 students living in Columbia. Stephens contributes a little under 700 students annually as well.
But your college targeted business shouldn't just think about marketing towards students, and this is especially true during the summertime when school is out. There are actually quite a few things you can do to keep your business top of mind. Here are some tips on how you can successfully market your business when school's out in the mid-Missouri market.
1. Utilize Your Database
The school year is an excellent time to put efforts towards growing your marketing database. However, during the summer, and off times, is when you should focus on using that database to engage your audience. Reach out to recent customers or even previous customers that haven't shopped with you in some time. Creating personalized messaging for specific audience segments is key to the effectiveness of your marketing in this case as well. For example, engage dormant customers by offering them discount on your product or service to keep sales from dropping during this period of time.
2. Utilize Radio
Radio is a great way to reach a large, targeted audience. Don't underestimate its impact on younger audience segments as well! The fact is, Millennials actually listen to an average of 11.5 hours of radio per week. You can also integrate your radio ads with other channels that students engage with — like social media — to acheive maximum results from your efforts. Some great methods of integrating social media with radio can be social spots, live contests, and coordinated messaging.
3. Create Promotions
Although school is out, you can still highlight summer and off-season discounts for your audience. Think about offering time sensitive promotions for those who "buy now!" to create a sense of urgency. This type of marketing would be great for your email or social media marketing efforts to reach a broad and engaged audience with an exciting offer like a coupon or discount that can be purchased now but used at a later date.
4. Continue to Produce Content
Whether it's radio ads, podcasts, or blogs, you want to make sure to continue the content creation process even when school is out. By keeping your content calendar consistent, you'll make sure to reach anyone looking for you product or service and make sure they can find you at any time of year. As with radio or any form of marketing, frequency and consistency are key in achieving great results and ROI.
5. Stay Social
Don't forget that social media is a year round effort, and, if anything, should only increase during the off-season. Millennials and students love to engage on social media, so although they might be working that summer job back home, they're sure to be checking their Facebook, Twitter, and Instagram feeds. As we mentioned above, your social channels are a great way to reach and engage audience of fans and followers. Highlight some promotions, engage them in conversation, and create engaging content that insights interactions.
Even though school's out, that's no excuse for your college targeted business to sit on your hands when it comes to their marketing efforts. By following some of the tips above, you'll be able keep the ball rolling during the summer and set yourself up for success when school is back in session!