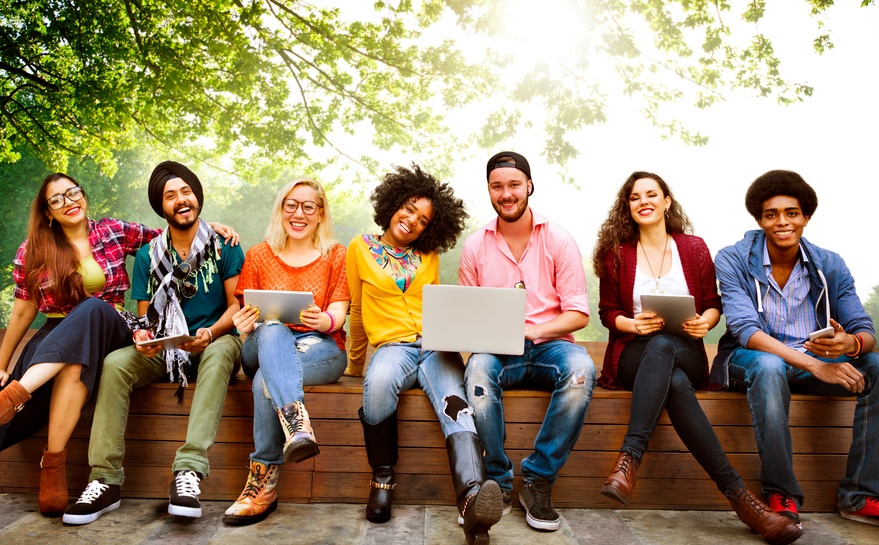 American institutions have changed drastically over the few generations, and college students are a perfect example of this generational shift. Gone are the days of the "traditional" college student who's going to school full-time and carrying a paper binder.
Culture, demographics, spending habits, and technology are all contributing to alter the very definition of what it means to be a student. But you might be asking, "Why should I market to college students? Do they even have any money to spend?"
The answer is "yes" to both. The fact remains, while student demographics have changed and today's college student is much different than ones of the past, they have money to spend and will engage with your brand if marketed to in the right way.
There's no such thing as a "traditional" student anymore
There are several reasons why the traditional college student has become a thing of the past. Demographic shifts are playing a huge part, as minority students have come to outnumber whites in many classrooms. The percentage of women students has also increased to 57 percent, compared to about 40 percent in the 1970s. Data also shows that a majority of students are now working while they study, a practice that wasn't common until recently.
Consider the Mid-Missouri college student demographics, particularly the Mizzou student body. The majority of students are now women (52 percent), and 20 percent of students are identified as non-white. Also take age into account, as the Millennial generation migrates to college. And in fact, the majority of Millennials in Missouri are concentrated in either major metropolitan areas or near universities.
The educational landscape is reshaping itself
What's more, technology is shaping the lives of students today that generations past could never have imagined. Just take the internet, and how it's allowing students the opportunity to learn online and communicate with their peers more often. They're using social media to share interesting articles and collaborate, not just watch cat videos.
They're also consuming educational content through a larger number of mediums. Students now go to websites, blogs and video sites to learn in the way that suits them best. Universities are now realizing how they use technology will affect how attractive they are to future students, and are hiring CTOs and CIOs to implement technology strategies.
Spending habits of today's college students
Even though we tend to think of college students as being constantly broke, the next generation of college students will spend money. Many students either work part-time, receive money from their parents, or use credit cards to subsidize their lifestyle. According to one report, college students spend about $60 billion per year on everyday expenses.
In addition to everyday items, students also favor buying collegiate branded gear or apparel. The same study uncovered that students spend around $27 billion a year on these non-essential items. This included mostly shoes, clothing, alcohol, and entertainment. But by far the single largest category for college student spending is school supplies and related electronics, totalling at around $33 billion per year.
What influences today's college student spending
When marketing to today's college students, it's important to understand what influences their spending. Budget is one of the primary influences on spending, as students are fresh out of living with their parents and searching for some financial footing. Brands that offer a great experience at a low price won't have much problem gaining the loyalty of today's students.
Students are also attracted to special offers and events. College "survival packs" with toothbrushes and toiletries, for example, are popular branded special giveaways near the beginning of the semester. Students nowadays also like to socialize in fun, organized ways, so special events where they can plan to meet up with friends influences how they spend entertainment dollars. But not only do they want value, they want to share their experience on social media. Many bars and live event spaces now make sure at least part of their venue is "Instagram-friendly."
Bonus
So how do these evolutions in college students affect your advertising?
Budget allocation. Today's students are digitally savvy and native, so your budget needs to reflect ways to effectively meet them on those channels.

Medium. Traditional media like television and radio are far from dead, but you need to use them to reflect today's student. Radio campaigns, for example, should contain some call to action or integration with your social media channels.

Messaging. Remember that today's college students value experiences more highly than things, so your advertising needs to reflect that shift.
Knowing how to advertise to college students today does require a bit of strategy and planning. Rest assured, they do spend money. The main thing is to know what influences their spending, and meet them on the right media channels, and deliver value within their budget.