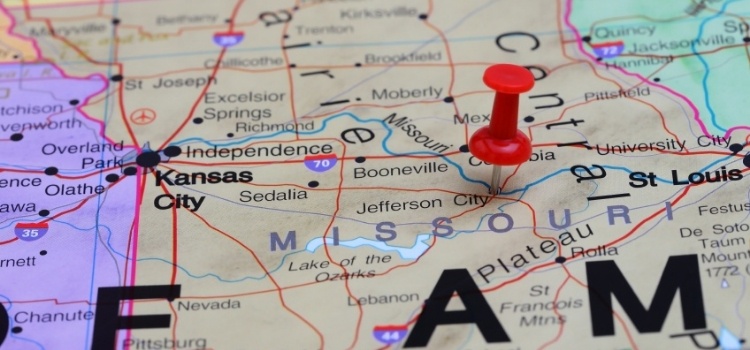 Mid-Missouri is considered the central portion of the state of Missouri. The region is home to the state capital, University of Missouri, the Missouri River, and the beautiful Lake of the Ozarks. Situated between two metropolitan areas — the Columbian and the Jefferson Metropolitan Area — central Missouri offers a wide spectrum of amenities and historical and natural landmarks set against urban, small town, and natural backdrops. The area has something to offer to everyone who lives and visits here and your business can offer something of value to mid-Missouri consumers as well. In this post, we'll explore the area's demographics, unique features of five of the main cities, and provide insight into how to market to mid-Missouri consumers.
Mid-Missouri Demographics
Columbia
Population: 116,906
Top Ranking Reported Categories: Caucasian/White: 79.0%; African American/Black: 11.3%
Median Family Income: $43,262

Median Home Price: $168,100
Education Level: High school graduate or higher: 93.1%; Bachelor's Degree or higher: 54.5%
Columbia, Missouri is the central region's largest city and is part of Boone County. Education has been the cornerstone of the city since its founding. It's home to the University of Missouri, Columbia College, and Stephens College, and boasts enrollment of 38,000 full-time students between the three schools, as of January 2015. Of the reported 95,000 jobs in Columbia, 15,000 positions are held at the University of Missouri, University Hospital, and Columbia Public Schools.
Columbia isn't just a college town, though the university is the largest employer in the city. The town also has a large art scene, with museums, performing arts centers, the Columbia Public Library, and various festivals held throughout the year. The urban city offers dozens of restaurants, indoor and outdoor activities, and shopping venues. With the steady growth of population, jobs, and commerce, business owners have a unique advantage when marketing to mid-Missouri consumers in the city of Columbia.
Though the median age reflects a large Millennial population — especially with the draw of the Metropolitan area and the colleges — there is also a large concentration of Baby Boomers. Consumer behavior trends show that you will need to offer a delicate balance when marketing to the country's two largest generations. Marketing to Millennials, who are becoming the largest, most influential group in the U.S., will require connecting on a digital level, along with developing brand authenticity, showcasing social responsibility, creating relevant and engaging content, and utilizing social media to engage each customer. Baby Boomers, like Millennials, appreciate authentic engagement and want to know what value your brand can offer. They also tend to have money to spend; by 2017 it is predicted they will hold 70% of U.S. disposable income.
Jefferson City
Population: 43,132
Top Ranking Reported Categories: Caucasian/White: 78%; African American/Black: 16.9%
Median Family Income: $46,819

Median Home Price: $137,300
Education Level: High school graduate or higher: 90.7%; Bachelor's Degree or higher: 34.2%
Jefferson City, Missouri resides in both Cole and Callaway Counties and is the state capital. Jefferson City sits on the banks of the Missouri River and is host to the State Capitol and Supreme Court buildings, the Governor's Mansion, and was chosen, in 2013, as "America's Most Beautiful Small Town." The city owes its namesake to the Nation's third president, Thomas Jefferson. The historic downtown pays tribute to its rich past, while exuding a modern feel with its progressive attitude, arts, wide variety of entertainment, shopping, dining, and civic life. Jefferson City's main sources of employment include: government, manufacturing, healthcare, finance, hospitality, and jobs education.
Marketing to mid-Missouri consumers, specifically in Jefferson City, will focus on the large Gen X population. Developing trusting relationships, a trusted brand, high quality products, excellent customer service, and providing consistency with your products and services, will help create life-long, loyal customers. A digital strategy that provides your customers with the most information regarding your product and/or service should be top-priority, as well. Also, with such a historical and governmental presence in the city — along with the various local attractions, events, and entertainment — marketers need to remember to draw in local and out-of-state visitors who come for the history and to see what "America's Most Beautiful Small Town" has to offer. As the local economy pulls out of its recent struggles, the lure of high income potential, low cost of living, quality education, and an abundance of housing options means your marketing strategy will be front and center as the state capital prepares for growth.
Lake Ozark
Population: 1,628
Top Ranking Reported Categories: Caucasian/White: 96%; Asian: 1%
Median Family Income: $42,357

Median Home Price: $217,600
Education Level: High school graduate or higher: 87%
Osage Beach
Population: 4,528
Top Ranking Reported Categories: Caucasian/White: 91%; Asian: 5%
Median Family Income: $45,588

Median Home Price: $206,300
Education Level: High school graduate or higher: 87%
The Lake of the Ozarks Region, which includes Osage Beach and Lake Ozark, is referred to as the Vacationland of the Ozarks, as it's a prime tourist destination and a favored place for vacation homes. Lake Ozark and Osage Beach are tucked against the Ozark Mountains. Lake Ozark is built around one of the largest man-made lakes in the country and offers fishing, marinas, and 50,000 acres of public land to explore. Osage Beach is part of the greater region of the Lake of the Ozarks and is considered the "Heart of the Lake of the Ozarks." The region has a vast array of land and water activities, golfing, shopping, dining, entertainment, and art festivals. The local economy is strong and is mostly centered on tourism and retirement, and is a great place for an aspiring entrepreneur. The service sector employs more than 1/3 of the population and the region also has one of the best hospitals in the state.
Marketing to this region of mid-Missouri consumers will require you to meet the needs of tourists, working professionals, and retirees. This is a region of relaxation, recreation, and a place to get away to for part of the year. There is great opportunity for businesses that specialize in hospitality, entertainment, retail, dining, financial services, home repair/construction, healthcare, insurance, commercial and residential real estate, boat and auto, and fishing.
Additional Marketing Considerations
When marketing to the mid-Missouri region, it's important to remember the myriad of differences within each city. Choosing to market to only one target audience may work for you if you have one location. For example, if you specialize in financial services, primarily targeting people in the retirement or near-retirement, you would do well in the Lake of the Ozarks region. However, if you wanted to sell your financial services in multiple locations, it would be beneficial to offer varying retirement options that meet the individualized and stage-specific needs of brand new college graduates, young families, professionals, and retirees who reside in all of mid-Missouri. Assess the economy of your target region(s) and decide if your brand can be tailored to meet the needs of every resident or just one niche. Market research and demographic analysis can increase the success of your marketing efforts and ensure your brand is targeting the right audience.
Mid-Missouri is a diverse region with even more diverse populations, economies, and lifestyles. Understanding Missouri consumer behaviors will help you to be better prepared for devising a marketing plan that reaches the most people within your target audience.