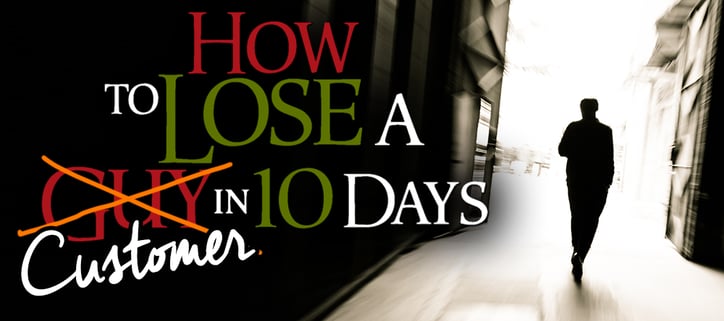 Andie Anderson said it best: "You can't lose something you never had."
Well, Andie, we'd have to agree. And we think that these wise words transcend their original romantic meaning and ring true in the business world as well. You can't "lose" a customer that you never really had. Too often, business owners lose both regular customers and newer prospects, and instead of taking the time to investigate the reasons why, they tend to blame something that they feel was out of their control.
While this blame game could seem harmless at first, it can result in a business as lifeless as Ben's dead love fern.
In this post, we're pointing out ten surefire ways to lose a customer in ten days (or less!). Use this list to quickly recognize any inconsistencies within your business and correct them before your customers and prospects break up with you for good.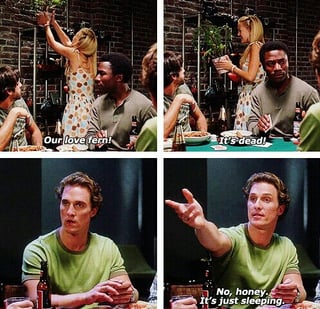 DAY ONE: Don't advertise.
The quickest (and most obvious) way to lose your customers is to never remind them that you even exist, or to keep them from ever hearing about you altogether. This happens due to a lack of quality advertising and poorly executed marketing strategies.
Simply put: If you're not consistently (and creatively) telling your market that you're in it, then how will people know to do business with you? You may be thinking, "Well, word-of-mouth works for us, and that's enough." While word-of-mouth can be effective, it's a grave mistake to think that it's enough to sustain you long-term. Even corporate giants who are constantly mentioned in the public's conversations understand that word-of-mouth is not enough since it gives businesses zero control over how their brand is perceived or how often it's being discussed.
Using a quality combination of both traditional and digital advertising is our top recommendation for alerting the public of your presence, piquing their interest in your services, then consistently communicating with them to keep them around for the long haul.
DAY TWO: Don't have a quality website.
It's no secret that in today's world, people Google everything. By the time a new prospect comes knocking at your business' door, it can be assumed that they have already thoroughly researched your company online. That's because 90% of consumers rely on the internet to locate products and local businesses.
If consumers try Googling your business, but don't find a website, that will likely be the end of their effort to get more information about you. And even if your company does have a website, but it's poorly designed, difficult to navigate, or doesn't provide relevant information, then there's a good chance that your business will lose credibility and in turn, lose potential customers.
DAY THREE: Don't provide relevant information.
Piggybacking off of "Day Two," it's not only imperative to have a business website, but you also must provide online information-seekers with relevant and timely information. The reality is that in today's digital world, people are simply going to find whatever information they need online. The question is, will they find this information on your business' site or from one of your competitors'?
We highly recommend business blogging, as this is the most effective way to position your business as an expert in your field, settle any unanswered questions about your industry, drive traffic and generate leads, and to simply show that you care about consumers.
DAY FOUR: Don't have a social media presence.
All businesses, large or small, need to have a solid social media presence in today's world. Consumers simply expect your brand to be on social media in some way, shape, or form. The primary use of social media for businesses is to engage with consumers directly, making it more of an interactive conversation than other forms of marketing. Business social media pages invite consumers to ask questions, post complaints, review products and services, and interact with your business in fun (and sometimes unconventional) ways.
Keep in mind that social media accounts cannot, under any circumstances, replace a business website. These are two separate forms of marketing, used to accomplish two distinct goals. As discussed above, websites are great places for consumers to educate themselves about your business and industry as a whole. Your social media pages take this one step further and invite consumers to interact. Both are essential for maintaining a healthy business-consumer relationship.
DAY FIVE: Don't provide an incentive to get them in the door.
Sometimes prospective customers need a little extra "push" to help get them through your door. One of the most effective ways to offer this friendly "push" is to extend some sort of exclusive offer to new customers. Whether it's 20% off of their first purchase or a free estimate, simple offers like these can make the difference to a consumer who is hesitant to make the first move. Think of it like dating: the simple gift of a flower bouquet has started (and salvaged) many a relationship.
DAY SIX: Don't have a smiling, friendly gatekeeper.
Did you know that your front desk has the power to make or break your business? Receptionists, or "gatekeepers," offer customers the first glimpse into your business, so you want to make sure they shine! One of the fastest ways to lose a prospective customer is by hiring unfriendly employees who rub consumers the wrong way. Businesses should take the time to carefully select welcoming, personable, organized, teachable, and positive individuals to fill this invaluable position.
DAY SEVEN: Don't offer high-quality products.
This seems like a no-brainer, right? Your business should put extensive time and effort into guaranteeing that your products and services are top-quality. Business owners should regularly ask themselves, "What makes us different from someone down the road who sells the same thing?" In this way, you can identify your differentiating factor, which will be the basis for your branding campaign. It's also crucial for business owners to ensure that their pricing is competitive with other similar businesses in the market.
The simple truth is that when businesses take the time to ensure that their products and services are the best that they can be, average consumers will transform into avid fans who are left begging for more.
DAY EIGHT: Don't provide a consistent customer experience.
The customer has always had all of the power! But in today's review-filled online world, building a reputation for reliable service is more important than it ever has been. Managing your business' reputation requires constant attention. This means responding promptly to customer complaints, providing a positive solution to remedy any issues, and, of course, never lashing out in anger.
Give your current customer service practices a tune-up by thoroughly communicating your expectations to your employees, enlisting secret shoppers, hiring new employees who are fully capable of providing "service with a smile," and cultivating a culture of excellence within your entire business.
DAY NINE: Don't have an email database.
Are you talking to your customers each week? If not, you should be! Email marketing is one of the most powerful tools for small businesses. In fact, for 69% of U.S. internet users, email is the preferred method of communicating with businesses (Salesforce).
But what should you send? The important thing to remember is that newsletters do not have to be complicated; they just have to be consistent. Your newsletter should be used to share company news, product, services, and any information that will help drive people to your website and store. Use it to continually seed your customer base so that when they need a new product of service, they think of you first.
DAY TEN: Don't have a referral program.
Since every current customer is a direct link to a new customer, all businesses should consider instituting a referral program. These programs offer a "reward" to any current customer who refers new business. Not only is this a great way to attract new prospects, it also gives your business the opportunity to show your current customers your appreciation. Get some practical and creative ideas for your referral program here.
By neglecting to implement these ten practices into your business' daily operations, you will be taking the risk of getting dumped by your current customers and your newer prospects alike. Don't make consumers have to tell you, "It's not me, it's you," after just ten days (or less!). Put the above tips into practice and everything will turn out alright, alright, alright.