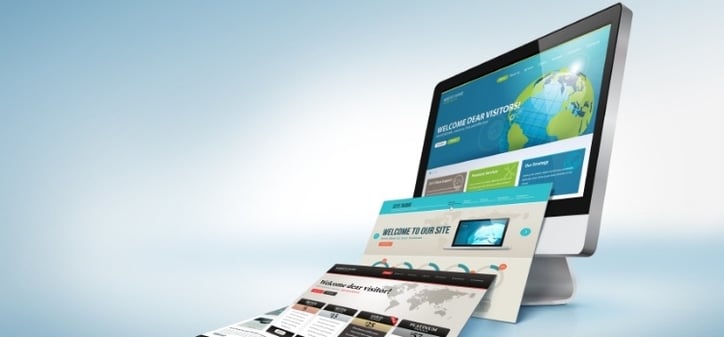 Websites are almost always the first thing people see when researching a company. Now more than ever, businesses need to have a functional website to ensure not missing out on opportunities. Deciding to invest in a new website, or redesignining a current site, isn't always an easy decision. Obvious factors like time and money come into play when making business decisions and sometimes it's hard to think about the future of your business when you're caught up with day-to-day operations.
To help determine where your current website stands, or where you could be missing out on opportunity, here are 10 reasons you should absolutely redesign your website right now.
1) You need to make sure your website is centered around the user experience.
Every website should be designed with the user in mind. At the end of the day your website isn't a tool for you, it's a tool for your visitors and prospective customers and it should be easy to use and have clear direction. What information is most important for customers? What action do you want visitors to take? Each page of your website should have a purpose, from the homepage design to internal pages. People you've never done business with are going to land on your website, so what do you want them to know? Design your website around that answer and you'll be well on your way to creating a great user experience.
2) Your website needs to be responsive.
Looking at our own clients' website analytics, we see about 50% of all traffic coming from mobile phones and tablets. That's great news if your website is responsive, but terrible news if not. Businesses whose websites do not scale to fit mobile could be losing up to 50% of all traffic! It used to be that you needed a website and a mobile version of your website, however times have changed. With responsive design, your website is built with mobile in mind from the start to ensure that you showcase the most relevant information no matter the viewing device. A responsive website is vital for a great user experience and helps to convert more of your visitors.
3) Your website is old and looks outdated.

If your website is over 5 years old, chances are it needs to be redesigned. That's not to say your website isn't providing the information it needs to, but you're probably missing out on traffic if your site isn't responsive, have a clear call to action for users, or simply feels outdated. Your website should serve as a "virtual storefront" for your business, and it should be updated to keep it looking fresh and current to anyone viewing it.
4) Your competitors changed their site.
Imagine you're a consumer looking for a home cleaning services and you're looking at two company websites: The first company's website features high quality images, highlights the benefits of their service, has a FAQ page for questions customers may have and has a call to action on how to contact them if interested. The other company's website is outdated, does not break down what's included in the home cleaning, and does not have pricing listed. Which website, or company, do you think you would choose?
Every day, customers are choosing new products and services based on their experience using a company's website. So if your competitor has done a great job redesigning their website, don't lose customers simply because you've failed to keep up.
5) Your website is not performing or generating the results you need.
How is your website performing now? Do you pull up in search engines and are you receiving any leads from visitors? Realize that your website serves a purpose and that you should ultimately have people contacting you, assuming you've invested the time and money to build it right. If your website isn't generating traffic or generating leads, it's important to understand why and address those issues immediately. Pulling up for specific keywords in Google is something we hear a lot from clients, but many don't realize the process behind it. It's much easier to rank for keywords when you build your website right to begin with rather than trying to play catch up down the road.
6) Your content is outdated.
The best way to keep your website alive and relevant to search engines is by keeping your website content updated. It's important to make sure your website content caters to both users and search engines, using keywords, internal links, and other best practices to help ensure SEO success. Google rewards websites that update content and provide relevant information to users. So if you're not updating your site or you're not doing a good job of showcasing what your business offers, you're losing credit within Google and other search engines.
7) Your website is not visible on search.
By now you've heard of SEO, whether or not you actually know what it means. Search engine optimization, or simply being found on a search engine, is a process that involves planning, tweaking and updating your website along a period of time so that Google and other search engines understand what you offer and can determine what keywords you should pull up for. You don't pop up in search engines simply because you own a business. You pop up in search engines because of how you've established your business online and the content you're putting out through your website, blogs, social media, etc. If your website isn't pulling up for keywords you think it should be, it might be time to rethink your website strategy.
8) You offer products and services that most people do not know about.
Websites are the perfect opportunity to educate people about your business. So many businesses, including Zimmer, offer many services that most people don't realize. It's important to build out your website to show people everything you offer. In the last year, we've built out our own website to showcase all of our radio stations and interactive services. After all, you can't expect people to contact you if you haven't done a good job letting them know how you can help.
9) You don't know how to make changes to your website, or your CMS is out of date.
One of the biggest complaints we hear when redesigning a website for a client is that they never knew how to use their website in the first place. Having a website is great, but it's also a tool that you need to be able to use. There will be updates along the way that you as a business owner will inevitably want to change in an instant, and it's important that you have a content management system like Wordpress that allows you to easily make those changes.
10) There is no call to action.
Your website should be intuitive and give users clear direction on what to do next. Take advantage of your website traffic by having them sign up for your newsletter, or offer a free inspection form so you can get in touch with your prospective customers easier. If you're a home renovation business and want to showcase your work, perhaps having a "See How We Can Transform Your Home" button on the homepage is the first thing people should see. Think about what gives you the best chance at closing a customer: Is it showing them pictures? Having them fill out a form? Whatever the answer, that's what your call to action should be about.
If you think you're missing out on opportunity with your website, it's important to address the issues sooner rather than later. You don't want to be playing catch-up with Google's algorithm, so put some time and thought into how you want your website to function and your ultimate goals. Customers are browing websites every day to make purchasing desicions, so make sure your website is inviting, user friendly, and stands out from the rest.