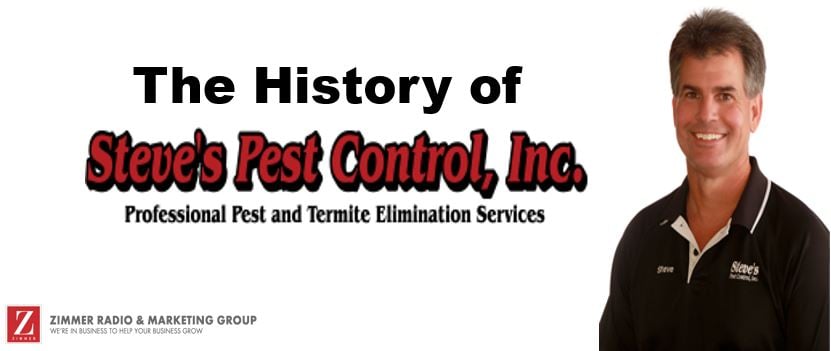 Everybody knows about Steve's Pest Control! They're your friend in the pest control business! Their catchy jingle and fleet of red pickup trucks are branded into the minds of residents in Columbia, Jefferson City, Lake of the Ozarks, and beyond. Their memorable advertisements have landed their business a solid status as a local celebrity.
But have you ever wondered: How did they get here? What's their story? How did a pest control company in the middle of Missouri rise to such prominence? After 31 years of being in business (and 18 of those years spent perfecting his marketing strategies), Steve Hotsenpiller, the business' founder and owner, has all of the answers. We sat down with Steve to discover his secrets and to determine if his method is a fool-proof strategy that other businesses should follow.
Zimmer: Let's start by talking about your marketing strategy before you began working with Zimmer.
Steve: Before Zimmer, I had no marketing strategy other than Yellow Pages and some random print ads. I also had word of mouth referrals and did a lot of cold calling on commercial accounts.
Zimmer: What is your marketing strategy now? Do you feel that you "dominate" these mediums? Why is that important?
Steve: We now market on all nine Zimmer radio stations, Zimmer's magazine publications, six other radio stations, some TV, internet, a minor amount of other print, small Yellow Page ads, word of mouth, and cold calling.
I definitely feel that we dominate with our radio campaign. Our messaging is fresh, timely, consistent, and cleverly written. In order to stand out among the competition, it's important to dominate your advertising mediums with your message, or "fill your advertising cups," as opposed to advertising a little here and a little there, or having a bunch of cups that are all only partially full.
Zimmer: Is there a particular advertising method that you would consider to be your favorite? Why that one?
Steve: Radio advertising has been my favorite medium. I really like the way it gives us brand awareness and the repetition of our name and message.
Zimmer: Talk about your first encounters with Zimmer and Chuck Mefford's BrandsFormation system.
Steve: My first encounter with Chuck Mefford was when I attended one of his seminars in 2001. Prior to that, we had not advertised on the radio. What he said made perfect sense and even though I wasn't sure if I could afford it, I had the gut feeling to act on it. I knew that with the right jingle, messaging, and frequency, it would work.
Zimmer: How soon did you get to work on your marketing post-BrandsFormation?
Steve: Our business got started on our marketing strategy immediately after the BrandsFormation seminar ended. Chuck did several phone interviews with me to understand our business practices, culture, and services, then they started to write commercial scripts for me to critique and proof. Zimmer was also heavily involved with their own recommendations as well.
Zimmer: How did you come up with your jingle, "Now you've got a friend in the pest control business?" What has been the impact of having such a catchy & memorable jingle?
Steve: Our jingle was developed by myself and the BrandsFormation team during our brainstorm sessions. I've always felt like we are in the "taking care of people business" by building personal relationships, just as much as performing pest control services. I thought that if you had a problem and you didn't know what to do, wouldn't it be nice if you had a trusted friend that would be willing to help you? So, that was our concept.
BrandsFormation wrote the music and produced it and did a terrific job. Over the years, it has been played thousands of times to where people know it and will actually sing it to us – not only our clients, but also complete strangers. A few years ago, one little girl even sang it to me in the parking lot at the mall! Her parents noticed my truck and asked if I was Steve. They said that their daughter sang our jingle all of the time and she even sang it on-stage at her school's talent show! I thought, "WOW, that's powerful!"
Zimmer: Are you ever tempted to "back down" on your advertising because everyone already knows who you are? OR if not, why do you believe it's so crucial for businesses to be consistent with their messaging over the years?
Steve: At first, we could only afford to advertise on one radio station. Within a couple of months, we added another and continued to add more as our budget grew. We've been on all nine stations for some time now and it definitely works. I've got 18 years of momentum and branding behind me. In order to stay "top-of-mind" and continue to grow, I'm not about to stop.
Zimmer: How long did it take for you to start seeing results from your advertising efforts?
Steve: We started on one station, KWOS, and added another, KAT Country, within a couple of months. All of the sudden, I had a lot of people tell me that they were hearing our ads and jingle. We also were getting busier! With all of the positive feedback, I knew people were hearing about us.
Zimmer: Does your current ROI prove that your advertising , is worth your while?
Steve: This is our 31st year in business and we have always had double digit growth every year. I know that radio has been a huge part of that growth, providing the right company, team, branding, frequency, and jingle.
Zimmer: What's some advice you would offer to businesses that are just starting out? What's some advice you'd give to veteran businesses who have been around for a while?
Steve: My advice to businesses that are just starting out and are ready to go to the next level is to partner with Zimmer Radio & Marketing Group and Chuck Mefford. Don't bite off more than you can chew, but let them help you with the right branding and messaging. Have faith in them and yourself and just be consistent.
My advice is the same to veteran businesses who want to continue growing. Spend 6-7% of your annual revenue to brand and promote yourself. Make sure you can back up what you're saying and are able to handle the additional growth.
So, there you have it! The story of a regular pest control company who rose to local fame, all because they were committed to a solid strategy and consistency in their advertising. Want to be the next Steve's Pest Control? Come see us and Chuck Mefford himself at our BrandsFormation seminar in Columbia on Tuesday, March 31st from 8:15am - 12:00pm.