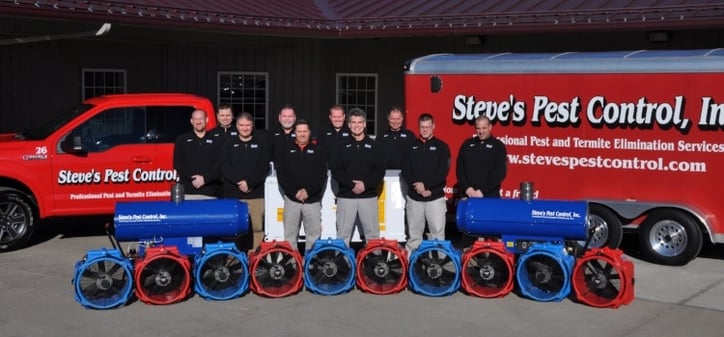 In this series, we're getting to know Mid-Missouri business leaders. Zimmer Radio & Marketing Group sat down with a handful of different businesses, and their owners, to learn more about the success they've had and lessons they've learned.
Today's Business Leaders...
Featuring Steve, Anita, and Jared Hotsenpiller and Megan Jacobson of Steve's Pest Control.
Steve is the President, Anita is the Executive Secretary, Megan is the Office Manager, and Jared is the Service Technician.
How long have you been in this type of role or industry, and how have things changed the most since you first started down this career path?
Steve and Anita Hotsenpiller started Steve's Pest Control 28 years ago. The biggest change on the service side of the business is the industry "going green" and switching from heavy spraying to "Integrated Pest Management." This includes targeted treatments with ever changing products, baiting, trapping, using heat technology, etc... A great example is being able to completely eliminate termite colonies through The Sentricon bait system vs. achieving control using a chemical barrier treatment. From the business side it's using and relying on computers, cell phones, tablets, GPS devices, email, websites, social media, and other tools and devices that we use constantly that didn't even exist when we started.
What has been the biggest risk you've ever taken as a business leader? And what were the results?
Other than starting a company from scratch I'd say hiring a business consultant to evaluate and completely overhaul our internal operation - and having to borrow money to pay for it. The result completely changed the future of the company. In short, it taught us how to run and operate our business.

What one piece of advice do you have for emerging business leaders in the Mid-Missouri market?
Find something that you're good at, passionate about, love to do, and that there is a demand for. Have the courage to go for it and give it all you've got.
Do you have a favorite author/speaker/industry leader that you follow or have learned from over the years?
I like speakers that teach people skills, how to give people what they want, how to deliver a great experience, positive motivation, etc... Ea. speaker, Scott McCain. I also learn and enjoy being around a couple of company / product reps that I've worked with over the years as well as a few other pest control company owners that I've met at training meetings that have become good friends and allies.
As a leader, what has been the most challenging part of managing people and how have you overcome that?
As the size Steve's Pest Control grows- now with over 30 employees, keeping the "magic" of a small company culture. We keep this by first hiring the right people to add to our family and working closely together as a team. We always hire for attitude, drive, integrity, and the sincere desire to want to serve and please others. We can teach the rest of what we do. We have established a "second family" type of culture here.
What is the most rewarding part about where you are at now professionally?
Working with family and friends, never having to compromise our principles, and being known by our clients, community, and peers as being one of the best.
How do you generate new ideas?
We stay current with our industry, products, needs, trends, etc, and we try to develop programs and services that our client and future clients want and expect.

Can you tell us about a marketing campaign you've done that has been particularly effective? What do you think made it so effective?
Our radio advertising has definitely been the most effective marketing strategy. By having a consistent message, a clever and catchy jingle, and a continuous branding campaign, it has developed top of mind awareness to anyone needing our service. It has definitely been one of the best decisions we have made.
If you could tell your former up-and-coming self to remember ONE thing, what would it be?
Don't let up - don't get discouraged, keep giving it all you've got and continue to "pay the price" - it will definitely be worth it.
How do you think your company/brand is doing things differently in Mid-Missouri? And what kind of impact is that making?
We've never lost focus about being in the taking care of people / relationship business - we just happen to provide pest and termite elimination service. This has allowed us to establish a level of professionalism and trust. Customers want great service from us and are not simply looking for the lowest price.
What's your #1 tip for conducting any type of business meeting?
Try to keep it as short, positive and enjoyable.
In one word, characterize your life as an entrepreneur.
Grateful.