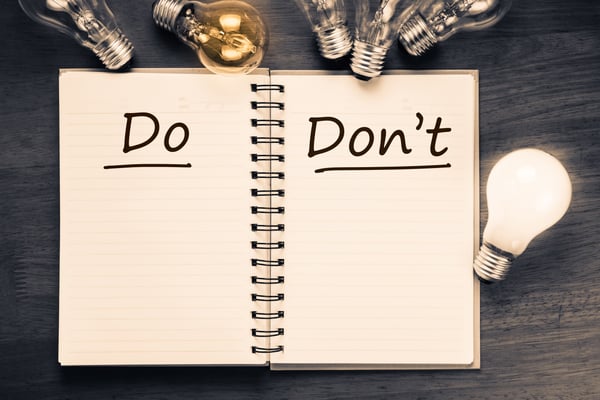 Looking for your next opportunity? You're in luck: with unemployment at an all-time low of just 3.7%, it's a job seeker's market right now. With an increased playing field of potential employers, job seekers have more choices than ever when it comes to pursuing a new career, whether that's in the same industry or a new one. When deciding where to take your career in 2019, there are a few things to consider as you navigate the job market. Check out our list of do's and don'ts of a job seeker's market:
DO: Be Prompt in Your Responses
With more ways to communicate than ever before, job seekers and employers have plenty of ways to keep in touch throughout the interview process. From the initial call to any of the follow ups that come after, it's best to communicate effectively about how soon you are looking to transition into a new role. If you do receive a different offer in the late stages of the interview process let your prospective employer know you may need additional time to consider your options. This will relieve the uncertainty that comes from both sides of the hiring process and can foster more effective communication.
DON'T: Neglect A Prospective Employer For Another
When actively seeking a new career, most job seekers are interviewing with several different companies simultaneously. When you do decide that one employer may be a better fit for you than another, be sure to notify each point of contact when you reach that decision. A new phenomenon called "ghosting" has resulted in job seekers dropping contact with prospective employers throughout the interview process, from the early stages all the way through to their first day in a new position. While the repercussions may not be immediate, it's important to consider the long-term effects, particularly if you plan on working in the same industry. While employers see a high volume of applications come through, there are a limited number of candidates they are actively pursuing at a given time. Rather than permanently burn a bridge with a company, consider a respectful phone call or email so that your point of contact isn't left waiting on your follow-up. You never know when you may be interested in this company again, or if you may need to work with them in a different capacity depending on the industry.
DO: Consider Culture
While compensation and benefits are important aspects to consider when making a career move, company culture is an intangible factor that separates long term career potential from a temporary role. If you are a job seeker, consider why you may be looking for a different opportunity. Sometimes it's due to compensation, but just as often it's due to lack of growth potential and poor leadership. These are the greatest contributing factors to company culture: a healthy culture emphasizes internal promotions and positive, constructive feedback from leadership. When weighing different companies, consider how your role may evolve after six months or a year. If it looks stagnant, this indicates poor development and company culture.
DON'T: Be Afraid to Ask Questions
There are certain unspoken rules when it comes to asking questions during the interview process: candidates typically don't ask about salary when scheduling an initial phone conversation, for example. However, this is often more a matter of timing than subject matter. As the interview process moves along, don't be afraid to reach out with questions either to the hiring manager or your initial point of contact. There are always opportunities to ask about aspects of a role such as compensation or insurance even if it doesn't happen until you receive an offer: most employers don't expect a prospective candidate to sign an offer without giving it some thorough consideration. It's better to ask questions beforehand than to assume and be surprised when you arrive on your first day. An additional benefit is that you will be able to quickly determine if the company is a good culture fit based on how transparent they may be with their answers.
Are you an active job seeker looking for your next adventure? Check out how you can join the Zimmer Communications family below!