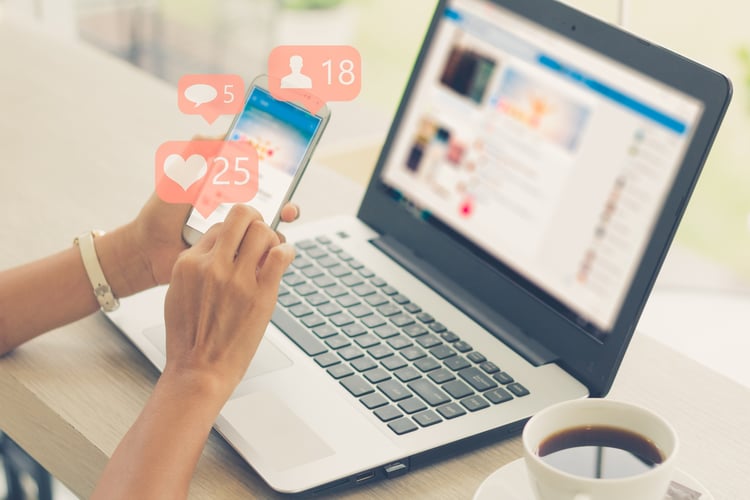 With 84% of hiring managers turning to social media in their recruiting efforts, along with 79% of job seekers who rely on various social platforms, it is clear that social media plays an instrumental role in the recruitment process.
Not only do job seekers use platforms like LinkedIn, Twitter and Facebook to find jobs, but they also refer to these channels as research tools to learn more about the businesses where they would ultimately like to earn a position. This means that your social media presence is essential in engaging your ideal candidates who are looking for you online.
By brushing up your social media presence, you can reinforce your organization's core values and mission statement, accurately represent your brand and simply establish an online reputation that attracts the high-quality job seekers you are looking for to enhance your business.
How Job Seekers Use Social Media
Given the number of job seekers who use social media for their job search, particularly Millennials, you must meet them where they live, so to speak. In fact, 79% of job seekers rely on social media to find their ideal position, so it's important to use this opportunity to help your organization shine on the appropriate social media platforms.
Which Social Media Platforms Are Best for Your Business?
LinkedIn is the premier website for professionals, making it an equally optimal environment for those who own businesses and those seeking jobs. While LinkedIn boasts a whopping 85% of job seekers on their platform, it is important to consider the importance of other platforms, like Facebook who attracts 73.5%, Twitter with 38.6% and Instagram with 15.6% of qualified potential candidates. Keep in mind that each platform has its own style and voice, so do your best to adjust your message to each one.
What Job Seekers Expect from Your Social Media Profile
In today's fast-paced marketplace, job seekers visit your social media platforms to quickly find general information, including what your company does and what it has to offer them. Keep this in mind as you build or improve your social media profiles, and be sure to deliver your message succinctly and effectively.
Again, the key is to focus on accurately presenting your brand, mission statement, core values and company culture in your company profiles.
According to research by the Robert Walters recruitment agency, job seekers typically check employers' social media profiles for specific reasons. Below is a breakdown of what they expect to find:
General company information (75.9%)

Insight into your company culture (66.9%)

Insight into how your company wants to be perceived (49.9%)

Career opportunities (54.1%)

Profiles of your existing employees (50.3%)
How to Build Attractive Social Media Profiles
Now that you know what job seekers are looking for, here's a few tips for building attractive social media profiles that meet their expectations and optimize your recruitment process.
Include your company's basic information, such as your location, business hours and contact information.

Highlight your company's values, including your mission statement, community and charity projects and employee benefits that you offer.

Showcase your company culture by sharing photos of staff, team outings, holiday parties and more.

Encourage employee advocacy by asking your existing employees to contribute content and share their positive experiences on your social media pages.
Building attractive social media profiles is similar to building your website. It's important to keep branding consistent, and match the voice and tone of your message to each social media platform.
Improve Your Organization's Recruiting Process by Polishing Your Social Media Presence
Whether you're seeking executives, managers or non-salaried employees, your social media can help streamline your talent search. By understanding what job seekers are searching for on social media, you can build a compelling social media presence that attracts the most qualified candidates to your company.