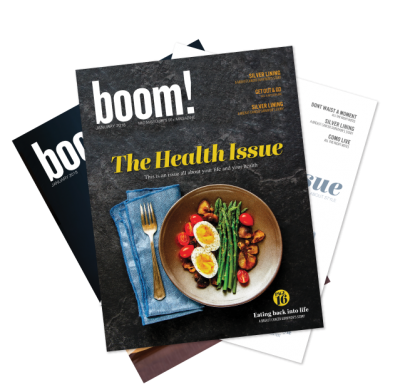 Have you heard the news yet? A brand new magazine is making its official entrance into the Mid-Missouri market in 2019! As its name implies, Boom! magazine will not do so quietly! That's because this local publication is the first of its kind, strategically targeting the fastest growing and most affluent demographic in the country: Baby Boomers. Consider this your business' official invitation to be a part of the action.
The first issue of Boom! will be delivered to consumers in February 2019, but before that happens, we want your business to get the inside scoop on what the magazine will include, as well as why the statistics indicate that wise businesses should pay close attention and take part in such a marketing venture.
The "Silver Tsunami"
So, the trillion-dollar question (literally!): Why should businesses be interested in targeting Baby Boomers? Aren't Millennials still all the rage? Recently, yes, Millennials have been a huge marketing focus and significant pushes have been made in reaching that demographic; however, the truth is that the swiftly growing Baby Boomer generation is now taking precedence and grabbing the attention of businesses across the country. But why the recent attraction?
The "Silver Tsunami," as it has been termed, represents the current seismic shift from the marketing focus that was once on Millennials, yet has now transitioned to the Baby Boomer generation. This newfound influx of interest can be attributed to that fact that Baby Boomers have two important assets that Millennials do not: discretionary income and discretionary time.
With retirement either a current reality or on the horizon, the Boomer generation is discovering a large portion of freed up time to spend their finances on the things they enjoy. Not only do they have the time, but recent reports show that they have the financial ability to do so, as Boomers control 70% of all disposable income in the country, which equates to $3.2 trillion every year! Narrowing that number down more specifically is also impressive, as AARP reports that the average Boomer has a household income of over $67K.
It is easy to see that this powerful generation should not be overlooked. As their population rises (10,000 Americans turn 65 every day, adding to the overall audience of 77 million Boomers, or 40% of all active consumers), so does their spending power (Boomers outspend every other generation by an estimated $400 million each year). As Dr. Tim Waid, Associate Teaching Professor at University of Missouri's Trulaske College of Business puts it: "Boomers are a positive force to be reckoned with."
Boom! Magazine: What You Need To Know
Sure, the above national statistics show a rising theme, but are they truly applicable in Mid-Missouri? Do we really need a new magazine specifically dedicated to this generation of spenders? The answer is a resounding, "Yes!" This is due to the fact that in recent years, thousands of Boomers have been drawn to Columbia, Missouri due to its excellent healthcare, its relatively temperate climate, its proximity to the Lake of the Ozarks, its more than 2,000 acres of park land and trails, its cultural offerings that are part of a college town, and the economic opportunity that exists for retirees and entrepreneurs. Boomers are engrained in the local community, spending a large portion of their time and their impressive nest eggs in this economy.
So, let's move on and cover the specifics of the powerful, new, marketing medium that will help your business tap into the potential that lies within the Baby Boomer generation. Below, you will find several fast facts about Boom! magazine, the first magazine in this region dedicated to this powerful generation of consumers.
Quarterly magazine, publishing in February, May, August, and September
10,000 copies will be distributed throughout four counties: Boone (includes Columbia and will account for 70% of all distribution), Cole (includes Jefferson City), Callaway (includes Fulton), and Cooper (includes Boonville).
75% of printed copies will be distributed at freestanding distribution points throughout Mid-Missouri.
25% of printed copies will be mailed to households where the "head of household" is over the age of 55 and the household income is $150K+. (In other words, 25% of this magazine will be reserved for the "cream of the crop.")
The first ever issue, "The Health Issue," will be published in February 2019.
Other 2019 issues will include: "The Fun Issue," "The Food Issue," and "The Style Issue."
"It's not your grandma's magazine;" Fun and unique approaches to topics will be taken, broadening them and making them more appealing to the dynamic life of the Baby Boomer.
Editorial topics in every issue will include: Personality Profiles, Volunteer Opportunities, Life Enrichment/Enhancement Opportunities, Health News that focuses on wellness and prevention, Dining Out, Travel Ideas, Fashion, Book Reviews, Pets, Financial Advice, Local Events Calendar.
The editorial layout will allow business to be featured in an area of the magazine where there is editorial relevance, helping to improve the impact of a marketing message.
Boom!'s namesake is credited to the definition of the word itself ("To develop rapidly in population and importance; An exclamation when you are proud or pleased to show something off") and this definition's accurate ability to represent the increasing number and stature of the Baby Boomer generation.
Who Should Advertise?
Many industries can benefit from targeting Baby Boomers, but here are several, specific businesses who should seriously consider reaching this impressive generation.
Healthcare
Wellness and Prevention
Travel Agencies
Home Health
Restaurants
Fitness/Exercise/Diet
Personal Finance and Wealth Management
Estate Planning
Retirement Planning
Trust Departments
Legal
Tax Advisors and Accountants
Banking Services
Pet Services
Active Lifestyle and Recreation Services
Nonprofit Organizations
Crafting and Hobby Services
Casinos
Arts and Cultural Businesses
Local Clubs and Organizations
Bank Travel Clubs
Realty Services
Transitional Housing Services
Downsizing Services
Home Improvement Businesses
Assisted Living Services
Golf Courses and Country Clubs
Today's Baby Boomers are truly in their prime and they are seeking out businesses who share their values and can meet their expectations. Fred Parry, Publisher Emeritus of Inside Columbia magazine, CEO magazine, and now Boom! magazine, puts it this way: "Once Boomers have connected with a business in a positive way, they will stay connected for years to come." We are convinced that Boom! magazine is one of the country's best avenues for businesses who desire to make such positive connections.
The future of Boom! is very bright. "We have a lot of faith in this magazine," ensures Parry. We believe that your business should too.