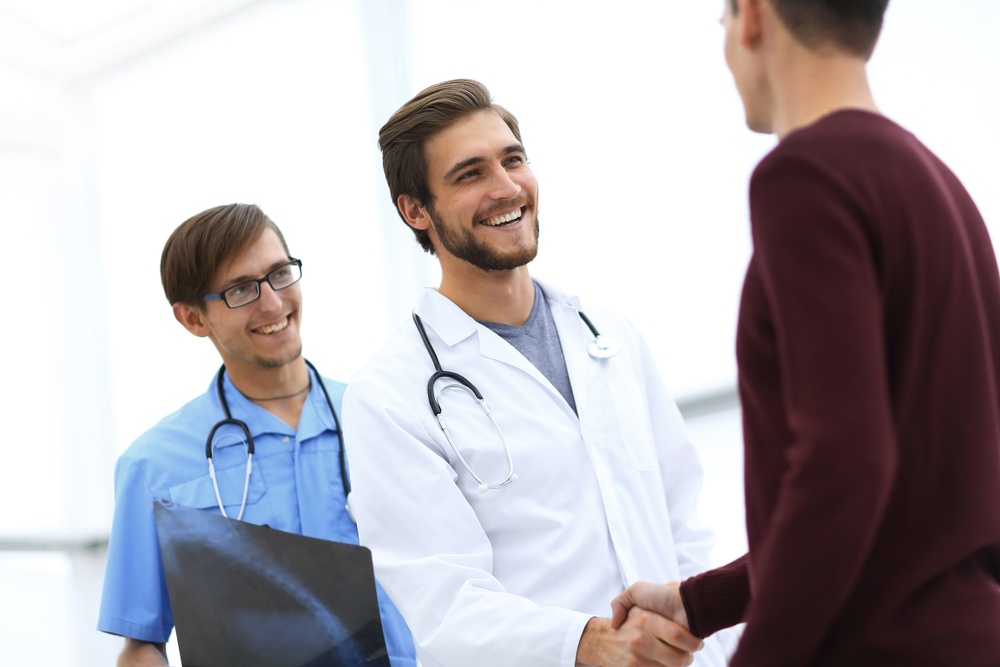 The healthcare marketing strategies you use may vary depending on a number of factors, including your practice's location, audience size and proximity to similar healthcare practices.
Still, many healthcare marketing teams face the same challenges when attracting new patients, including:
Determining which advertising channels to use

Targeting the right patients

Outlining effective metrics to gauge success
Whether you are the marketing director for a family physician practice, dental office or chiropractic business, you may wonder how you can overcome these challenges and successfully attract new patients to your healthcare practice.
4 Healthcare Marketing Strategies to Attract New Patients to Your Practice
Combining traditional media, like radio, with a variety of digital tools has opened up broad opportunities for you to reach your patients in the right place and at the right time. Here are 4 key marketing strategies to reach new patients.
1. Radio Endorsements
With so many online marketing strategies to try, it's easy to overlook radio endorsements as an effective way to reach new patients. However, radio is still the leading platform in terms of reach, as 93% of listeners tune into AM/FM radio stations throughout the day. And leveraging the endorsement of a radio personality for your practice can significantly enhance your marketing efforts.
Tapping into this broad audience can yield positive results for your healthcare practice with these tips:
Find the Right On-Air Personality to Represent Your Brand.

Finding an on-air personality who genuinely believes in your brand is essential. First, make sure he or she believes in your practice and offerings. Then, ensure that your chosen personality appeals to your prospective market.

Choose Radio Stations Wisely.

It is important that you choose a station that reaches your target audience. The on-air personality won't reach your market if they are listening to another station.

Develop Solid Creative and Allow for Improvisation.

Providing prepared spots for your on-air talent, as well as allowing him or her to improvise on occasion, allows you to deliver your brand message and leverage the personality's voice and tone to successfully engage potential new patients.
2. Website Optimization
Your website is often the first point of contact for new patients, and it needs to make a good first impression. Make sure your content is updated regularly and optimized for SEO to gain visibility in search engine results. It's equally important to make sure your website is mobile responsive, as 77% of adults own a smartphone and there's a good chance new patients will access your website on a mobile device. Finally, provide a good user experience overall by removing clutter, using clear navigation and removing distracting elements like music and flashing animations. A good online experience can positively impact the way new patients perceive your practice.
3. Social Media Contests
There are a number of ways to engage with potential patients on social media. And adding social media contests to the mix is the perfect recipe for fun and engagement that will attract new patients to your practice.
For instance, try a fill-in-the-blank contest to encourage new patients to interact with you on social media. Here is one example for chiropractic providers: "The human body has over _______ muscles." An option for dental practices is to request pictures of smiling patients, and choose the most unique smile. Come up with a prize that will delight them, like a teeth-whitening treatment or a sports massage, rather than routine services like dental cleanings or adjustments.
4. Paid Digital Ads
Paid advertising is a surefire way to attract, engage and convert new patients. Digital ads allow you to deliver your message or promotion to targeted audiences, and track it's performance, including total impressions, click-through rate (CTR) and total conversions. With paid advertising, you can also re-target segments of your audience based on whether they heard your ad on the radio, visited a specific page on your website and other online behaviors. This provides you with another touch point with potential patients, increasing the likelihood that they'll choose your practice for their healthcare needs.
Incorporate These Healthcare Marketing Ideas to Reach and Attract New Patients
We understand how complex and challenging healthcare marketing can be for even the most experienced teams. And attracting new patients to your practice requires the right mix of traditional and digital marketing strategies. Add these four ideas to your healthcare marketing strategy to begin seeing measurable results.