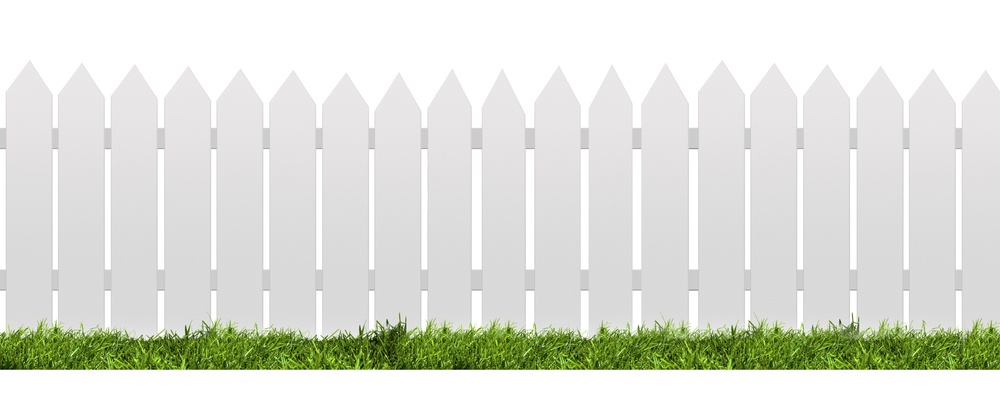 At Zimmer Radio & Marketing Group, our highest priority is to see your business grow. We believe in the power of traditional media, like radio and magazines, but we also believe in the power of digital media, and especially the remarkable power that comes from integrating these advertising mediums.
We've previously written on the array of digital marketing services that we offer, but today, we are proud to introduce two new digital services that we have added to our cutting-edge lineup: geofencing and targeted display advertising.
This particular post will focus on the basics of geofencing, helping your business to determine if this popular digital service is right for you. To learn more about targeted display, click here.
Why Should My Business Incorporate Digital Advertising Into My Media Mix?
It's trendy to say that we live in a digital world where everyone is on their phone "all of the time." But, what are the exact statistics on this? Are digital devices really as prominent as they seem?
Before diving in to the basics of geofencing, it's important to address these questions as geofencing advertising services are served exclusively to mobile, digital devices. Here are some recent statistics and facts concerning the use of such devices in today's world:
Worldwide, more people own a cell phone than a toothbrush. (Source: Consumer Technology Association)
Approximately 95% of all Americans own a cell phone, 77% of which are smartphones. (Source: Pew Research Center)
The average American adult (18+) spends 4 hours and 15 minutes on their mobile phone every day. (Source: Flurry Analytics study)
63% of U.S. consumers access the Internet via their mobile devices. (Source: Stone Temple Research)
Smartphone users interact with their mobile devices an average of 13 times per hour. (Source: Radio Ad Lab)
91% of smartphone users turn to their mobile devices for inspiration when in the middle of a task. (Source: "Consumer Mobile Behaviors Study," Google 2017)
51% of customers say that they consistently discover new brands and products via their smartphones. (Source: BrightEdge)
Smartphone usage is steadily up across all generations. (Source: Pew Research Center)

92% of Millennials own smartphones
85% of Gen Xers own smartphones
67% of Baby Boomers own smartphones
As we mentioned above, geofencing is reliant upon the use of smartphones. Now that the statistics have proven the extreme relevance of smartphones in the daily lives of worldwide consumers, it's time to discuss how businesses can leverage this digital medium for their own profit.
What is Geofencing?
Geofencing is using GPS and/or RFID to define a geographical boundary, then placing a digital advertisement in the mobile apps of consumers within that virtual "fence." This practice is compatible with all free, location-aware, mobile apps.
How Does Geofencing Work?
Today's GPS and RFID technologies are highly advanced, able to "ping" signals off of satellites, ground stations, and receivers within milliseconds. These signals are then accurately able to identify the exact locations of technological devices.
In Layman's terms, please?
These positioning systems are really, really accurate and they're really, really fast at knowing whose smartphones are in a particular area at any given time.
Geofencing uses such positioning systems to define a specific geographical area, otherwise known as a "fence." These "fences" are set ahead of time by the businesses wishing to advertise in those areas. These customized areas can get pretty specific, all the way down to certain zip codes, demographic preferences, and even exact address locations.
One example of address targeting could be a hospital who wants to recruit nurses. They could use geofencing to set one of these "fences" around other hospitals or healthcare facilities and serve recruiting ads to those specific locations.
So, where are the people within these "fences" actually seeing ads?
Within their smartphone apps. Since geofencing is all about knowing consumers' locations, all geofencing ads are placed within any free, location-aware, mobile apps. And there are a lot of them! Over 20,000 to be exact!
Another feature of geofencing that takes the process one step further is termed, "geo-retargeting." This additional step involves continuing to serve advertisements to the smartphones that have previously received these ads. This works whether that phone remains inside the initial "fence" or not. In this way, brands can continue to have a digital conversation with consumers at any given place and time.
So, what would all of this actually look like?
Think of it this way: You're in downtown Columbia, Missouri using your smartphone to check the weather and an advertisement for Kaldi's Coffee pops up on your phone screen. Now, you're craving coffee and conveniently enough, you see through the ad that you're only a block away from Kaldi's. That's the unique power of geofencing!
What Does a Geofencing Ad Look Like?
When it comes to geofencing, we only use top-notch, HTML-5 design services to produce advertisements that are customized, eye-catching, and strategically designed to produce results. Below, you'll find a couple of examples of geofencing ads that have been placed inside common consumer apps. (Left: Ad is placed at the bottom of the screen; Right: Ad is placed at the top of the screen)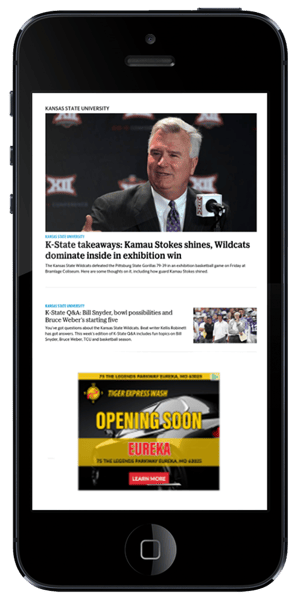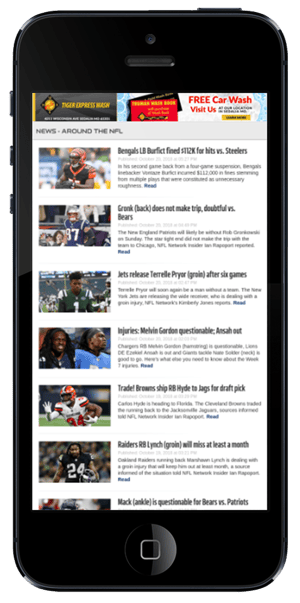 Who is Geofencing Right For?
All businesses can benefit from the power of geofencing. It helps build brand awareness and has the power to generate revenue, potentially with quick turnaround times. With that being said, high frequency businesses who generate substantial foot traffic or online traffic are typically the best fits for geofencing. Those industries include:
Food and Beverage
Auto and Auto Aftermarket
Legal
Medical
Education
Retail
Entertainment
Tourism
Home and Home Builders
Political Campaigns
Financial
Staffing
How Are Results Measured?
Even though the digital industry has matured, too many of today's digital providers continue to rely solely on basic measurement methodologies, such as clicks. At Zimmer, we provide advanced reporting metrics that constitute clear differentiators.
It's important to note that geofencing data is not only easily traceable, but it is also exceedingly relevant, as advertisements are highly targeted based on consumer locations, demographic information (age, gender, education level, household income, etc.), and online behavioral interests and patterns.
Here are some of the capabilities that geofencing offers when it comes to tracking ROI:
Transparent ad placement. This digital capability allows your business to see a "receipt" of where and when your geofencing ads were placed.
Clicks. This is a basic tracking metric on its own, but it's important to know how many consumers actually clicked on your advertisement in order to visit your website.
View-Throughs. This metric shows how many people saw your ad, did not click it, but later visited your business' website as an eventual result.
Hovers. This metric tells the number of people who moved over your geofencing ad or interacted with it in some way without taking the next step of going to your site.
Digital Lift. This metric becomes available once an ad campaign has been live for 90 days. It shows how much more likely someone is to visit your website after seeing your geofencing advertisements.
Foot traffic attribution. This metric only works in high foot traffic scenarios. It analyzes and measures specific in-store visits caused by geofencing capabilities.
At Zimmer, we don't shy away from the power of digital advertising because we understand the statistics given above that accurately reflect the modern-day consumer. Not only do we see the potential in digital targeting services like geofencing and targeted display ads; we also see the unmatched potential in combining these digital methodologies with radio and magazine!
That's because it is statistically proven that combining traditional media with digital campaigns increases brand recall by 4.5 times! Want to build an even bigger brand by harnessing the power of traditional plus digital media channels? Contact us today to get started.