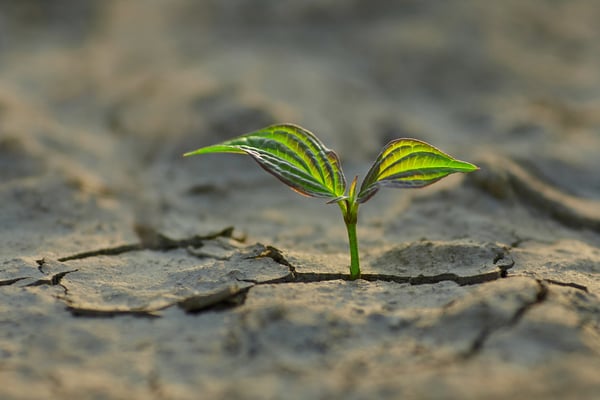 When times are tough, it's easy to believe that your situation is unique...that no one has ever faced adversity in business and that the options are limited. In this series of blogs entitled "Comeback Companies," our goal is to share stories of companies that stood in the face of hard times and refused to give up. In fact, they were often berated at the time for their stubborn refusal to do what other companies where doing - cut back or give up. We hope their stories of hope and persistence inspire you to press forward in your own journey.
Comeback Company: Kelloggs
During the Great Depression in the 1930's when most businesses were making drastic cuts, W.M. Kellogg made a critical choice - one that made all the difference. He chose to go the opposite direction of his chief competition at the time, Post. He declared "I'll invest in people" and split shifts, hiring more. In one of the most crippling economic downturns of our country's history, he expanded - even launching the W.M. Kellogg Foundation, dedicated to making sure children realized their potential. In another bold move, he doubled his advertising budget, investing heavily into radio campaigns.
Did it work?
The answer is a resounding YES. By 1933, Kellogg's profits rose 30% and he solidified the company into a dominant position over his competition - one that they continue to occupy today.
Comeback Company: Proctor & Gamble
When the dust settled from the Great Depression, another company was still standing. Proctor & Gamble decided that people were still going to buy soap...so they might as well buy it from them. Investing heavily into radio advertising, they launched a series of daily radio shows that simply told the stories of the people who purchased their products. These "soaps" became so popular that by 1939, they were cranking out 21 radio shows - pioneering the "soap opera." Then President, Richard Dupree, steadfastly held on to advertising despite pushback from stockholders that he make drastic cuts.
It worked.
As of February, 24, 2020, an investment report states that P & G has paid dividends for 160 years and has increased them for 63 consecutive years.
What's the lesson for us?
When faced with overwhelming odds, any business owner can look around and find reasons to be negative. It takes guts and determination to do the opposite - to not allow your circumstances define you. In the Pandemic of 2020, there are plenty of invitations to be afraid - but there is also an abundance of opportunity.
When quitting isn't an option, surround yourself with like-minded people, commit to learning from others, build a plan to succeed. Join us for BrandKamp 2020 as Chuck Mefford features different Comeback Companies, shares their inspiring stories and maps a strategy for you to not just survive...but thrive. 2020 can be your year. Will you join us?
You'll walk away with actionable steps that will set your business on the path to recovery. In this half day event, you'll learn:
How to leverage the 3 M's of Marketing: Message, Media & Measures
A 3-5 year ROI Marketing Plan
Ways to do effective storytelling with your brand that cuts through all the noise
Tips for choosing the right media that will get results for your business
Due to limitations with seating from coronavirus, there are only 100 seats available for this event.
Your cost is free - just enter the word "FREE" at checkout when you register by clicking here or on the image below.
See you there.