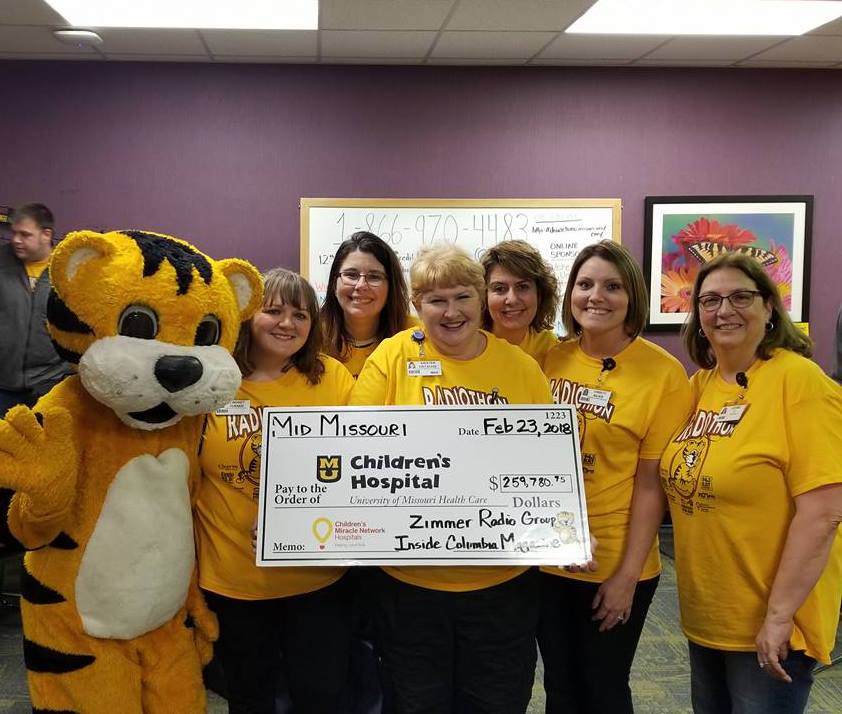 One of our absolute favorite events of the year is almost here: The Children's Miracle Network (CMN) Radiothon! The goal of this event is to help raise money and awareness for sick children at our local CMN hospital, MU Children's Hospital. This event is so important because this amazing place is committed to providing the highest quality of care for children throughout Missouri, regardless of any family's ability to pay.
We're thrilled to report that last year, The CMN Radiothon brought in over $260,000! To give some perspective on this achievement, consider last year's CMN radiothons in St. Louis and Kansas City which brought in about $90,000… combined. Mid-Missouri may be considered a "small market," but we've got big hearts! We couldn't be more proud of our community for helping us achieve this!
Take a look at our recap video from 2017's radiothon below:
As the video demonstrates, it's hard to adequately describe how meaningful this two-day event truly is. Simply put, it is an incredible inspiration to all of us at Zimmer, as well as the entire community!
Businesses who attach their name to this life-changing event are not only doing an incredible good work, but they are also setting themselves up for success. Here are the top ten reasons that your business should consider supporting The CMN Radiothon which will take place on February 21 and 22, 2019.
1. You will help raise money and awareness for the kids.
It goes without saying that the most important outcome of sponsoring The CMN Radiothon is being an integral part of the money that is raised for the sick children at MU Children's Hospital. But just how many lives will you impact?
Well, did you know that MU Children's Hospital routinely admits patients from each and every county in Mid-Missouri? This ends up totaling to approximately 45,000 local children each year! And the most amazing part about that? Regardless of a child's condition, the doors to CMN Hospitals are always open! Your sponsorship will allow you to be a part of this life-changing cause!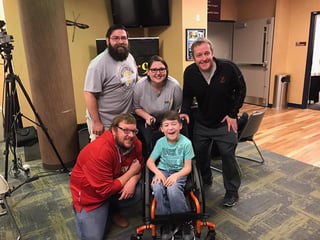 2. You will raise brand awareness.
Second in importance to the charitable aspect of this opportunity, there are several other positive outcomes that stem from sponsoring The CMN Radiothon. Now more than ever, people want to see that the brands they support are socially-conscious and are willing to fund important, charitable causes. The fact is that 85% of all U.S. consumers have a more positive image of a company when they know that the business is dedicated to charitable causes. This trend is true across all age groups, particularly Millennials, who in a recent survey, showed that 67% of them are more likely to do business with companies who are charitable.
It is clear to see that businesses who tie themselves to The CMN Radiothon will create a positive brand image in the eyes of consumers, which is sure to lead to a boost in sales.
3. You will show your dedication to the community.
Another thing that consumers love to see from businesses is community involvement. By sponsoring The CMN Radiothon, your brand will come across as a relatable member of the community who consumers can feel a special bond with. This is an especially important point if your company receives a bulk of its business from local consumers. Overall, your willingness to be a part of this event will show that you are a valuable asset to the community.
4. You will be a part of one of the top radiothons in the country.
Columbia and Jefferson City are technically considered "small markets;" however, we give like large markets do. In the 13 years that Zimmer has hosted the CMN Radiothon, Mid-Missouri's generosity has brought in well over $2 million, making it one of the top radiothons in the country!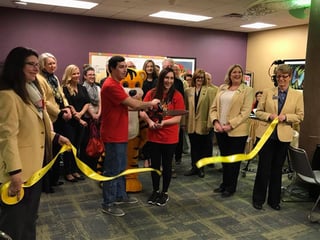 5. You will receive a wide variety of marketing opportunities.
CMN Radiothon sponsors receive many marketing opportunities across multiple platforms, all within a short period of time. Your business could be included in promotional mentions, live or pre-recorded interviews, online mentions, Facebook postings, E-Blasts (newsletters), print advertisements, and/or on-air commercials. The amount of marketing opportunities, coupled with the condensed time-span in which they are promoted, is sure to make your business' name memorable and easy to recall.
6. You will be promoted to a large audience.
When we say large, we mean it! The CMN Radiothon is partnered with four of our top radio stations, including: Clear 99, Y107, The Eagle, and KAT Country. Not only that, but this event is partnered with one of the community's top print publications, Inside Columbia Magazine. Here are the average numbers of weekly listeners and monthly readers for each of these properties:
Clear 99: 76,100
Y107: 93,800
The Eagle: 23,100
KAT Country: 44,500
Inside Columbia: 56,000
Combining those five properties means that there is potential for well over 293,000 people to hear and see your business' name leading up to (and during) The CMN Radiothon.
7. You will shine as a humble community member.
Of course marketing is all about promoting yourself so that people will be intrigued and want to do business with you! However, sometimes it's nice to be able to do some "humble promotion." The CMN Radiothon presents businesses with this unique opportunity. Your business' name is, of course, mentioned relentlessly throughout the event; however, given the subject matter, it is done so with great humility. There is simply an understood level of respect that comes with being a CMN Radiothon sponsor.
8. You will participate in an event where every dollar stays local.
Columbia is privileged to have a Children's Miracle Network hospital right in its midst. This is something that we should never take for granted! Because of this, every dollar given during The CMN Radiothon will stay right here in Columbia! What a privilege that we can give to a hospital so close to us, then be present to witness the impact that our support has provided.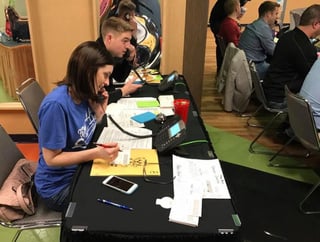 9. You will make Mid-Missouri a better place to live.
By funding our local hospital that is responsible for providing high-quality, loving care to our own neighbors, you are helping to make Missouri not only a healthier place to live, but a happier place as well. That's because events like The CMN Radiothon bring people together and produce goodwill for the community as a whole. What an incredible feeling for a business to be associated with!
10. You will receive first right of renewal for next year's CMN Radiothon.
Most businesses discover that once they are a part of The CMN Radiothon one time, they are ready to be involved again the following year. That is why we give sponsors the exclusive opportunity to renew their contract for the following year before we open up the sponsorship opportunity to the general public.
Because of the amazing reputation that The CMN Radiothon has in our community, these sponsorships will not last long! Want to change lives and be a part in helping to support the children of Mid-Missouri? Contact us using the button below to find a sponsorship opportunity for your business!