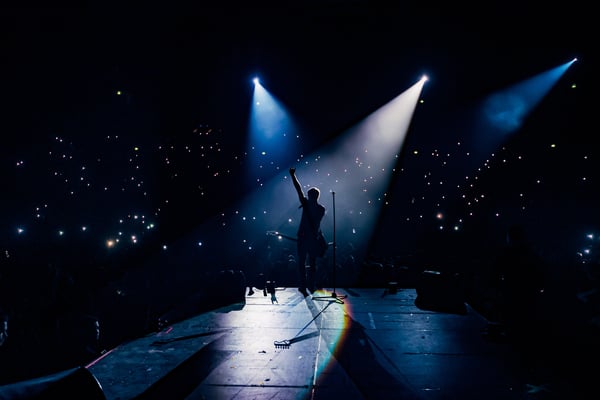 We all know that classic rock is one of the most popular and timeless music genres, but why? A simple answer could be that it makes you feel like a badass while listening. Think about the time you first heard Pink Floyd, Def Leppard and the Rolling Stones and how it made you feel… like a true badass. And while that may be a driving factor in the popularity of this genre, it also has an authenticity factor that so many people young and old resonate with.
In fact, 12 of the top 20 best selling music artists of all time are classic rock musicians… that is pretty legendary if we do say so ourselves. Bands like The Beatles, Led Zeppelin, AC/DC, Aerosmith and Metallica are iconic in the music industry for a reason. It was the most popular genre for the Baby Boomers and will remain that way heading into 2020 and beyond.
Classic Rock Keeps Coming Back
Just when you think a rock song is gone for good, you will hear it in short clips when a teenager is playing on TikTok making videos to share. Classic rock is not going away, and it is to your benefit to learn what attracts your customers and gets them interested in your brand. With companies such as Audi, Toyota and Amazon, you are in good company when you focus on classic rock music and use it in your advertising. If you have experienced Amazon's "We Will Rock You" commercial featuring Queen and it got you to pay attention, then you understand the power that classic rock can bring to your advertising campaign.
Take a look at the movies coming out recently…
Bohemian Rhapsody, the box-office smash story of Freddie Mercury.
Rocketman, the story of Elton John.
The Dirt, biographical comedy-drama about heavy metal band Motley Crue.
Street Survivors: The True Story of the Lynyrd Skynyrd Plane Crash.
...and this doesn't even touch the list of moves that use classic rock as soundtracks.
Walmart has created a new ad for its online order and pickup service, using Gary Numan's 1979 rock anthem "Cars" to grab the attention of customers. In the box office, the hit smash Rocketman features the classic rock of Elton John, never mind the many classic rock songs featured in movie soundtracks. Once you start looking, you will find the influence of classic rock just about everywhere.
Benefits of Advertising With Classic Rock Radio
Classic rock is the music of summer driving down the highway without a care in the world. When you reach a classic rock enthusiast, you are tapping into a large group of loyal customers. It is shown that people who listen to classic rock stations are loyal to the music they love. When you advertise on a popular classic rock radio station, you will gain a base of customers for your brand who keep coming back for more.
Classic rock radio isn't just thriving…it's still as popular as it was when the song first came out. It's hot...and getting hotter. Classic Rock has consistently been a top 10 radio format. With the music attracting ALL age ranges, Classic Rock is the place to advertise. From Aerosmith to Elton John, think about all the different ways you can integrate classic rock into your marketing strategy. People over 50 are roughly 32% of the adult population, yet they spend about 50% of all retail dollars. Most marketing targets younger audiences, with only 10% of marketing dollars geared towards reaching people over 50.
Super-Bowl Advertisements
It's no surprise that advertising during the Super Bowl is the Holy Grail of advertising mediums for the year. If your commercial is great, people will be talking about it for weeks and months to come. And year after year we continue to see and hear Classic Rock incorporated into a majority of those commercials. Here are just a few examples from the 2019 Super Bowl:
Toyota Supra - Who's 1969 hit "Pinball Wizard."
Amazon - Queen's "We will Rock You."
Planters peanuts - Motley Crue's "Kickstart My Heart."
Stella Artois - Bob Dylan's 1970 hit "The Man In Me."
Amazon's upcoming original series Hanna featured the Smashing Pumpkins' with "Bullet with Butterfly Wings."
Audi - Norman Greenbaum's "Spirit in the Sky" - a gold-selling #3 hit in 1969.
Hobbs & Shaw - War's 1975 anthem "Why Can't We Be Friends."
Wonder Park (animated film) - Poison's 1988 Top 10 Hit "Nothin' But a Good Time."
Walmart's new online order and pickup service - Gary Numan's 1979 rock anthem "Cars."
T-Mobile - Eric Carmen 1975 solo hit "All By Myself."
If the big brands are turning to Classic Rock because of it's universal appeal, you may want to consider what you're missing. If you want to expand your brand reach, you have to advertise to the ones who both have money and who are spending it. People in the Baby Boomer generation spend $548 billion dollars annually.
Classic rock radio advertising and locally, KCMQ Radio, will get you the customers you want while giving you the chance to have some fun with your advertising at the same time. The classics never grow old...and Classic Rock music seems to prove that year after year. With so much growth in Classic Rock advertising, the big businesses can't be wrong. Use the power of Classic Rock radio and see your business thrive.