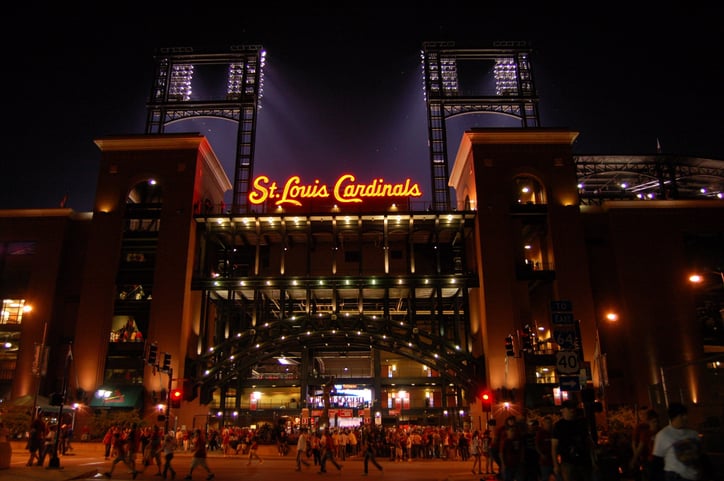 To be honest, we love rooting for the home team, especially when that team is the St. Louis Cardinals. That's because they're a historic business with strong roots in the community and they understand how to reach their audience. In fact, the team resonates so strongly with local audiences that advertising to Cardinals fans can offer significant lifts in ROI.
In today's post, we'll give you an overview of some of the most pertinent facts about the Cardinals and discuss the impact this can have on your business as well as your marketing strategy.
Cardinals Data
The Cardinals are valued at $1.6 billion and brought in an annual revenue of $300 million in 2015, making it the seventh most valuable team of 2016. That's partly due to a loyal fan following. In fact, fans are so fiercely loyal, one of the five oldest rivalries to stand the test of time in U.S. sports (including basketball and football) is the Cardinals versus the Cubs.
Fans are also willing to put their money down to prove their loyalty, giving the Cardinals 19 sell-out games throughout the 2016 season, making 2016 the thirteenth straight season to bring more than 3.4 million fans through the gates. Fans also ensured that the Cardinals held the second highest attendance rate in the MLB that year, behind the Dodgers and three positions ahead of its rival, the Cubs.
Even when they can't be present, Cardinals fans are sure to tune in to do more than just hear the score on the radio: the Cardinals Radio Network covers 153 stations in ten states, reaching 350 thousand listeners for every game for more than 3 million unique listeners every season.
Since advertising with the Cardinals will also reach fans of their opponents, let's take a look at the MLB at large. Annual sponsorship revenue reached more than $831 million in 2016, up more than $200 million from 2012 ($626 million). In 2012 alone, internet advertising and sponsorship revenue represented $150 million, while online MLB shop sales represented $100 million. Meanwhile, the average TV viewership for a World Series game in 2016 was 23.4 million, and the average rating was 13.1.
What That Means for You
So why does any of that matter? Quite simply, by associating your brand with the St. Louis Cardinals, loyalty to the team can translate into increased business for your company, if not a transference of loyalty to your brand. That opens a host of marketing opportunities across channels, and in addition to increasing your reach, this can serve to raise awareness about your business while setting a positive brand perception. Furthermore, the frequency of games during the season and off-season offer a built-in frequency to help lift recall and influence.
There's a proud history of partnering with the MLB, both for businesses and communities. Official sponsors include all sorts of brands, from Master Card and Frito-Lay to Papa John's and Scotts. It's also made a commitment to Diverse Business Partners, providing a program that supports small businesses, especially businesses run by minorities and women. In terms of communities, the MLB supports many charitable efforts, including youth outreach programs and supporting cancer research. Partnering with the Cardinals also puts your business in the position to associate with these other brands and help support important causes in Mid-Missouri and nationwide.
How to Leverage This for Marketing
Advertising to Cardinals fans will require you to align part of your marketing strategy with St. Louis Cardinals branding. This will take some planning to ensure that the connection to baseball makes sense. You want to earn fans' trust, after all, and if you don't craft the right message, they'll end up feeling as though you're just trying to sell them something.
At the most basic level, you should buy advertising during game dayparts. Note that this may be a bit more expensive, especially for major event games, so you should try to buy your ad slots in advance. More generally, find creative ways to work the Cardinals into marketing that's sure to reach their fans, like radio, while tying in other channels such as social media. For example, you could run a ticket giveaway (or other contest with tickets as prizes) via social media, then advertise the giveaway on the radio.
Armed with these facts about the Cardinals, you can better understand why advertising to Cardinals fans can be a real home run for your business. The St. Louis Cardinals are already a powerful brand, and by leveraging that to full effect on radio, you can increase your reach and improve the impact of your marketing campaigns.