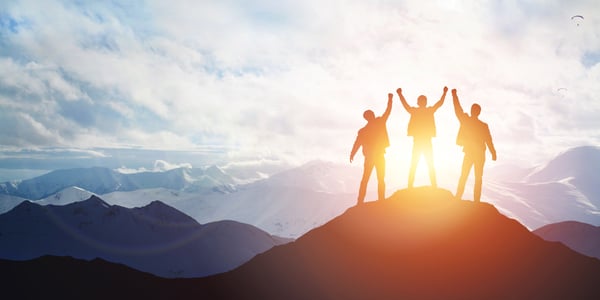 With holidays in the rear view and the new year officially started, it's time to start getting back into our professional routines. Whether you work in sales, creative services or manage a team, there are a variety of hurdles to clear when setting up for success in the first quarter. Check out our three keys to a successful first quarter below:
1. Maintain Momentum
With the holiday season and the new year coinciding, most professional environments tend to stagnate around late December into the first week of January. While it is tempting to play the waiting game until your boss is back in the office or you have a full team, this means you will have even more of an uphill battle coming into the first quarter of the new year. Regardless of your industry, there are always ways to work around the winter freeze in order to maintain your momentum. Rather than focusing on outstanding items that you won't be able to finish as fourth quarter closes, instead make three separate lists: 1) draft a list of things you can get done immediately, 2)tasks or projects that you can start on your own, and 3) anything additional that will need to wait until clients or coworkers are back in the office. By organizing these responsibilities, you can increase your productivity while also getting a head start in order to hit the ground running at the start of your first quarter.
2. Use Holidays as a Reason, Not an Excuse
While it is common for people to become increasingly difficult to reach as the holidays approach, technology has made it more convenient than ever to stay plugged in outside of the office. Instead of settling on yet another voicemail to a client or customer, use the holidays as a reason to reach out: whether it's season's greetings or well wishes for the new year, staying top of mind with your audience will make it easier to get that first quarter appointment or signed contract. Additionally, most recipients will appreciate the thoughtfulness during a busy time. Are you really trying to make a great impression? Send over your favorite memory or accomplishment with a client or customer from the closing year. This will set you apart by showing you are invested in them on both a professional and personal level.
3. Reconnect with Coworkers
While it is important to communicate effectively with your clients and customers, it is also essential to maintain consistent communication with your coworkers as well. Regardless of your industry, nearly every professional role requires some level of collaboration between coworkers or departments. With fourth quarter being a prime time for professionals to take some time off to spend with family, the first weeks of first quarter can become increasingly hectic with coworkers returning to work and catching up on anything they may have missed. When you notice someone coming back from an extended leave, give them a warm welcome and check in to see when you might be able to reconnect on any outstanding projects or shared responsibilities. This will ensure that your coworker is less overwhelmed and will know what to prioritize while allowing you to focus on your first quarter responsibilities. You will also gain brownie points with most coworkers for respecting their time, particularly when it is limited.
Interested in company culture and best practices for your professional team? Subscribe to the Zimmer Communications blog below!