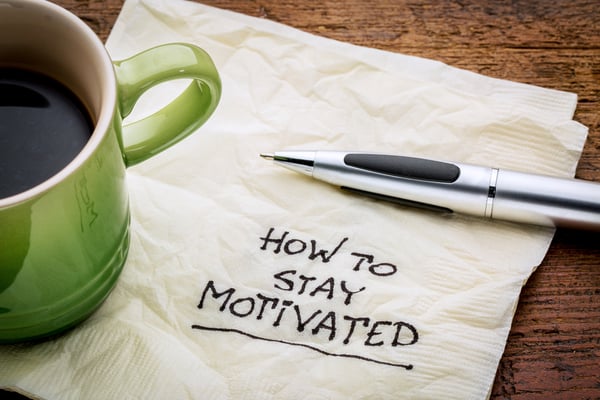 The winter freeze seems to come earlier every year. With the colder temperatures, everyday responsibilities that are a breeze in warmer months become more taxing during winter: whether it's thawing your car windshield, making the commute to work in stalled traffic or staying alert during the early evening sunset, it takes a little extra time to complete simple tasks when it's cold outside. Business tends to stall as well: unless your industry can rely on consistent holiday business, you will likely see less traffic during the fourth quarter. With this ebb in the professional world it can be easy to get discouraged. Rather than remain stagnant or fall behind, we recommend considering this an opportunity to get creative with your time. Check out our three ways to stay motivated during the winter months below!
1. Recap Your Year
When looking toward the new year, we often get lost in the holiday buzz and end up going through the motions professionally. Rather than mindlessly clocking in every day and watching the hours tick by, consider reflecting on your year and how you can set yourself up for success in the new year. We recommend dividing the year up into more measurable quarters or months, then breaking down projects and tasks from there. You would be amazed what you can accomplish in the course of two or three months, and by mapping this out you can more easily trace what methods and strategies you used to succeed. Recapping your year also gives you more accurate projections for the coming year: maybe you want to increase your client base or add to the team. Whatever may be on your future checklist, tracing back previous goals and how they were accomplished gives you reliable metrics for setting future goals and planning out how to accomplish them.
2.
Organize Your Office Space
Ever feel like you can't seem to get a handle on the growing stack of paperwork or files that have a permanent home on your desk? Winter months are a great chance to begin organizing your office space in preparation for the new year, whether that means disposing of outdated files or finally deep cleaning your drawers. This is also the perfect opportunity to review any outstanding items that tend to go neglected during busier months, as checking off your to-do list early can significantly cut down on stress going into the new year. By tackling these responsibilities during down time, you can jump into your first quarter with a fresh start and clear head space.
3.
Follow Up
If you feel like you're lagging a bit in the winter months, you aren't alone: your coworkers and those in your professional network are likely fighting the cabin fever induced by the colder temperatures as well. Rather than dwelling in solitude, consider reaching out to those individuals you may have been working with earlier in the year. Whether it's completing a project with a coworker or finally locking in that client meeting you have been trying to book for several months, the fourth quarter is a great time to reach out to a more receptive audience. Already tied up any loose ends for the year? Consider starting on new year appointments and projects early! Clients and coworkers will become increasingly preoccupied with the holidays as they approach, and ultimately once it's Christmas Eve, you will have limited opportunities to reach out before the new year. By getting an appointment or project on the books early, you will not only have additional time to prepare, you will also be able to start mapping out your new year and enjoy the holidays knowing you have a game plan ready.
Interested in learning more about professional workplace culture and the latest market trends? Subscribe to the Zimmer Communications blog below!