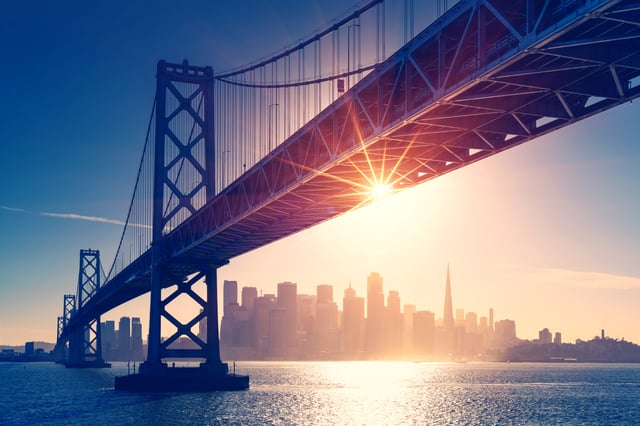 There are no shortcuts on the road to continual marketing success. Business owners are required to put forth ample time and energy in order to see their company thrive.
So today, we're letting you in on a marketing tactic that has sustained (and salvaged) businesses across the country. This approach necessitates much careful thought and unbiased examination of your business as a whole.
So, what's the tactic?
Constant inspection and careful critique of your business from your customers' point of view. The most effective tool for helping businesses stay accountable is "The Marketing Bridge."
What is The Marketing Bridge?
The Marketing Bridge is made up of everything that connects you to your customers (and prospective customers). That means, literally, every aspect of your business.
It's composed of 5 categories, including: Your Business, Price/Value, Merchandising, Personal Selling, and Advertising. These five factors are the forces that must combine in order for your business to make a sale.
Your business' ability (or inability) to strengthen each of these individual categories will ultimately determine the success (or demise) of your business.
We're breaking down each category below. See how your business answers each question and discover areas that could be in need of improvement before your customers do.
Your Business
How enthusiastic are you, as a business owner, to open your doors? Do you dread going in to work, or do you get excited at the idea of daily opportunities and challenges? Do you instill a positive vitality in your employees in order to ensure that your customers always have an exceptional experience?
Is your business' location desirable? Is it easy or difficult for customers to find you? Is your physical address listed in plain sight on your website?
Would your business pass the online research test: Is it easy for customers to find information about your business via online search engines? Does your business have abundant information for customers on your social media pages?
What is your business' current reputation in the market? If you asked 100 people in your community, "Who do you think of when you think about (your product or service)," how many would say your business' name?
Are you paranoid about ensuring your customers receive high quality service?
Is the quality of your products/services as good as, better than, or the same as your competitors?
Is parking at your business' location adequate, convenient, easily accessible?
Are your customers impressed with your business' delivery of its products/services?
Price/Value
How do your business' prices compare to your competition?
Is your price fair in accordance to the value of the product/service your customers receive?
Merchandising
Is your business location clean and attractive-looking?
Are your products displayed in an organized, professional-looking manner?
Do your services cause customers to recommend you to others?
Are you timely in fulfilling customer orders/requests?
Personal Selling
Does your business' receptionist have the same level of commitment to your customers as you do?
How well are your employees trained in their job responsibilities? Do they have a strong understanding of what they're selling? If they don't know the answer to a customer's question, are they helpful in directing them to the right person?
Are your employees enthusiastic about what they do? Do they smile when they talk with your customers? Do they get the sense that they matter to management? Do they act purposefully? Do they have a helpful attitude with customers at all times?
Are your employees professionally and appropriately dressed? Are they clean-shaven? Do they possess professional mannerisms?
How much training does your business do on helping your employees "suggest sell?" (Ex. McDonald's employees – "Do you want fries with that?")
Advertising
Successful businesses view advertising as an investment, not as an expense. Advertising campaigns are responsible for influencing the way a community perceives a company. Successful advertising will certainly attract people who want to pursue doing business with you.
However, it is important to remember that advertising is only one-fifth of the marketing bridge. Once customers are attracted to your business via your advertising efforts, it is then up to you to satisfy the other four components of the marketing bridge in order to make a sale. A rock-solid marketing bridge is the only way to produce and sustain a growing business.
Regarding your current advertising, ask yourself these questions:
Do you have quality creative? Are you educating people about what your business can do for them?
Are you taking advantage of echoic memory (The fact that people are more likely to remember what they hear vs. what they see)?
Are you dominating the medium on which you are advertising (i.e. a specific radio station)?
Do you have a long-term marketing strategy in place, in order to give your business a solid foundation within the community?
Do you advertise a consistent message (phrase, jingle, or slogan) that effectively causes people to think of your business first when considering making a purchase in your industry?
Do you have an ROI measuring system in place to evaluate the effectiveness of your advertising efforts?
If you are reading through these questions and coming to the realization that your business has some work to do, that's a good thing! This means that you are committed to seeing your business thrive!
It's important to remember that marketing is dynamic. Businesses should open to change. Don't be afraid to make adjustments in order to turn areas of weakness into areas of strength.
Not sure where to begin? Contact Zimmer Radio and Marketing Group to talk with one of our marketing consultants and let us help you move closer to the business success you deserve!