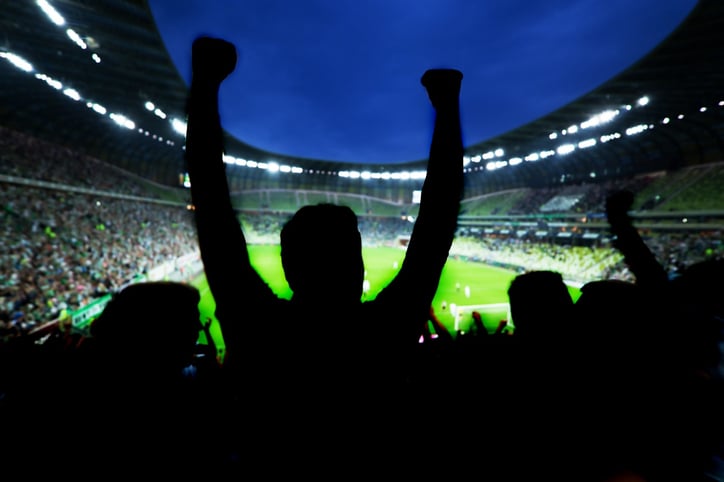 Are you looking for ways to reach a larger audience? Grow your brand? Improve your marketing effectiveness? One of the most effective ways to achieve your marketing goals is to implement sports marketing into your efforts.
Sports are incredibly popular in the United States, which comes as no surprise to most people. Whether it's college football or the NFL, NBA, college basketball or the NHL, millions and millions of people pack into stadiums around the country and tune into local radio broadcasts and TV to see, listen and watch their favorite teams. In fact, almost 60 percent of Americans identify themselves as sports fans.
Locally, try finding someone who is not a die-hard Cardinals fan or someone who doesn't attend Mizzou sports religiously. These are people who eat, breathe and sleep sports and almost any product that's associated.
So as a business owner, what does this mean to you and what are the benefits of sports marketing? These fans are men and women who are emotionally and financially committed to their favorite teams. You can take advantage and piggyback off of an already existing, captivated audience. There are multi-channel opportunities for your brand to reach a new audience, whether through social media, a website, local magazine, or TV and radio advertising opportunities that work in unison with a sports team.
Given that sports are year-round, and each individual sport has its own specific season, there are multiple opportunities for you to get your business in front of new eyes. Think about sponsoring a team's theme night at the local ballpark or a fun halftime experience.
Which industries can hit a marketing home run with sports marketing?
1. Automotive
Sports and the automotive industry seem like they were destined for each other. From the Mercedes Benz Stadium in Atlanta and the Mercedes Benz Super Dome in New Orleans to Honda Center in Anaheim and the Nissan Stadium in Nashville, automotive companies have long spent marketing dollars on stadium naming rights. Given the overall size of these brands, their efforts are mostly to keep their products top of mind by taking advantage of a large audience at these events.
Many automotive dealerships are known to use local sports figures as brand influencers as well.
2. Legal
Lawyers and attorneys are just like other businesses and consistently searching for potential clients. While their marketing efforts may take on a different tone from other businesses, they can benefit from sports marketing as well. Whether it's through a sponsorship agreement or participating in a team-related event, law firms can take advantage of an existing audience. Additionally, they can benefit from sports-related content on their websites, focusing on small business contracts and investments that are promoted by athletes.
3. Health
The healthcare industry and sports marketing are another match made in heaven. Sports are incredibly physical and injuries are part of the game. While consumers may not be professional athletes, they can relate to sustaining injuries while playing their favorite sports. As a hospital, rehabilitation facility or chiropractor, sports marketing is a great way to build your brand. Not only can you talk about treatment and sport injury-related topics on your website or blog, you can promote your products or services at team-related events. Most professional football organizations these days have official team "healthcare" partners, so it's a great opportunity for hospitals and the healthcare industry as a whole.
4. Retail
Retailers, no matter the types of products or services they offer, have long been known to take advantage of sports marketing. From sports-related promotions to sales, there are numerous ways brands can step up their marketing game and take advantage of sports-hungry fans. Retailers can take advantage of an existing audience by offering team-related products or products that take advantage of a team's color scheme, logo or phrase. If you know fans are piling into Faurot Field on a cold November day, be sure to offer plenty of cold-weather gear, from hats and gloves to hand warmers and thermoses.
5. Entertainment
It's hard to think about sports without thinking about entertainment. From movies and music to film and television, there are endless opportunities to benefit from sports marketing. It's not uncommon to see musicians and movie stars gracing the sidelines at a sporting event or performing during the halftime show. Over the years, movie stars and musicians have taken their fandom to the extreme and have become partial owners of their favorite teams. As marketers, you can take advantage of very specific demographics associated with each of the four major sports leagues as part of a very targeted campaign or attract a much broader audience through college athletics.
6. Finance
Many sports teams have forged partners with financial groups who act as their official partner for financial matters. As a business owner, if your institution is affiliated with a sports team, whether professional or local, you'll immediately be able to benefit from an audience who supports their teams. This affiliation will automatically lend credibility to your brand, increasing the chances a consumer will think about your business when they need a similar product or service. Locally, one opportunity is to sponsor a Tiger Tailgate. Did you know you can easily put your brand in front of 1,200-plus potential clients at a tailgate (plus tailgaters have to pick up their pass from your business, so instant foot traffic)? Talk about an incredible opportunity.
7. Fitness
The fitness industry can take advantage of a captive audience through sports marketing. Whether a gym or a yoga studio, professional athletes must stay at the peak of physical conditioning, which usually means they spend plenty of time in gyms and doing yoga to help with flexibility. As a business owner, it would behoove you to tap into this dynamic and promote your business at local sporting events or become a sponsor of their local radio broadcast to take advantage of a large listening audience.
8. Food/Beverage
Whether your business is a restaurant or you sell a particular beverage, there's a natural pairing with sports teams. One of the best examples of this is Gatorade. You can't think about sports without thinking of this beverage. Think about the St. Louis Cardinals. If you are from the Missouri area, you can easily identify Busch Stadium, right? From a marketing standpoint, take advantage of the large audience that spends a lot of time tailgating and celebrating before a big game. Hang out at the tailgate, promote your product and share samples with the hungry, or thirsty, crowds. This is a great way to promote what you have to offer at a relatively low cost. Need a brand ambassador? Look no further than a local sports celebrity who would help bring instant credibility and recognition to your product.
9. Home Improvement/Home Services
If you've ever spent time at a minor league baseball park, the outfield fence is typically a showcase for local businesses. From home improvement stores to services like pest control, using this opportunity to promote your business is key. In addition to a promotional banner, you could also sponsor a specific game or activity. These minor league games are known for their activities and events, just as much as they're known for the action. Did you know the Cardinals annually see more than 3.4 million people come through the gates? Given the number of baseball games played in a season, there's is tremendous potential to improve your brand's recall and influence through in-stadium messaging, as well as advertising spots during games.
10. Education
Much like the automotive industry, education institutions have been known to market their brands through stadium sponsorships and naming, like University of Phoenix Stadium in Arizona. This is an easy way for the college to keep its brand top of mind in a crowded marketplace. Universities and colleges can take advantage of a diverse crowd at sporting events by participating in local events where they can put their message in front of potential and future students who may be in attendance. Another way to use sports marketing to their advantage would be to use their websites and social media profiles to share the stories of popular alumni and how they were impacted by the university.
With the popularity of sports in society, as a business, it's imperative that you take advantage of an opportunity to build brand awareness by capitalizing on an active and engaged audience through sports marketing. Whether your target audience is baby boomers, millennials or Gen X, sports fans fit the bill. From sponsorships and ticket giveaways to promotional items like seat backer and foam fingers, there are endless ways your business can benefit from sports marketing.
Not only that, but using radio advertising and strategic placement in local magazines to complement your other channels, such as social media and digital, will give you stronger and more consistent multi-channel approach.
Stations like KTGR reach more than 14,000 listeners a week, and are the go-to station for Missouri Tigers, football, basketball, baseball and the St. Louis Cardinals. So whether you use radio or magazine to complement your existing marketing efforts by promoting an event your business is sponsoring or just running regular ad spots, you'll certainly position your brand to benefit from an existing market and audience.
To learn more about opportunities and how Zimmer Radio and Marketing Group can help, contact our team and we'll help put a strategic plan in place.