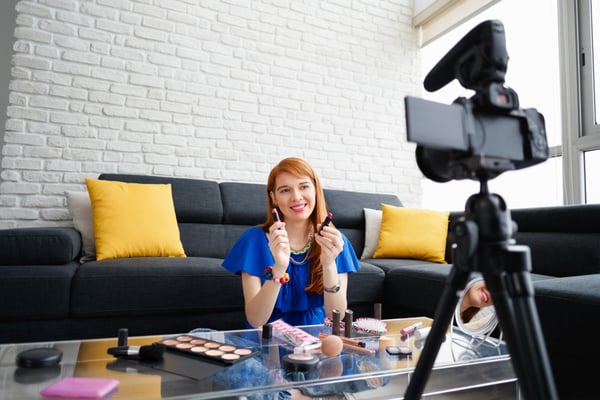 Influencer marketing has become an increasingly important part of online marketing and engaging with users. With social media rapidly becoming a prominent part of daily life, as nearly 80 percent of American adults now have at least one account, influencers have a growing amount of power over the buying habits of consumers and the reputation of businesses. Almost 40 percent of people on Twitter report that tweets from influencers on the platform have resulted in them making a purchase.
Influencer marketing has close ties with two other popular forms of marketing that you may be familiar with: social media marketing and content marketing. Here is what you need to know about social influencers and the power of influencer marketing.
Who are Social Influencers?
Influencers are people that are viewed as experts in a certain field, such as fashion, makeup, fitness, or food. They have a high reputation among people interested in their particular niche, with their followers viewing them as a knowledgeable and reliable resource. Unlike companies, who consumers expect to speak highly about their particular products and services, influencers have a greater ability to tap into the power of the personal relationship on a higher level. Customers feel more inclined to view these influencers as authentic and trustworthy.
Influencer marketing is when companies partner with influencers to increase their brand awareness or conversions within a specific target audience. It allows your organization to gain access to the followers of this particular influencer, often through the various social media platforms and sponsored posts. When the influencer gives your product or service their approval publicly on the platform, it encourages their followers to try your company too.
Influencer Marketing Statistics
The power of influencer marketing can easily be seen in the results produced. Eighty-nine percent of companies report that their ROI from influencer marketing is comparable or even better than their other marketing channels.
The success brands have seen with influencer marketing has led to 65 percent of brands reporting that their influencer marketing budgets will increase during 2020.
Within the influencer scheme, Instagram is regularly regarded as the most important and impactful channel. Instagram allows posters to target the highly engaging medium of images to capture audience interest. Thus, this is the most common platform where brands will find influencers that can boost their following.
Influencer Marketing Benefits
Working with social influencers will allow brands to tap into a wide range of benefits.
To begin, you will promote yourself with quality content in front of an audience that the influencer has already built. Rather than trying to build your own regular viewership, the influencer posts you work to design will be broadcast in front of an established audience. This helps to increase brand awareness.
Since followers also feel more inclined to trust the opinion of the influencer, the posts you create will also help to build trustworthiness for your brand, which in turn can lead to a higher ROI than other forms of marketing.
How To Tap Into Social Influencers Locally
Local radio station personalities can provide an excellent source of influencers. They often have a large, targeted following that engages with them actively on social media.
When on the air, many radio personalities receive paid endorsements for companies and products through the station. This influence can easily extend to their social media presence. Through their usage of their relationships with their listeners across multiple platforms, including social media, magazine ads, and radio, brands can maximize the potential of these radio personalities to build a strong presence and get in front of their target audience.
Influencer marketing offers tremendous potential for brands who want to build their organizations and bring in new customers. Consider how tapping into these powerful digital personalities can help you bring in new leads and customers.