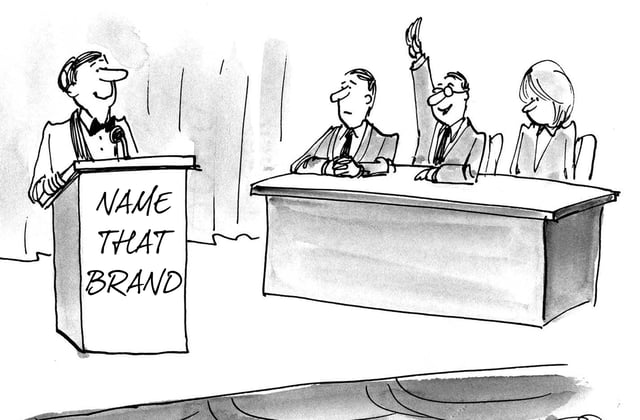 At Zimmer Radio & Marketing Group, we are passionate about helping businesses establish (and maintain) an immediately recognizable, and therefore, exceedingly successful brand.
Our unwavering belief in the marketing process is clear, which begs the question: Do you believe in it too? Do you trust that branding campaigns that practice consistent advertising really do work?
You tell us! Let's play a game:
For each slogan, see if you can "Name That Brand!" (Answers below.)
"Just Do It."
"Like a good neighbor, ____________ is there."
"Fifteen minutes could save you 15% or more on your car insurance."
"Breakfast of Champions."
"Good to the last drop."
"There are some things money can't buy. For everything else, there's ____________."
"Melts in your mouth, Not in your hands."
"The Quicker Picker Upper."
"I'm Lovin' It."
"Betcha Can't Eat Just One."
"Can you hear me now?"
"Maybe she's born with it. Maybe it's ____________."
"The few. The proud. The ____________."
"Save money. Live better."
"What's in your wallet?"
"Built _________ Tough."
"Where's the Beef?"
"You're in good hands."
"We have the meats."
"Better Ingredients, Better Pizza."
Answers: 1.) Nike; 2.) State Farm; 3.) Geico; 4.) Wheaties; 5.) Maxwell House; 6.) Master Card; 7.) M&M's; 8.) Bounty; 9.) McDonald's; 10.) Lay's; 11.) Verizon; 12.) Maybelline; 13.) Marines; 14.) Wal-Mart; 15.) Capital One; 16.) Ford; 17.) Wendy's; 18.) All State; 19.) Arby's; 20.) Papa John's
But it's not just the national brands that have the ability to get their message to stick in the consumers' minds. Let's bring it a little closer to home: Have these local Mid-Missouri brands made their mark on you as well? (Answers below.)
"Now you've got a friend in the pest control business."
"Lean across the table and shake hands with _____________."
"Boogie on down for burgers and beers."
"______ Mobile Glass, We come to you!"
"Tires. Service. Straight talk."
"A bank that's good for you and your community too."
"Smiles recommended by 5 out of 5 moms."
"Unnnnnnncomfortable." OR "We'll put you in your comfort zone."
Answers: 1.) Steve's Pest Control; 2.) Mid America Mortgage; 3.) Billiards on Broadway; 4.) Mark's; 5.) Big O Tires; 6.) Mid America Bank; 7.) Willett & Patton, DDS; 8.) Aire Serv
Were you surprised by how many you were able to recognize?
So now, the question is: If we surveyed the community, could they automatically identify your brand via your slogan, tagline, or jingle? If not, the good news is that you can get there.
According to The BrandKamp System™, the primary goal of any local business should be to "own mental real estate." In order for this to occur, your business must be in the top three rungs on the "Ladder of Competition." This means that when a consumer thinks of your industry, your business' name should enter their mind (either 1st, 2nd, or 3rd) as a viable option. It is clear that the businesses listed here have achieved this goal.
Owning this coveted mental real estate in your own community will happen when your business commits to laying out a detailed branding strategy, then consistently markets this exclusive message. When these core principles of The BrandKamp System are applied, you will find that over time, the public will readily be able to identify your brand as well.