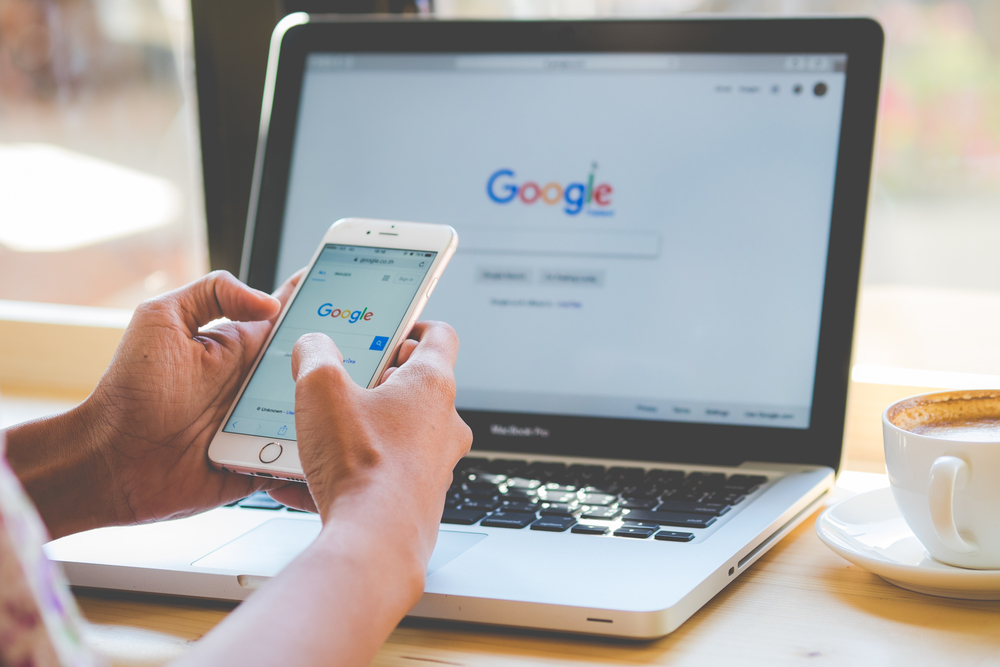 At Zimmer Radio & Marketing Group, our highest priority is to see your business grow. We believe in the power of traditional media, like radio and magazines, but we also believe in the power of digital media, and especially the remarkable power that comes from integrating these advertising mediums. That's because it is statistically proven that combining traditional media with digital campaigns increases brand recall by 4.5 times!
We've previously written on the array of digital marketing services that we offer, but today, we are proud to introduce yet another digital targeting service that we have added to our cutting-edge lineup. Along with geofencing and targeted display advertising, we are also proud to also offer search engine marketing, or SEM. This particular post will focus on the basics of SEM, helping your business to determine if this popular digital service is right for you.
What is Search Engine Marketing (SEM)?
Before understanding SEM, it's important to briefly touch on search engine optimization (SEO) as this is a common hot topic and buzzword that is tossed around in today's digital world. Businesses tend to obsess over their SEO rankings, hoping to organically appear as one of the top online search results for common consumer keywords and topics.
Search engine marketing, or SEM, takes the guesswork and wishful thinking out of the entire process. While SEO represents solely organic search results, SEM offers a way for businesses to purchase their way to the top. These advertisements will show up as the first results following a user's online search, prompting these users to visit those websites before any others. This practice is compatible with all online searches performed on both mobile and desktop platforms.
What Does SEM Look Like?
Let's take a look at a specific example to further illustrate. Consider a business who sells boats. They obviously want to rank as a top result for all relevant online searches in their region. SEM makes this possible by allowing these businesses' advertisements to appear first before all other online search results.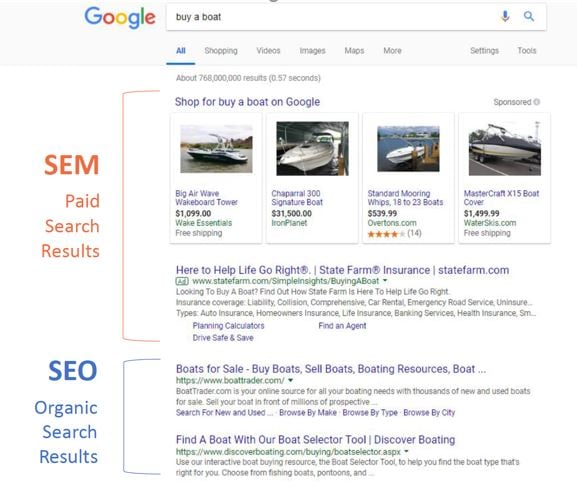 Why Does My Business Need SEM?
It really goes without saying that the online search audience is out there and is prime for the picking. But just to reiterate, let's look at some statistics. In 2018, there were 5.5 million Google searches performed per day. That's an average of 63,000 searches per second! These consumers frequently search for all things business-related including: general business information, sales and promotions, product and service information, and upcoming events and activities. Furthermore, Marketron reports that 88% of consumers who search for a local business on their mobile devices will end up visiting or calling that business within 24 hours of their inquiry.
So, why is it so important for businesses to show up as a top search result? According to research, the average web user will not look past the first five search results, explaining why these account for 67% of all clicks. Any results below these top five are typically ignored altogether. Additional research has proven to be even more concerning for organic search results, showing that the first organic search result only receives 17.9% of clicks when SEM ads are present above it.
Businesses who show up as the top online search results enjoy increased website visits, greater brand awareness, and higher conversion rates.
Who is SEM Right For?
Any business, no matter the size, budget, or industry, can benefit from SEM. Businesses must simply determine the keywords and phrases that they would like to be flagged for. SEM's customizable options make it a perfect fit for any company seeking to increase sales and overall brand awareness.
How Are Results Measured?
We understand that search marketing can be somewhat overwhelming, especially for business that are new to such strategies; however, your business should always know the specifics concerning the value of your media buy. Fortunately, the digital industry has the ability to offer advanced reporting metrics that go beyond basic measurement methodologies. Unfortunately, many digital providers do not offer their clients access to such reporting metrics. If your current digital provider is not willing to provide transparent tracking, consider this a huge red flag!
It's important to note that SEM data is not only easily traceable, but it is also exceedingly relevant, as advertisements are highly targeted based on specific online searches and consumer locations. Here are some of the capabilities that SEM offers when it comes to tracking ROI:
Transparent ad placement. This digital capability allows your business to see a "receipt" of where and when your ads were placed.
This is a basic tracking metric on its own, but it's important to know how many consumers actually clicked on your advertisement in order to visit your website.
Consistent optimization. Online searches and trends are always changing, which is why we offer weekly optimization strategies focused on keyword list refinement, bid management, and creative A/B testing.
Granular reporting. We provide detailed data concerning the following digital metrics, all of which are crucial to measuring the success of SEM strategies: keywords, device, creative, geography, and calls.
Remember: Professionally-managed search campaigns by an experienced and dedicated team will save you a lot of time, thus helping you to focus on your business.
At Zimmer, we don't shy away from the power of digital advertising because we understand the statistics given above that accurately reflect the modern-day consumer. Not only do we see the potential in digital targeting services like SEM, we also see the unmatched potential in integrating this digital methodology with radio and magazine!
Want to build an even bigger brand by harnessing the power of mass media plus digital media channels? Contact us today to get started.