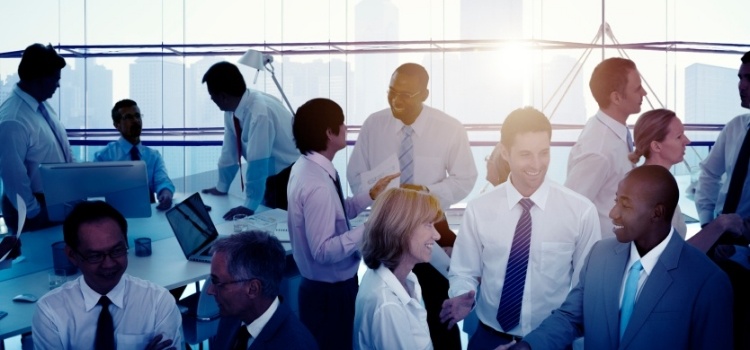 If you're selling a product or service that is business-to-business in nature, then you're likely always searching for new ways to network with business decision makers, build your brand, and eventually win new customers.
Maybe you've tried online advertising and going to local events, but are you familiar with how radio can be used for B2B marketing? Radio, as a B2B marketing tool, can be very effective in growing your network of potential clients. As of today, about 91% of all Americans (245 million people) ages 12 and up listen to some form of radio every week, whether it's commercial radio, streaming, pure play, or podcasts.
We often hear from business owners in the B2B category that they don't believe mass marketing, like radio, can be effective for their needs. But we're hear to tell you that couldn't be further from the truth! If you're curious about how to use radio for marketing and B2B networking, below we'll discuss some of the main reasons that doing so can help expand your brand recognition and attract new customers.
1. You're Selling to People, Not Businesses
Even though you're trying to market your product or service to another business, you shouldn't forget that at the end of the day, you're still selling to people. Decision makers for the businesses you're trying to reach will often share similar traits and are often found in similar places. Radio is a great way to not only communicate with these people with a powerful marketing message, but it's also a medium that can be very personal as well.
For example, next time you're at a classic rock concert for a band like Aerosmith or Foreigner… look around for a minute. Who do you see? Anyone that looks like they might be a corporate decision maker or business owner? We'd bet money that they are!
Many B2B radio ad campaigns are viewed as successful because they are able to convey strong messages with a spoken word and tone of voice that speaks to the emotions of listeners. Something that may not be as easily accomplished with an internet ad.
2. It's All About Branding & Recognition
Getting your name out there and having increased brand recognition around the community can be a big help in terms of "networking" as well. Oftentimes, companies engaged in B2B marketing feel the need to rely only on face-to-face networking in front of a niche audience to expand their reach. However, when businesses use radio as a B2B marketing tool, you're able to reach more people and a wider audience.
In fact, radio ad campaigns increase brand awareness by 128% and brand consideration by 37%. Radio ads also allow your message to reach not just the decision makers you are looking to target, but also others within the organization. This helps to strengthen your company and brand in the mind of multiple stakeholders within an organization.
By really thinking of mass marketing as a networking tool, you can shape your creative and your call-to-action to reflect that as well. Instead of simply "buy now" type ads, you can focus on building credibility and thought leadership. This could be done with testimonials, educational content, and other more brand-centric approaches.
3. Radio Is Relevant Across Different Segments
Radio is still important to today's younger generation too. In fact, around 70% of people 18-34 listen to the radio, and radio apps are increasingly popular for those in higher income brackets. According to Nielsen, in the USA almost 60% of music listeners listen to digital or terrestrial (local) radio.
Radio advertisements also drive 5.8% of all sales in the US. That number might sound small but when you take into account the hundreds of different advertising options available to businesses, this is actually a large slice of the pie.
4. Take Advantage of a Local Approach
Another advantage is that radio often speaks better and more directly to a local audience, than many other forms of advertising. With local on-air personalities who talk about local events, news, and weather, as well as ongoing traffic updates and event announcements, radio is consistently considered one of the most locally oriented mass marketing channels around. By advertising on a station with a natural tie-in to local communities, you'll be increasing your brand's relevance to locals that would potentially want to network and do business with you and your business.
While face-to-face networking will always play a key role in gaining new customers and contacts, radio — and other mass marketing channels — can also be a major contributor to your networking efforts that can provide a larger reach, higher frequency, and greater return on your investment.