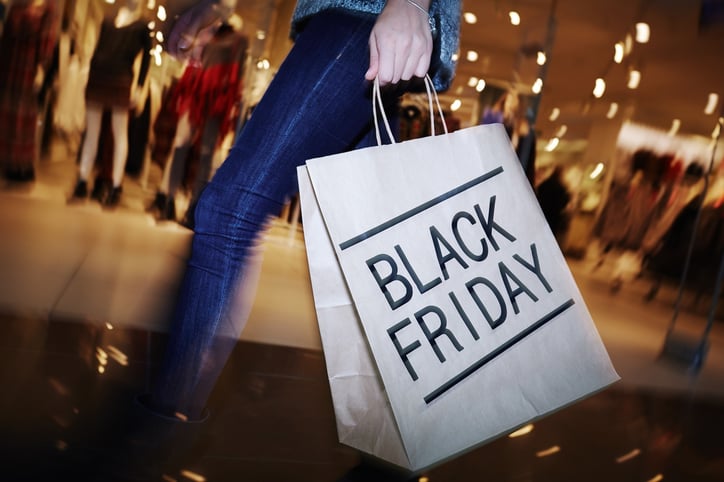 Black Friday is a critical day for retailers — after all, in 2016, 154 million shopped over that holiday weekend (Friday through Saturday), with people spending an average of roughly $290 each. Of course, every retailer is advertising for the holiday, vying for consumer attention and hoping to see the boost that it puts in their revenue. That means it's time to start strategizing your Black Friday marketing now, so you're ready to roll it out at the right moment and put your brand top of mind when consumers are planning how to shop.
Do: Create Gift Guides
Gift guides can help customers visualize the gifts they want to buy, give them new ideas for gifts they hadn't considered, and begin to plan out which stores they want to hit once they've finished Thanksgiving dinner with their families. Creating one to host on your website and feature in blog posts makes your guide easy to find and easy to access on-the-go; remember, consumers spent $1.2 billion via mobile last year, and it influenced the purchases of far more. Be sure to leverage your standard retail marketing outreach to point shoppers toward your guides, including radio, email, social, and direct mail.
Don't: Ignore Loyal Customers
This tip may sound like it goes without saying, however, you need a definitive plan for ensuring your loyal customers remember why they're loyal to your store in the first place. This can be leveraged through your loyalty program or email lists, especially if you're offering exclusive discounts or events, so be sure you have a plan for encouraging people through marketing to join in the time leading up to Black Friday. You should also consider early access to Black Friday deals or other early sales; consumers start their Christmas shopping early — about 40% start in October or earlier! — and the option to capture Black Friday sales early can be appealing.
Do: Provide Sneak Peaks
Whether you're providing an exclusive discount to loyal shoppers or you'll just be offering special bundles or similar on Black Friday, teasing your audience gives them a reason to sign up for your newsletter, stay tuned in to your branded channels, and share it with their friends. We recommend doing this with your email newsletter, but mediums like Snapchat can work well to build anticipation. Don't forget to tell your audience to look for these sneak peeks by mentioning it on the radio and in your social channels.
Don't: Ignore the Bargain Shopper
Black Friday is all about finding the best deal. More than a third (36%) of last year's Black Friday shoppers said that all of their purchases were on sale. Another 44% said at least a quarter or more of their purchases were on sale. If you're going to capture consumer attention, you're going to have to provide an incentive; that may mean some kind of gift, discount, or reward. Be sure you're advertising this in advance to capture customers that don't normally shop with you.
Do: Plan a Strong Action Campaign.
When it comes to Black Friday marketing, building awareness simply isn't enough. You need to definitively influence your audience to shop at your store, and that means running a solid action campaign. Give yourself plenty of time to craft an omnichannel campaign that pairs traditional channels like radio with strong digital outreach, and to develop winning creative with powerful calls-to-action. By doing this now, you'll be able to buy the ad spots that work best for you, possibly at a better price than if you wait until any later in the year.
It's the biggest retail holiday of the year, and to draw in the crowds you need to be prepared with a solid retail marketing strategy. If you keep these tips in mind and start developing your Black Friday marketing campaigns now, you'll be able to stand head and shoulders above the other retailers that sell the same things you do.