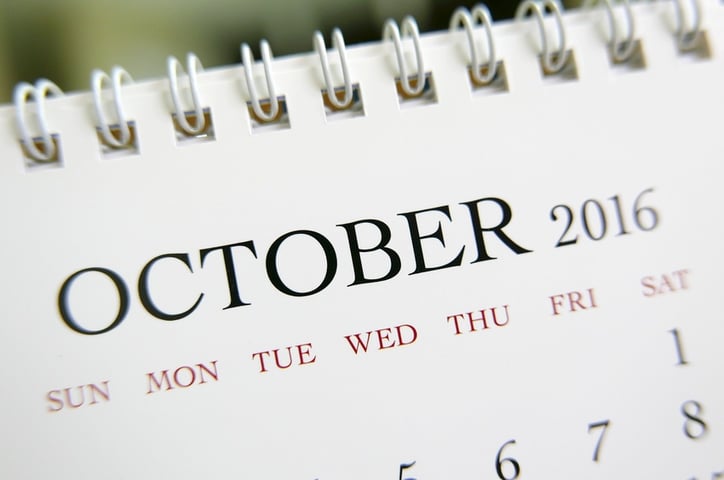 October is a month of shifting gears for many small businesses. Summer is officially over, Halloween is right around the corner, and the big holiday shopping season looms ever closer. There's a lot to do in order to close out the year strong, and maximize revenue during this crucial time.
But it's never too early to start thinking about 2017, and in fact October is the perfect time to start mapping out your marketing efforts. By knowing how to plan your 2017 marketing well in advance, you'll be in better position to getting the best advertising bang for your buck.
Here's what to do in October for 2017 marketing, and why now is the time to start preparing.
1. Determine Your Budget
In a perfect world, you should already have your marketing budget planned for 2017. While this isn't always possible, at the very least shoot to have your budget mapped out for Q1 of the year by the time October comes to an end. You'll want to take a look at how much you spent this year, compared to last, and how you much you want to grow in 2017, in order to decide how you might want to increase, decrease, or reallocate resources. This will give you November and December to decide which channels are most effective and deserve a higher share of your budget in 2017.
2. Formulate Return on Investment (ROI) Goals
Now is the time to begin identifying your top ROI goals for your marketing in 2017. The first area to consider is your revenue goals for the upcoming year. Come up with a target for overall revenue lift, as well as revenue lift by campaign, category and so on. This ties into the next area, which is sales ROI. Think of sales targets in terms of new business, recurring business and upsell/cross-sell.
Finally, think about the digital side of your advertising in 2017. No matter what medium you choose to market on, there should always be some kind of digital KPI tied to every campaign. This can be things like generating website traffic, increasing social following, or improving SEO ranking. By having your ROI goals clearly defined in October, you'll be better positioned to work with your advertising partners to focus on hitting those targets.
3. Start Choosing Your Campaigns
As a best practice, determine the focus of your marketing campaigns for the upcoming year while October is still underway. These campaigns can be seasonal, revolve around a special event, or feature a new product rollout. Consider some of the more successful campaigns you conducted during the past year, and see what can be applied to next year. If there were things that took you by surprise, take those into account and be prepared for them during future campaigns. Take a look at your email marketing list, and lay out a strategy to beef it up before 2016 closes.
4. Evaluate Your Platforms
Next, you'll want to scout technology platforms that have the most growth potential in the next year. For example it's predicted that in 2017, upwards of 74 percent of internet traffic will be video. Therefore, October is the time to start planning your mobile or video marketing production schedule. Also think in terms of platforms you'll use for back-end marketing analytics and building a data driven customer journey. October is a good time to begin evaluating new software or vendors that could provide more marketing analytics value next year. Finally, take this month to review your ROI on marketing platforms spend, year over year. That way you can plan to focus more resources on platforms that are working, and less on the tools that aren't.
5. Examine Marketing Rates
Knowing your marketing ROI ties into taking a closer look at what you're paying for marketing during the month of October. In October, advertising agencies and vendors are building their annual plans and projections for 2017. This can often result in getting a great deal on advertising rates, as agencies seek to close the gap between expected and actual revenue. October is the time to talk with your advertising managers, and collectively decide how your marketing budget might be best spent in the upcoming year.
By knowing what to do in October for 2017 marketing, you'll eliminate a lot of stress once the year begins. And most importantly, you'll have a plan and process in place to maximize the effect of resources spent on marketing in 2017.