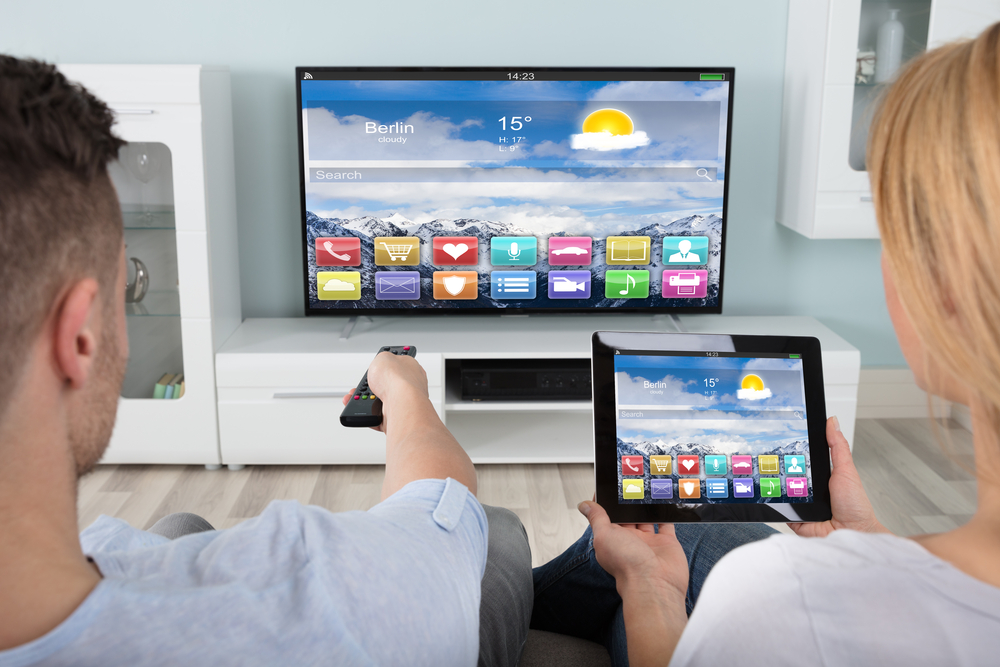 With the onset and subsequent expansion of over-the-top (OTT) TV devices, such as Smart TV Apps, Roku, Chromecast, and Xbox, many households are opting to forego traditional cable. We refer to these customers as "cord cutters" or "cord nevers." This demographic is growing at an alarming rate and represents an important opportunity for advertising that exists in the OTT market.
Relevant OTT Demographic Stats
Just how fast is OTT video growing? Check out the below stats to see for yourself.

Some 59.5 million American homes have a Wi-Fi connection (needed for OTT streaming). This is a 17% increase from previous years.
Households average 54 hours per month of streaming. That's 16.4 days!
There has been a 26% increase in home data usage over the past year, driven primarily by OTT streaming.
The 55+ demographic and those without children represent the most potential for growth in the OTT, which is already popular with younger generations and households with children.
Households headed up by someone younger than 35 are more likely to never have cable than to have had it before choosing to cut it off.
Now that we've considered the growth of the OTT market and the opportunity it represents for many businesses in the form of advertising, let's take a more in-depth look at what OTT is, how it works, and why it could be a smart move for your business.
What is OTT or

Over-the-Top Video

?
An OTT device is any device that connects to a television (sometimes built right in) that will deliver professionally produced video content, such as movies and TV shows, via an internet stream. Some examples of common OTT devices include Roku, Apple TV, Google Chromecast, Amazon Fire Sticks, Smart TVs, gaming consoles, and specific Blu-ray players. In essence, OTT is the merging of digital video and traditional television.
The trend of moving from traditional cable subscriptions to incorporating OTT video for entertainment purposes is growing by leaps and bounds. As mentioned briefly above and as seen below, this trend is most often embraced by younger generations and those with children.
Stats on Streaming OTT
Those aged 30-49 with children: 81%
Those aged 30-49 without children: 71%
Stats on Hours spent on OTT Streaming
Those aged 30-49 with children: 68%
Those aged 30-49 with no children: 48%
Stats on OTT Streaming For Households With & Without Children
Those with children: 77%
Those without children: 56%
These statistics reveal the immense popularity of OTT streaming devices as a replacement for traditional entertainment options.
How Does OTT Streaming Work?
OTT is comprised of video ads during professionally produced, premium content, such as streamed TV shows or movies. The best example of this can be seen through ads during services like Sling TV and DIRECTV. These services that are streamed through OTT devices are extremely popular, especially among families with children.
Why Should Your Business Incorporate

OTT Video

Advertising

Into Your Media Mix?
By utilizing OTT, marketers can better target potential customers. This is possible because OTT is easier to measure and analyze compared to traditional TV advertising.
There are also higher viewer completion rates since there is no player to minimize. On average, customers will complete the ad about 85% to 95% of the time. Because there are fewer ads to deal with, viewers typically accept and appreciate the relevant ads they do see.
In addition, the OTT market allows you to base your audience on-demand, rather than having to guess what your customers might be watching. This means that you will enjoy better measurement support and a greater ROI.
For years, advertisers primarily focused on traditional television advertising; however, with the increased popularity of OTT devices and streaming services, there is a prime opportunity for businesses to incorporate OTT video advertising into their current media marketing strategy. To ensure your business begins taking advantage of OTT video advertising, it's best to hire a professional who understands the industry and can best utilize the available audience to promote your business.