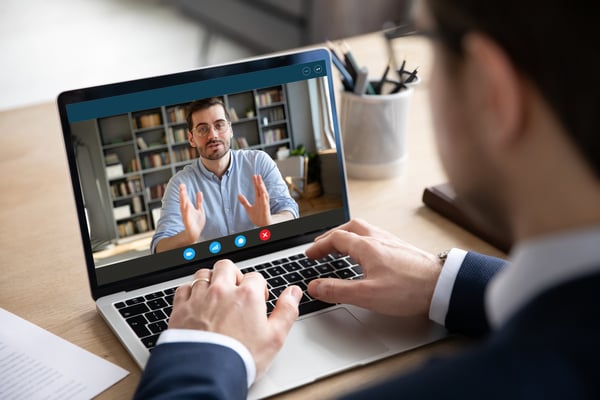 COVID-19 took the world of sales and turned it on it's head. Salespeople stood in shock as they watched revenue, and therefore paychecks, dwindle. Many cringed every time their phone rang as they took cancellation after cancellation after cancellation. Forced to recalibrate their sales process to adapt to a different environment, they had to figure out how to make sales calls when they couldn't meet face-to-face. For local and regional salespeople, this was a new and intimidating concept.
Most salespeople succeed in their roles in large part due to an innate resiliency and an ability to handle rejection. When the bottom fell out of the sales process as they knew it, they were forced to adapt. Those that did learned some valuable lessons on the art of the "sales call via videoconference." While some national and even international salespeople may have been more experienced with the art of a videoconference by salescall, for local and regional sellers, it was like being a fish out of water. But adapt they did. Here's Director of Sales, Carrie Berkbuegler, to share 20 tips for salespeople, new to the world of videoconferencing, that want to be successful.
BEFORE YOUR VIDEOCONFERENCE SALESCALL:
Proper planning will set a salesperson up for success, especially if they've never hosted a video conference before. The goal is to be professional and present both yourself and your company in the best possible light.
Next, we move on to the actual sales call itself. Technology is a wonderful tool and works great...usually. You must be prepared for those times that it doesn't. This list will help you make sure the conversation runs smoothly and is a positive experience for you and your client or prospect.
DURING YOUR VIDEOCONFERENCE SALESCALL
Once the videoconference is over, you can breathe a sigh of relief. But your work isn't done. You still need to follow up and make sure everyone is on the same page with next steps. As we often say...the sale isn't done until you have ink on paper. These tips for post-videoconference will help you follow through properly and make sure you close the deal.
AFTER YOUR VIDEOCONFERENCE SALES CALL
As Carrie said, the sales call via videoconference isn't likely going away any time soon. We hope these tips will help you step comfortably and successfully into the use of video technology to keep your pipeline full and your commissions flowing!