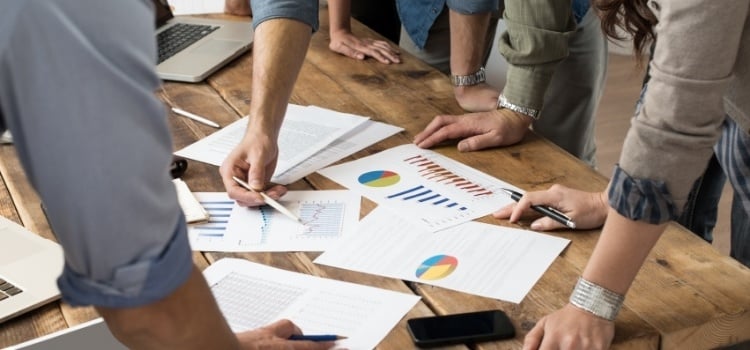 Running a business is scary. Failing is scary. Losing money is scary. Owning a dog is scary.
Investing money in something that might not work out is terrifying. I hear so many times throughout the day that investing in something you do not know is going to work is scary. I would completely agree. I am an extremely frugal person and calculate every penny. I think things through over and over before making a decision and annoying my loved ones. My mother is to blame for this personality trait. New car, new home, and yes, even my dog, Jackson. All of these things took years to make a commitment to. However, they were so worth it in the end.
Buying your first puppy is the same as deciding to invest in the brand of your business. It is scary, and they can both be costly... and things can possibly go wrong.
When I first decided to get Jackson, it was terrifying. You're probably thinking I am crazy using a dog as a metaphor for marketing but there are so many similarities.
They are both an investment, not an expense. Jackson was an investment, not an expense. Branding and marketing are investments, not an expense.
We picked Jackson up three years ago last month, and yes he has cost me a lot of money. Vet bills, food, boarding, torn up shoes; you name it. The return on my investment has been worth every penny though. Unconditional love, snuggles, playing, family; you name it. Not to mention, he is adorable. I might be biased.
Branding your business and launching a marketing campaign will cost you money but the return on your investment will be worth every penny. Increased sales, peace of mind, top of mind awareness, becoming a market leader, being able to move into new buildings, retaining quality staff, respect… you name it. And let's not forget, more revenue and new customers. If you are a hard working business owner, then you deserve to reap these rewards that an effective branding and marketing campaign can deliver to you.
Marketing is often looked at as an expense. I have watched this end up not being the case for so many businesses here in Jefferson City and Columbia. They have invested their money and watched their business grow. Not spent or wasted money, invested.
The return on their investment was just like Jackson, worth every penny. They are now at the top of the mental ladder in their industry, and they've experienced increased sales and overall growth because of it.
"Now You Have A Friend In The Pest Control Business." -Steve's Pest Control.
"Like It Never Even Happened" -Servpro of Jefferson City.
"Uncomfortable. We'll Put You In the Comfort Zone." -Aire Serv of Central Missouri.
What do these companies have in common? All of these businesses have invested in marketing and grown over the years. They now own top of mind awareness and have memorable brands in Mid-Missouri.
Reach out to any of these business leaders above and they will tell you how investing in marketing and branding for their business has changed their life. Just like my puppy Jackson changed mine.