In this series, we're going to talk to mid-Missouri community leaders about the causes they support and why it's so important that they involve their business in the community and give back. In the second post of the series, we'll talk to Jamie Mac of Zimmer Radio & Marketing Group.
Featuring Jamie Mac, Director of Programming and New Media at Zimmer Radio & Marketing Group
How long have you been working in this industry and for your particular business?
10 years total / 8 years at Zimmer.
What causes do you support as a business?
MU's Children's Hospital, Central Missouri Honor Flight, and the Food Bank of Central and Northeast Missouri.
Can you tell us a little bit more about them and your experience supporting them? (i.e. what you do, why, how you've partnered, how do you get your employees involved, etc.)
Raising money and awareness for MU's Children's Hospital to help sick kids is obviously the main reason "why we do radiothon," but I also feel it further shows our community why Zimmer Radio & Marketing Group, and its personnel, are such a valuable asset to the area.
Zimmer hosts one of the top CMN radiothons in the country. Though we definitely can't take all the credit, as we have an incredible community that truly cares about making mid-Missouri a better place to live. To give some perspective, the St. Louis CMN affiliate raised $56,000 and the Kansas City stations who work with CMN raised $38,000 in 2015 – Zimmer stations were able to raise over $238,000.
This year's radiothon will mark the 10th year Zimmer Radio & Marketing Group has partnered with Children's Miracle Network, through MU's Children's Hospital for the annual Miracles For Kids Radiothon. In that time, we have raised more than two million dollars to help benefit sick kids in our own back yard – just ask around, I guarantee you'll find someone you know who has relied on our local children's hospital for help.
In fact, at this very moment there's a Children's Miracle Network Hospital working to save the lives of kids in almost every community in America. There are 62 children who enter a Children's Miracle Network Hospital for treatment every minute — that's one child every second. Some are battling cancer and some are suffering from a traumatic injury. Others require constant care because they were born too early, or with a genetic disease. Regardless of why the kids are there, Children's Miracle Network Hospitals always have their doors open. In 2015, the University of Missouri's Women's and Children's Hospital admitted patients from every single county in Missouri, serving more than 43,000 children in total.
The main points we want our listeners to come away with after our radiothon: Every dollar stays local, and no child is ever turned away because of their families inability to pay. Plus, we want people to know they don't have to travel hundreds of miles away to receive care for their child, we have one of the nation's top facilities right here in mid-Missouri.
We will continue to raise money for great local charities like CMN because we never want any parent to ever have to hear, "your baby isn't going to make it." My Grandfather once told me, after my own Dad passed away, "you should never have to see your child go before you." – this is why we spend countless hours throughout the year getting ready for our radiothon.
We never want any parent to ever have to go through the pain of losing their kid.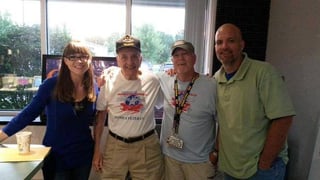 The Central Missouri Honor Flight is an organization that raises money to send WWII, Korea, and Vietnam Vets to Washington D.C to see their memorials. They started in 2008 with a dream of providing this service to local veterans in mid-Missouri. In this time, they have provided a life-altering experience for more than 2,000 local men and women, who served our country and put their lives on the line to protect our freedoms.
In 2015, we did our first ever Honor Flight Radiothon on Clear 99, 96.7 KCMQ and 93.9 The Eagle, and it was an extremely emotional day. We heard from many local veterans and people affiliated with the organization.
We heard stories about how this one day, in many ways, gave our heroes a sense of closure; it gave them a chance to open up about their experiences while serving in the military with other individuals who had experienced the same things. We received countless stories about how these veterans were not able to open up to their family's about what they did or witnessed during war before going on this trip, harvesting these emotions internally, in some cases, up to 50 years. After the trip, they felt like they could finally share accounts of what they went through with the people closest to them.
One of the most impactful stories that I heard was about a gentleman who had experienced night terrors for over 40 years, but once he got back from D.C he experienced them no more.
People close to him felt that this trip helped to give closure to so many pent up feelings that he had kept suppressed for many years..
My feelings are if we can give one of our heroes a better night sleep after all they have done for us, then whatever we have to do to make this possible should be done.
In our first 12 hour Radiothon, we raised over $48,000, which provided the CMHF with enough money to finance their next trip. This provided 75 of our veterans the chance to see their memorial and experience the healing that comes along with it.
One in five people in our community is food insecure. That's a startling statistic. It means that while you're driving home tonight and you're stopped at a red light, as you sit there waiting for the light to turn green, many of those who surround you are wondering where their next meal will come from. Wondering, how am I going to feed my family?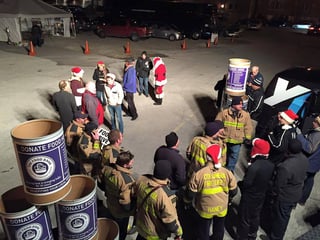 It wasn't until I started to work at Zimmer Radio & Marketing Group, and heard the many stories about poverty in our community from The Food Bank of Central and Northeast Missouri, that I realized how many people needed the support of their local food pantry each month. I had the same misconception that maybe you have, which is the people who need the help of The Food Bank are those panhandling at 70/63 interchange. In reality, you know someone who has at one time needed the help of The Food Bank.
With so many people living paycheck to paycheck, what happens when that paycheck stops? They go to The Food Bank until they can get back on their feet again.
We have been doing our annual One-For-One Holiday Food Drive now for about eight years. In that time we have raised a lot of money and collected a lot of food from our community. Though, we have also heard a lot of stories – stories to give us perspective and remind us how important this organization is to our community.
Here's one story that comes to mind for me from this past year's Radiothon. I was doing a call-in for Clear 99, our heritage country station, and a homeless gentleman walked up and handed me $20. He said, "This is from a few of us out here on the streets. If it weren't for The Food Bank, many of us might not be here today."
The stories are endless. Heck, just volunteer one night at The Food Bank and ask one of the workers there what stories they can share. It might make you appreciate your next warm meal a little more.
Our Radiothon has broken the single day of giving record for The Food Bank now three years in a row. Last year raising over $87,000 in just 12 hours.
How did you, as a business decision maker, decide which causes to support?
As a programmer, our primary purpose is to serve our community. We try to serve, inform, and entertain our audiences every day.
Almost daily we are asked to help out with different causes, and Lord knows we wish we could help every single cause and charity in our community. Unfortunately, we can't because there's only so much time in the day, and we usually only try to focus each station on one charity at a time because we feel we aren't doing any charity justice if their message doesn't get the frequency it needs to really resonate.
As far as deciding which ones we will support, it really comes down to having availability on our stations, and, generally speaking, we try to focus our efforts on causes we believe our listeners will get behind.
What kind of positive impact has cause marketing or direct community involvement had on your business?
There's tons of research out there from company's like Coleman Insights, which states that listeners tend to listen longer to stations that partner with charities in their communities.
From a staff standpoint, I always enjoy when a new employee witnesses the final two hours of our MU's Children's Hospital Radiothon. The look on their face when they experience that raw energy and emotion I feel makes them proud to live in mid-Missouri, and makes them proud to work for Zimmer Radio & Marketing Group.
How have you involved your employees in these causes? What impact has that had on your business?
I won't speak to the impact being involved with local charity has on our company, but I will say that our people take pride in helping out people in need. Our charitable wing, Zimmer Cares, donates time and money on a monthly basis to help out many local charities.
There's a lot of research out there that suggests millennials will take a job offering less money if the company has a strong community outreach program.

Do you think it's important for local businesses to support a cause or charity? Why?
I think it's important for all businesses to give back to their community, especially local businesses. Put yourself in your customer's shoes, would you be more likely to work with a company that you know gives back to the community? I think most people would.
My gut says that most people want to do business with good people. People they know are truly invested in their community. I know I have a more favorable opinion of organizations like ServiceMaster of Columbia and Missouri Credit Union because of their efforts to make our home a better place. In saying that, it's one of the reasons I have personally done business with both of these companies over the last few years..
How do you think being viewed as a community leader has impacted you professionally?
After I received my first Christmas card from one of our Children's Miracle Network kids, thanking us for what we do for MU's Children's Hospital, I realized being charitable with our time and resources has nothing to do with how others view you. It's more about making our community a better place to live, and doing the right things. I believe when you do the right things, then good things will just naturally happen for you and your company.
What advice can you give other business leaders looking to become more involved in cause marketing or the local community? What have you learned or what would you advise them to do / remember / etc.?
Just do it.
It will give you and your staff a renewed sense of pride for your company. If you're a smaller business, with not that many employees or a cause marketing budget, then maybe take baby steps. Every little bit helps.
In some ways you should treat it like your business, set S.M.A.R.T goals. I would always suggest researching the organization you're considering helping out to find out where the money/items go, to ensure your time and energy is being devoted to the right cause for your business.
I would also suggest trying to find a charity that aligns with your company's vision. Are you an automobile dealership? Then maybe it's a "Don't Text and Drive" or "Don't Drink and Drive" campaign.
If you're a fire restoration company, then maybe you set up a fund to help families who have just lost everything due to a fire or water damage.. Or maybe a charity like Missouri Children's Burn Camp.
If you're in clothing retail, then maybe your help out Goodwill, Salvation Army, or partner up with one of the local churches to do a coat/clothing drive.
The possibilities are endless. Now go back and reread my first sentence again.
What advice would you give to new and emerging business leaders who want to be seen or known as a leader in their community?
It's not going to magically just happen overnight so you must be prepared to put in the extra time and effort to make it happen. Make sure you're doing it for the right reasons though, it shouldn't be about you; rather it should be about what you can do for others.
People don't follow managers, they follow true servient leaders. I believe in leadership by example, I never want our staff to think that I would ask them to do something I'm not willing to do myself. So if you're creating or participating in a cause marketing event, then I would suggest that you also be there to get your hands dirty.