In this series, we're going to talk to mid-Missouri community leaders about the causes they support and why it's so important that they involve their business in the community and give back. In the second post of the series, we'll talk to Aniceta Kinser of ServiceMaster of Columbia.
Featuring Adam and Aniceta Kinser, Owner/Operator of ServiceMaster of Columbia
How long have you been working in this industry and for your particular business?
20 years in the industry and 14 years of that with ServiceMaster.
What causes do you support as a business?
We support a number of charities in our community but our biggest is the Central MO Honor Flight.
Can you tell us a little bit more about them and your experience supporting them? (i.e. what you do, why, how you've partnered, how do you get your employees involved, etc.)
The Central MO Honor flight is an organization created solely to honor America's veterans for all their sacrifices. The group transports our heroes from throughout Central Missouri to Washington, D.C., to visit and reflect at their memorials at no cost to them. Since they started in 2009, they have transported over 1900 veterans to Washington on 31 flights. Top priority is given to senior veterans – WWII survivors, along with other veterans of Korea and Vietnam who may be terminally ill. They are totally a volunteer organization and are funded by donations from individuals, organizations and, businesses who wish to see our aging veterans honored before it is too late. There are a number of events that support the Honor Flight throughout the year that we take part in. The biggest event of 2015 was the radio-a-thon where we teamed up with Zimmer Radio.
When the heroes return they get escorted back into their hotel by mid-Missourians riding motorcycles with the help of the Patriot Guard Riders and the local law enforcement. The motorcycles stage at Kingdom City Hall a couple hours before the heroes are expected; where ServiceMaster sets up and provides food, coffee, and water to the riders waiting on the return. Most of the employees come out to help serve and greet the riders. They are very supportive and volunteer all their time.
How did you, as a business decision maker, decide which causes to support?
We would do anything for our veterans. It's a no brainer. They served for us, put their lives on the line for us, and some gave the greatest sacrifice.
Tell us about a particular time where your business supported a cause or partnered with an organization and made a difference. What did you learn from this? How did it help your community? How did it help your business?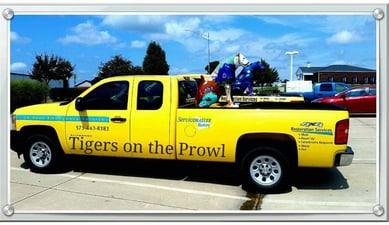 We teamed up with Zimmer Radio and had a radio-a-thon in August 2015 which raised over $48,000. That was enough to send another flight of Veterans to Washington DC in November 2015.
Have you ever participated in cause marketing? (Where you align your marketing with your community causes.) If yes, can you tell us a little bit about that?
Yes. Honor flight, Tigers on the Prowl. We have PSA for certain things going on in the community.
What kind of positive impact has cause marketing or direct community involvement had on your business?
We have developed a lot of relationships with the people and local businesses in our community. We have even received a couple of jobs because the customer stated they have seen us at Kingdom City or knows someone who has and recommended us because of our involvement with the organization.
How have you involved your employees in these causes?
The employees will volunteer their time and come out to the events to help us with whatever the needs are that day, whether it's cooking, escorting, or greeting people.
What impact has that had on your business?
I believe this helps us remember what teamwork is!
Do you think it's important for local businesses to support a cause or charity? Why?
We recommend people get involved with the community by volunteering in any way for many reasons. It not only helps your business grow but we believe it helps you as a person as well.
How do you think being viewed as a community leader has impacted you professionally?
It has help us realize ways that we can use our resources to better help and serve our community.
What advice can you give other business leaders looking to become more involved in cause marketing or the local community? What have you learned or what would you advise them to do / remember / etc.?
Be diligent in doing the needed research it takes to ensure it's a good fit for your business and those you are trying to help.
What advice would you give to new and emerging business leaders who want to be seen or known as a leader in their community?
Start a campaign with Zimmer Radio!