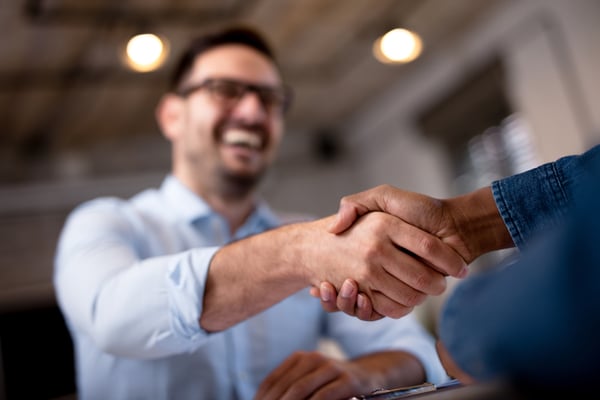 We like "easy." Who doesn't? In fact, the easier it is, the more we like it...and the more we'll keep on doing it. What's true in life is also true in business. It's not a complicated concept...make it easy for your customers to do business with you. The easier it is for people to buy your products and services, the more likely it is they'll do it...and keep doing it. Therefore, the last thing you want to do is unintentionally complicate the buying process. Here are 5 ways to examine your business model and make changes that create an easier customer experience.
Your customers are the reason you are in business, so the least we can do is give them an easier, more seamless buying experience. Examine your business and ask yourself honestly, "Where am I complicating things and missing opportunities? Where am I slow to embrace new methods or technologies that would help my customers want to do business with me?" We thought about those questions...and here are the answers we came up with:
1. Make Convenience One of your Key Differentiators
No matter what industry your business is in, you can differentiate your brand from others by showing you are reliable, accountable, and dependable. Those traits never go out of style and customers are always searching for authentic businesses like this to partner with. The number one takeaway of establishing yourself as an industry leader is to do what you are going to do, especially when you tell customers that you will. It seems simple, but this is something that will make it easier for customers to trust you and buy from you.
2. Help Customers Accomplish Goals
Whether it be online or elsewhere, your job is to make it as easy as you can for customers to accomplish their goals. If you take all of your best content on your website and make customers jump through hoops to access it, guess what will happen? Those customers will be less likely to read your content. A good example is, if you force people to sign up for an account and fill out forms for a small purchase, they'll just go to Amazon instead and purchase that item in less than 2 minutes. Make the customer check-out as simple as possible, if not they may just skip the whole purchasing process.
3. Look for Opportunities
When was the last time you evaluated your customer's buying process? Are you looking at every step in the process with a critical eye? Put yourself in the customer's shoes...when we are shopping, we want our products or services as fast as we can get them without any hiccups. Our advice is to go back, evaluate your steps, and ask yourself, "Am I doing everything I can to make this path to purchase as easy as possible?" If your answer is no, this is a great time to look into making changes.
4. Create Positive Relationships
Remember to look for opportunities to create and build positive relationships with your customers. With the many mediums that we have today, there is no excuse to not be creating these relationships. Get on social media, answer someone's concerns or questions, interact with your community and engage in conversation. Use the chat function, call them or visit them in person. This will make a huge difference to the customer if they see you are actively trying to help them make their purchase easier.
5. 'Make it Easy' Mindset
Lastly, educate all of your employees on cultivating a "making it easy" mindset! Ask them for ideas and opinions. They may have a boots-on-the-ground perspective which is another great way to stay in tune with your customers and their needs. Give your employees the authority to make small decisions in the field to smooth the customer experience. When you empower them in that way and reinforce their ability to create "moments of magic" for your customers, everyone wins.
If you give your customers an easy and seamless experience, you will be reaping the rewards beyond their first transaction. Not sure how to take the first step? Let the experts at Zimmer Communications help! Schedule a consultation today.