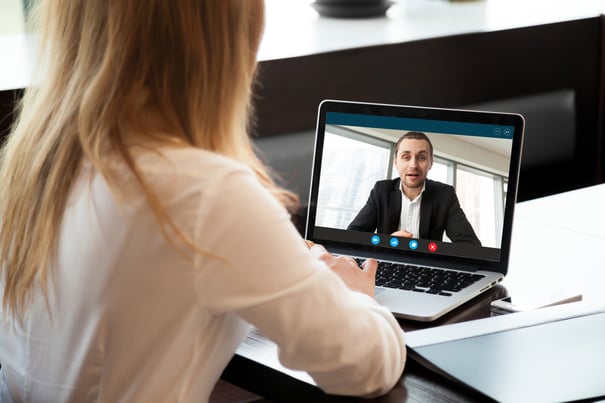 As businesses continue to adjust operations during this unconventional time, many employees have begun working remotely. While there may be a learning curve to this transition, technology has given teams the resources to maintain standard operations while still growing their business. Rather than postpone recruitment and hiring, check out our five tips to successfully recruit and hire remotely below!
1. Utilize Video Interviews
Skype has been a popular video chat software for over 10 years, modern virtual meeting services like Zoom and GoToMeeting have redefined professional video conferencing by making communication more convenient and accessible than ever. All you need for a Zoom meeting room is a meeting ID: this can be sent out through email to candidates prior to the interview time, allowing participants to join from their remote location. Zoom also allows for up to 100 users per virtual meeting room, meaning you can still conduct panel interviews or presentations just as you would in person.
2. Keep Communication Consistent and Transparent
A common question in the early stages of the interview process is: "what is your timeline for hiring?" During times when this answer may be more ambiguous, it is best to be honest and upfront about your hiring process. We encourage your team to keep communication open and regularly follow up with candidates as your timeline becomes more concrete: let them know when they can expect to hear back, even if it may be to talk about the next steps. When prospective employers leave the interview process ambiguous, this leads to increased candidate falloff. This is an uncertain time for many candidates as well, so any communication is often appreciated and can also strengthen your company brand.
3. Streamline Your Onboarding
Onboarding begins the moment a prospective candidate signs their offer and becomes a new team member. Onboarding can involve meeting with your human resources department, getting credentials set up for relevant software, configuring a new laptop, and relaying any first day preparation to your candidate. While working remotely, these standard practices can become difficult to manage, as each facet of onboarding involves multiple points of contact. To streamline this process, we suggest utilizing an instant messaging service like Skype messenger, Microsoft Teams or even repurposing a free service like Discord. These services allow for group messaging in a more fast paced and condensed format than email with less risk of messages getting cluttered in your inbox. Candidates can then go through one point of contact with your recruiter or human resources department without the confusion of relaying different messages to different departments.
4. Follow Up More Frequently
While working remotely, all contact with your team is going to be through some form of phone, email or video. This is usually enough to supplement in person interactions with established team members, but for someone new they may need additional guidance. Following up more frequently can alleviate any uncertainty new hires may have and improve your retention in the long term: 20% of employee turnover happens in the first 45 days, making first impressions and onboarding essential. This is a great opportunity for your recruiter to get more involved after the initial onboarding is complete. Rather than having a new employee go directly to their supervisor with all questions, utilize your recruiter to both check in with new employees regularly so they can answer any less role specific questions about the company and culture. This can alleviate the stress for a new employee needing to reach out to the same person for everything, as well as freeing up a supervisor's time to focus more on training your new team members on specific job responsibilities.
5. Prepare a "Welcome" Day
While you may be working remotely right now, there will likely come a point when your team is back in your office and team members are able to communicate and collaborate face to face. For an employee who was hired remotely, this means another round of firsts: the first day at their desk, their first time working from the office, and their first time meeting the majority of their coworkers face to face. To make this transition as painless as possible, we suggest scheduling a "welcome" day for any new employees who will be having their first day in the office. This can be as simple as a tour of the office by your recruiter for individual introductions and a welcome lunch with the team. This can help integrate new team members more quickly while also giving your current employees a chance to reconnect after some time spent out of the office. Always working remotely? We encourage sending new employees a welcome bag with a signed card and fun items like a company t-shirt, snacks or any company merchandise they can enjoy from home!
Interested in learning more about company culture and how to grow your business? Subscribe to the Zimmer Communications blog below!