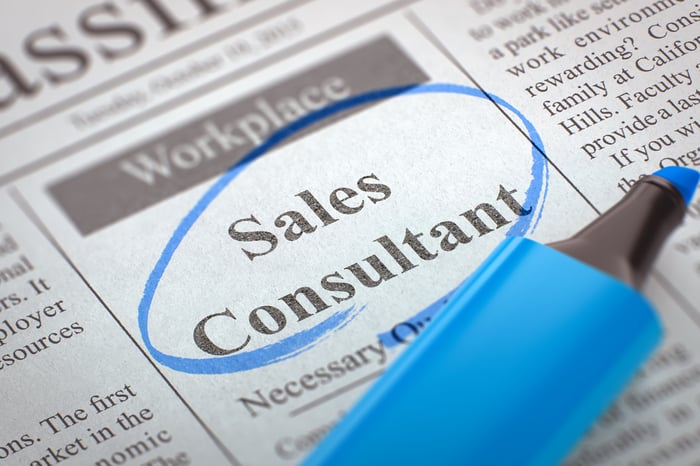 When you hear the word 'sales,' you likely have a preconceived notion. Maybe it's a knock on your front door from someone trying to rope you into the latest gadget, or a greasy salesman who won't take no for an answer. Whatever this image may be, the common traits of these stereotypes are confrontational and aggressive in nature. However, sales come in many different styles depending on the business and industry. One of the styles of sales that has redefined the relationship between salesperson and customer is consultative sales. Also known as solution selling, consultative sales puts the focus on customer needs and addresses these with the services or products the consultant can offer as a solution for their client. Check out the three differences that set consultative sales apart from other sales roles:
Difference #1: Relationship Building
While all sales roles are geared towards a specific product or service, oftentimes hard deadlines create pressure to hit a revenue goal. This stress in reaching a specific number can come at the expense of their clients. However, rather than prioritizing the bottom line, sales consultants put the client's needs first. Consultative sales is focused on a customized service, and this inherently emphasizes the client and consultant relationship over singular transactions. By developing a mutually beneficial partnership, clients and consultants work together to find the best fit that will make both parties happy. One key component to this is recurring meetings: in many consultative roles, representatives will schedule meetings regularly to touch base with their clients in order to ensure that the product or service is still working effectively. This also means reassessing clients' goals as needed and making the appropriate changes to the product or service. This keeps communication consistent in order to always know where the client relationship stands.
Difference #2: Value Focus
Salespeople have gotten a bad rap over the years due to the preconceived notion that they are out to make a quick buck. This cannot be further from the truth in consultative sales: honesty and attention to detail are essential in building trust and providing clients with measurable results. This will usually materialize as advertising campaigns in the marketing industry or research-backed products and services in the electronics industry. By providing value in their service or product, consultants can plan ahead to ensure clients continue to see results into the future while also having their client's best interests at heart. This leads to better results for the client and the potential for exponential growth into the future.
Difference #3: More Consistent Compensation
Many sales roles emphasize commission as the primary or exclusive means of compensation. This drives the pressure we mentioned earlier when it comes to meeting sales goals: individuals will sell something a client does not necessarily need in order to make ends meet on their paycheck. Consultative sales by contrast prioritize long term business, and compensation is typically structured to match this. While top performers still earn more based on results, when someone has an off week or month, they still receive compensation for the established business they have within their portfolio.
If you enjoy relationship building and identifying solutions with high earning potential, consultative sales could be the perfect fit for you. Interested in joining a team that emphasizes consultative sales to help local businesses grow? Check out how you can join the Zimmer Communications family below!